This is BTC COUNTRY!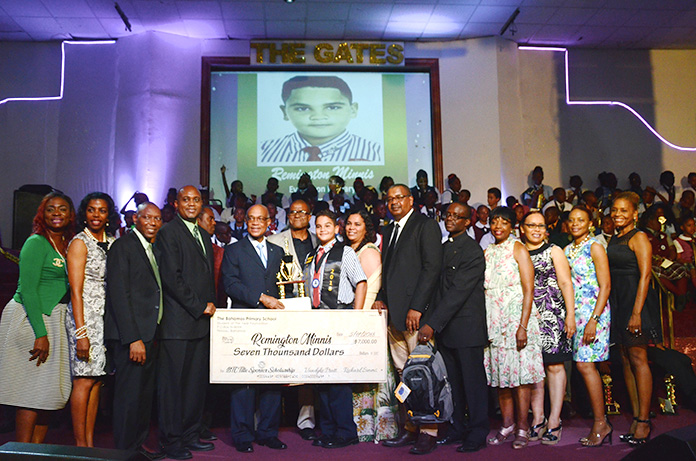 Nassau, The Bahamas. May 23, 2018. BTC was the title sponsor for the annual Bahamas Primary School Student of the Year Foundation awards. Sixth grader, Remington Alexander Minnis was named as the 2018 Bahamas Primary School Student of the Year and received top honours and a $7,000 scholarship from BTC.
Ten-year old Remington is the Head Boy of BTC's adopted school, Oakes Field Primary and maintains a cumulative grade point average of 3.97. In addition to his academic prowess, Remington also established a community service project called, "Hugs for Heart", to help children suffering from heart disease and also as in memory of his father who passed away due to heart disease. Through his hard work, he was able to donate $1,551.00 to the Sir Victor Sasson Heart Foundation. He also participates in a number of clubs and organizations including the Math Club, Early Act Club, Discovery Club, the school's Volley Ball and Soccer Teams.
Vice President for Marketing, Marcian Cash said, "This is the future, and we are happy to invest in it. We are so proud of Remington, and we view this as a double win as Oakes Field Primary is one of our Adopted Schools. Just earlier this year, we made a significant investment to provide tablets for use in the classrooms at Oakes Field Primary. We are also very proud of the other 120 students that have all done an exceptional job. BTC is always grateful for opportunities to partner with community organizations to make a difference in the lives of the nation's children."
BTC also awarded three other top achievers with scholarships. Bradleon McDonald from Inagua All Age School, Marisol Room, from United Estates in San Salvador and Aneko Smith, from Pirate's Well Primary School in Mayaguana all received scholarships from BTC. In addition to their scholarships, BTC also provided these three achievers with tablets.
BTC has partnered with the Bahamas Primary School Student of the Year Foundation for more than a decade.