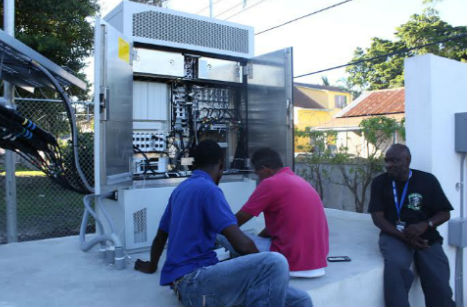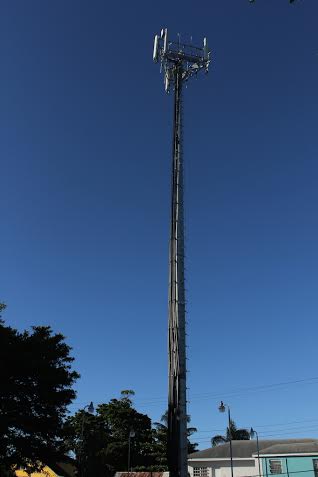 NASSAU, New Providence – BTC has installed five new mobile towers in New Providence, increasing quality of service for mobile phone users in key traffic areas. The five mobile towers have been erected at R.M. Bailey Park, Quarry Mission Park, the Defense Force Base, Farrington Road and The Carmichael Road Police Station. The installations are a part of the recently announced $65m 'Upgrade Bahamas' budget to enhance and improve BTC's networks.
$26m of the 'Upgrade Bahamas' budget is being spent on the mobile network to address coverage and capacity issues and dropped calls. An additional twenty four mobile cell sites throughout the country are currently underway. Imminent targets include Westridge – which will address dropped calls along the route to the airport, East Street South, Bay Street near the Hilton Hotel, Palmdale and Collins Avenue. Also, four mobile sites will be erected in the Freeport metro area to soothe the congested areas near the city centre.
Eldri Mackey, Vice President of Marketing said, "Our customers have spoken, and we are making the necessary improvements to address the concerns. These five key areas are now experiencing better call quality and a reduction in dropped calls. The Quarry Mission mobile site has brought improved coverage in the Chippingham and Meeting Street areas, and improvements are now being felt on East-West Highway, and the surrounding areas of the Mall at Marathon with the R.M. Bailey site. Carmichael Road continues to evolve and the sites at the Carmichael Road Police Station and the Defense Force Base are providing an
upgraded mobile experience for the thousands of people who live and do business in the area. Lastly, the new mobile tower on Farrington Road is helping to offload traffic from our JFK and Poinciana mobile towers."
In addition to the 4G mobile network expansion project, BTC is also upgrading the LTE network. By March, 2015 an additional one hundred and seven mobile sites across the country will have LTE coverage.
BTC delivers the broadest coverage, and the most advanced fixed and mobile communications services. The company BTC currently operates a sophisticated mobile network offering 2G, 4G, and 4GLTE services.]