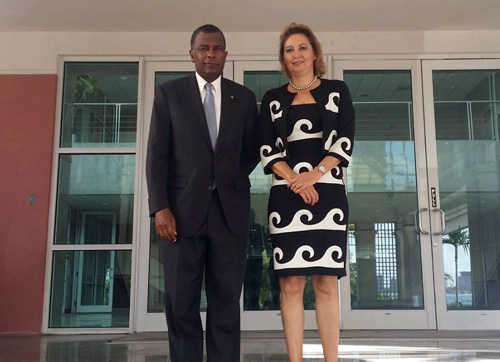 The Ambassador was accompanied by Ms. Aqueda Marin, Regional Technical Specialist of Counter-trafficking and the Minister was joined by Mrs. Cleola Hamilton, Parliamentary Secretary in the Ministry of Foreign Affairs and Immigration and the Senior Officials of the Ministry of Foreign Affairs and Immigration and the Dept. of Immigration.
The Courtesy Call provided an opportunity for both the Minister and Ambassador to have a frank conversation on irregular Migration in The Bahamas pursuant to the signing of the Memorandum of Understanding between the Bahamas and the International Organization for Migration in September during the 69th United Nations General Assembly on Climate Change.
Addressed during the Meeting by the Ambassador were:
·The Support of the Government of the Commonwealth of The Bahamas for the initiative titled "Regional Cooperation and Law Enforcement Integration to Combat Irregular migration and Smuggling between Haiti, The Bahamas and the Turks and Caicos Islands". This initiative is aimed to support the Government of Haiti in addressing irregular migration, smuggling and trafficking originating or transiting from Haiti towards The Bahamas and the Turks and Caicos Islands.
·Voluntary Repatriations and reintegration programmes in Haiti for migrants who are returned to Haiti to be integrated into society.
·The need to establish a Regional Consultancy Process, to discuss best practices and the exchange of information on migration in the region.
The Minister in responding to the matters raised, stated that there were misconceptions in the media regarding the Immigration Policy of The Bahamas and a public education was required concerning this process.
The Minister acknowledged and expressed appreciation regarding the productive relationship with the IOM. He further emphasized the desire of The Bahamas to cause the strengthening of this association through further cooperation in areas of capacity building, prosecutions of persons involved in human trafficking and the promotion of a sub-regional program between The Bahamas, Turks and Caicos and Haiti.