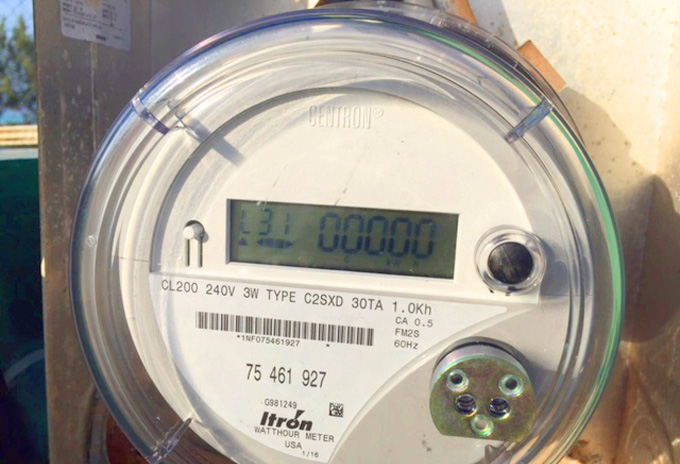 Nassau, Bahamas – The concept of metered and prepaid electricity may be a near reality as the Bahamas Telecommunications Company (BTC) has started an equipment test bed in Spanish Wells, Eleuthera. Prepaid metering allows customers to better manage their electricity-use and bills via BTC's 4G LTE data network.
BTC CEO Leon Williams said, "Prepaid metering is just one of the many examples of the "internet of things". We are continuing to make the transformation to where our customers are." It shows how we can use our advanced network to provide more convenience to the public. We are aware that there are hundreds of Bahamians with no electricity. By using a smart grid prepaid meter, customers can top up their account and monitor their usage. The system can even be designed to allow you to incrementally pay on your existing electricity bill. It will be a win/win situation for the electricity provider and the customer. We have been working with St. George's Cay Power Limited on this 'proof of concept', (POC)."
CEO at St. George's Cay Power Limited said, "We have been using the BTC prepaid metering solution for about a month now, and so far everything is going well. We have two meters that we are testing. In Spanish Wells we have several business owners that operate rental units. Prepaid metering will be beneficial to these customers as renters will be responsible for their power usage. I'm certain that it will also be beneficial for persons that may have problems paying for electricity."
Prepaid metering provides an added layer of flexibility for customers. This tech-savvy solution will be operated using BTC's 4G LTE data network. It will allow customers to top up their accounts using their existing mobile wallet, wherever BTC top-up is available, online and via the BTC Call Center. Consumers will have the ability of monitoring their usage using their smart devices.
The prepaid metering system provides notifications, letting customers know when their balances are low and prompting them to top up again. The prepaid metering system can be customized to allow customers to also pay down on their existing bills.
It also offers the benefit of reduced operating costs for electricity providers as they will be able to reduce bad debt over time. In the next several months, BTC expects to complete its POC and extend the opportunity to local utility providers. Later this year, BTC will also work with a provider to spearhead a prepaid metering concept for water usage.