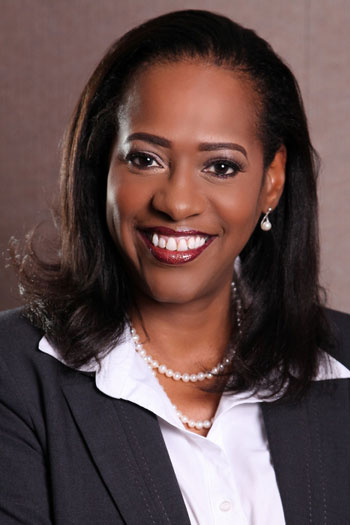 Nassau, Bahamas – CANTO, the Caribbean's information and communications technology (ICT) organisation, decided to highlight the advancement of women as a vital factor in the development of the sector at its 30th Annual Conference and Trade Exhibition. At the regional conference, which was co-hosted by local telecoms leader BTC, CANTO debuted it's Caribbean Women in ICT (CWIC) programme with an inaugural breakfast at Atlantis Resort, Paradise Island, that focused on better engaging women at all levels of ICT in the region.
Spearheading the initiative was Secretary General Regenie Fraser who stressed the important roles women play in ICT and their under-representation within the industry, which were the motivating factors for Tuesday morning's Caribbean Women in ICT breakfast.
"Over the years CANTO programmes for women in ICT have lacked formal structure. Therefore, we wanted to address the issues facing women in the industry in a more structured way. There is significant research indicating that women are underrepresented in the industry, and that those who enter the field do not stay. It was clear to CANTO that an ongoing forum was needed to solidify commitment to implement projects that will attract and encourage young women from the region to pursue careers in the ICT sector."
Mitzi Miller, Editor in Chief of Ebony Magazine was invited to deliver the opening address. Mitzi shared the journey that led to her current position and left the audience with a very simple message, "no matter how many hours you put into your work day, take time for family and friends and to enjoy your life – finding and maintaining the balance is important; family is most important."
Panel Presentations were given by Patricia Walters, SVP Customer Operations, BTC; Ingrid Seeratan, Permanent Secretary of Science and Technology for Trinidad and Tobago; Jennifer Britton, Deputy Programme Manager, ICT4D CARICOM Secretariat; Lisa Lewis, Group Projects Director, Digicel and Rhea Yaw Ching, Corporate VP Sales/Marketing, Columbus Communications.
The panelists emphasized that the time had come for women to play a more important role in the ICT industry and that as Caribbean women of influence it was their responsibility to ensure that young women are exposed to the possibilities and opportunities available in the sector.
Patricia Walters, BTC Senior Vice President of Customer Operations at BTC, said that one need only look at the statistics to see that the forum is much needed.
"Recruiting and retention of women is an issue in the sector worldwide. Only 30% of people employed in ICT at the entry level are women. At mid-level this drops to 15% and at the senior strategy and planning levels this drops again to 9%. We, as leading women in the industry, have to find ways to keep women in the workforce. Women have lots of knowledge and experience that can be used to better the industry and research shows that companies with gender diverse leadership make better decisions and higher profits."
Ms. Walters added that BTC is happy to join with CANTO and has been addressing this issue in their own organisation.
"BTC doesn't have a quota system as we believe in promoting the best person for the job, but there has been a concerted effort to better incorporate women, especially in leadership positions. So what you are seeing evolve, is jobs that were once perceived as male dominated now have many females in them. We are committed to our employee development, offering flexible technical training and e-learning suites to all employees, which women have been making fantastic use of. So we really look forward to partnering with CANTO as CWIC progresses."
Ms. Fraser aims to make the CWIC programme more than an annual forum, with plans to implement programming throughout the year.
"In the coming months we will more concretely define how we will govern this new aspect of CANTO. We received over 100 suggested programmes from the women at the launch and we have convened a committee in conjunction with the CARICOM Secretariat to decide exactly which commitments we will implement."
About CANTO
CANTO is recognized as the leading trade association of the ICT sector for shaping information and communication in the Caribbean. Founded in 1985 as a non-profit association of 8 telephone operating companies, CANTO has now grown to over 110 members in 33 countries. The policy strategy of the association is directed by a board of directors appointed by the membership. This strategy is executed by the staff of a permanent Secretariat located in Trinidad and Tobago.