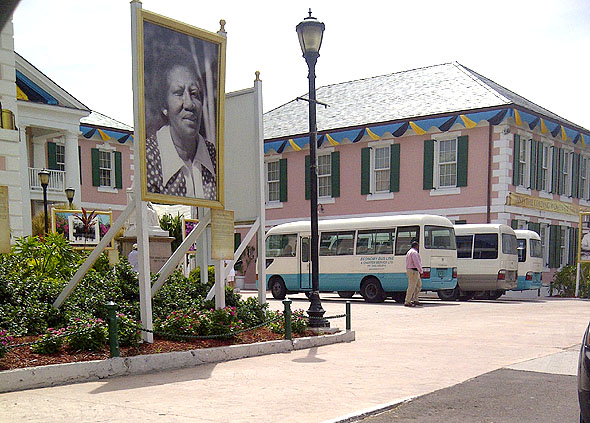 BREAKING BP ALERT: Check this out if ya bad… Buses turn Rawson Square into Parking lot in downtown Nassau. Now could someone tell BP where the police gone? What kinda ting is dis? Devaluing the town and parking ya damn bus right in front a my Parliament… We gata stop this 'jackassness' ya know!
SELECTIVE ENFORCEMENT TEAM ARRESTS MURDER
SUSPECT
A 25-year old male of Carmichael Road is in custody after he was arrested by police for questioning reference to murder and possession an unlicensed firearm on Wednesday
5th September 2012.
According to police reports, around 3:00pm officers from the RBPF Selective Enforcement Team were on patrol at Paradise Island, where they arrested the suspect for question reference to the Murder of Jesnal Roberts, which occurred on Monday 3rd September 2012. The suspect was also found in possession of an unlicensed shotgun.
Investigation continues.
POLICE IDENTIFY MURDER VICTIM
Police have identified the male who was found unresponsive at Yellow Elder Gardens as 19-year old LAMAR RASHAD BAIN of MAJORS ROAD, YELLOW ELDER GARDENS.
According to police reports, Police responded to a report of shots fired around 10 p.m. on Tuesday 4th September 2012 and found the unresponsive body of a male with multiple gunshot wounds on a service road off Majors Road, Yellow Elder Gardens. Active police investigations continue.
TRAFFIC DIVISION TARGETS BUS DRIVERS
In keeping with priority #4 of the Commissioners 2012 Policing Plan, which speaks to "Enforcing the Rules of the Road," Officers of the Traffic Division conducted an aggressive campaign code name "Operation Bus Stop", targeting 'Bus Drivers' throughout the streets of New Providence.
This operation, which took place on Thursday 6th September 2012 between the hours of 10:30 am and 12:30 pm resulted in the following:
• Eighteen (18) drivers were issued Traffic Citations in the amount of $100.00 each for the offense of Driving while not having their seat belts fastened
• Twelve (12) drivers were issued Traffic Citations in the amount of $250.00 each for the offense of Driving an Unlicensed Vehicle
• Nine (9) drivers were issued Traffic Citations in the amount of $75.00 each for the offense of Driving a motor vehicle with windows obscuring the interior
• Seven (7) drivers were issued Traffic Citations in the amount of $250.00 each for the offense of Failing to stop a motor vehicle at a Traffic Light
• Seven (7) drivers were issued Traffic Citations in the amount of $100.00 each for the offense of Causing Obstruction
• Three (3) drivers were issued Traffic Citations in the amount of $250.00 each for the offense of Driving while not covered against a third party risk insurance
• Three (3) drivers were issued Traffic Citations in the amount of $100.00 each for the offense of Driving buses, off their regular route
• One (1) driver was issued a Traffic Citation in the amount of $100.00 for the offense of Driving without Due Care and Attention
• Additionally, one (1) person was arrested for possession of Dangerous Drugs and two (2) persons were arrested for outstanding for warrants
Police also warned that officers of the Traffic Division and by extension the Royal Bahamas Police Force would take a zero tolerance approach in Enforcing the Rules of the Road, while providing a Safer Bahamas for residents and visitors alike to "Live, Work, Visit and Play."