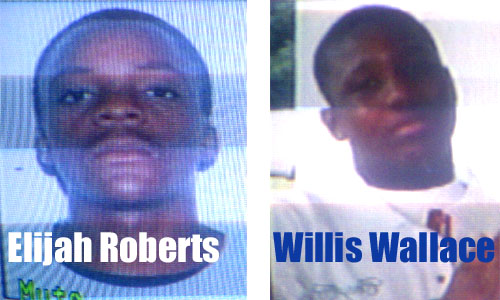 Nassau, Bahamas — Here are the two young men – 19-year-olds – whose lives were ended over the past week. Both killed in Yellow Elder.
Elijah Roberts was gunned down Friday past and on Wednesday Willis Wallace Jr.
And over what? Young lives cut down while their killers roam at-large in society "PROTECTED by SOME DAMN WICKED FAMILY MEMBER"!
What a country!
God is not please! I MEAN – all over this town all you could find is these days are cold hardhearted RWANDAN STYLE KILLERS who have no love for life. Dead to themselves; filled up inside with crowded blind bats locked deep down in their chests.
The children of the enemy has invaded this once peaceful loving community!
And while the bloodshed and bloodbath continues the preachers are busying themselves about who ga get the gambling money every week; Them or Flowers? See how wicked our society we have become?
Rather than focusing on the state of the nation and go and visit the sick and heal the blind – the preachers – who should be preaching repentance all over the place, are worrying about keeping gambling illegal in the Bahamas for Bahamians while praying for the prosperity of the largest gambling house in the Caribbean – Baha Mar Casino. What hypocrisy!
People have no nerve for life anymore! May God revenge their deaths.
THOU SHALL NOT KILL!!!!!!!!!
We report yinner decide!