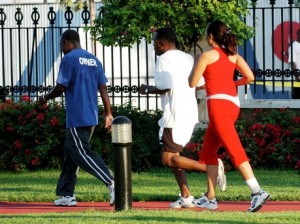 Nassau, Bahamas — Bahamas Press is reporting another near death experience by a woman early this morning.
Now get this, wife of Dr. Hubert Minnis experienced a near fatal experience early this morning as gun totting thugs attempted to evade police.
Reports tell us the wife of the Minister of Health narrowly escaped gunshots this morning during her early morning walk near Tropical Gardens.
As Mrs Minnis walked with two early joggers, there appeared suddenly a hail of bullets headed in their  direction from no where as police gave chase to a red truck.
The women, according to reports, had to stop, drop, roll and then ditch themselves into a gully to avoid the heavy gunfire.
The Bahamas is fast descending like a city known in the middle east called Baghdad.
Meanwhile the  Tommy Turnquest has not made a single statement on the escalating situation of crime, which has left three women including a pregnant mother dead at the hands of cold angry merciless killers.
Bahamas Press calls on the Obama Administration to assist the Bahamas to its VEXING crime problem. We need the support of two BLACKHAWK fully loaded helicopters right away to assist police in the escalating crime and violence problem across the Bahamas.