Will Christie now test his muscle and fire OBIE?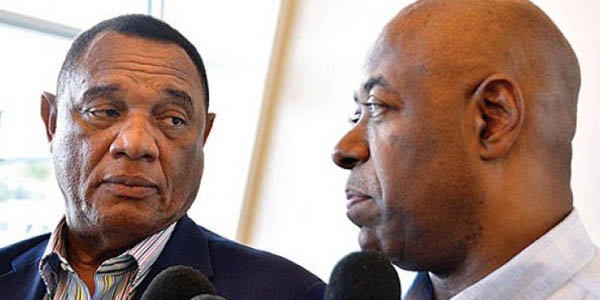 Well what in da hell is dis on Christie hands this morning….Did Obie collect a Loan from Sarkis?

Nassau, Bahamas – The growing dissent in the Cabinet Room of Prime Minister Rt. Hon. Perry Christie is now more evident that ever, and this morning Minister of Tourism, Obie Wilchcombe, made it clear on national radio his views about the Baha Mar development.
The Tourism Minister in a live interview with ZNS anchor, Clint Watson, said that the court procedures on Baha Mar does no good for the direction of the future of Baha Mar and that to have these court matters continuing will do no good for the development. He implored all parties to get back to the table for a quicker resolution to the development. The minister made is clear that he does not support the appointment of a Provisional Liquidator and agreed that the decision by Baha Mar to go to Chapter 11 was equally not good.
But this morning's comments paints a chilling picture of what must be happening inside the Christie Cabinet where collective responsibility is a requirement to sit inside!
On July 16th in a nationally televised address Prime Minister Christie made clear his government's move to seek the court's permission to grant a Liquidator to have the stalled Baha Mar project resolved. The Prime Minister said the best path for the country would be to take the fate of the project out of the hands of its developer, Sarkis Izmirlian, and put it under the supervision of the Bahamian court system and appoint liquidators.
A Political Insider told BP, "A matter of this national importance would have been discussed and the course of action to be taken would have been approved by Cabinet. Obie is not a Lawyer and the only thing he knows about winding up is the few businesses he ran into the ground". We will leave that for another day and time.
What is clear following Wilchombe's comments this morning is that he completely disagrees with Mr. Christie and perhaps is now prepared to leave the Cabinet or otherwise be ready to be fired!
In the manual for the conduct of Cabinet and Ministry Procedure outlines how: "All major decisions of policy must be made by Cabinet.
"A fundamental principle of "Cabinet Government" is unity. It is important to present a united front to the public; if any Minister feels conscientiously unable to support a decision taken by Cabinet, he has one course open to him and that is to resign his office!"
Will Obie now resign or will Christie find muscle and fire this minister?
We report yinner decide!