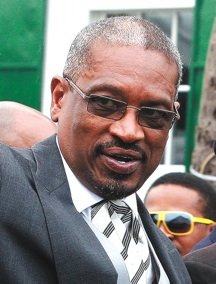 The following are remarks by the Leader of the Opposition, the Hon. Dr. Hubert Minnis on the passing of Sir Albert Miller:
News of the passing of Sir Albert Miller has left many Bahamians and friends of The Bahamas sad because a great Bahamian is no longer with us. Sir Albert led a purposeful and exceptionally productive life which has had a profound impact on thousands of lives and the national life of our country in several spheres of influence. The Bahamas in general and Grand Bahama in particular is better off because Sir Albert poured his life into this nation.
He lived a long and full life having served in pivotal positions in very distinct sectors of our society. Sir Albert hailed from Long Island and manifested characteristics such as industriousness and self-reliance long associated with Long Islanders.
His discipline and focus played a significant role in his ascension through the ranks of the Police Force. He ultimately became Deputy Commissioner of Police. He served with pride and distinction.
Sir Albert inspired confidence in those who worked with him and for him. He was a trusted partner and confidant of Edward St George and Sir Jack Hayward. They relied heavily on his sterling administrative skills and decisive leadership. He served in various capacities at the Grand Bahama Port Authority including as Chairman and after being asked to end his retirement he served as co chair of the Grand Bahama Port Authority.
Despite his substantial contribution to the development of Freeport and his generous service to the people of the Bahamas through serving on various Government Boards. Moreover, Sir Albert Miller was probably best known for his business acumen and his entrepreneurship. He in conjunction with other outstanding Bahamian entrepreneurs established, quite possibly, the most enduring economic empire in the Bahamas that encompasses a wide range of business throughout the length and breath of the nation.
The most important role Sir Albert played, however was that of husband and father. His family was very important to him and he to them. The Free National Movement grieves with each of you during this time of mourning and assure you of our prayers and unflinching support. On behalf of the FNM family and my immediate family I wish to express my deepest sympathy to the entire Miller family and the City of Freeport on the passing of one of our favourite sons.
May his soul rest in peace.