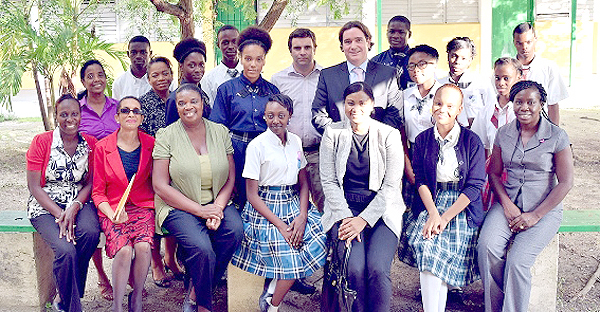 Nassau, Bahamas – The Language Cadet Programme which is an integral part of the Towards a Bilingual Bahamas (TABB) initiative held its first meeting on October 13 with approximately 20 students in attendance. The Cadets were selected from 6 of the 8 New Providence public schools participating in the Rosetta Stone Language programme: Anatol Rodgers, C.I. Gibson, C.R Walker, C.V. Bethel, Doris Johnson and Government High. Another 9 schools from the Family Islands are participating in the 8-month long training initiative, although a Cadet Programme has not been established in the Family Islands as yet. Cadets will meet after school twice monthly for interactive sessions with native speakers (Spanish and French) as well as with a varied group of financial services practitioners. The Cadet Programme, which is under the supervision of designated Ministry of Education, will continue through to the end of the 2015-2016 school year.
TABB was launched in August, 2105 by the Bahamas Financial Services Board (BFSB), the Ministry of Education (MoE), the Ministry of Financial Services and corporate and industry association partners, including the Association of International Banks & Trust Companies in The Bahamas , Bahamas Association of Compliance Officers, Bahamas Institute of Chartered Accountants, Callenders & Co., CFA Society The Bahamas, Insurance Institute of The Bahamas, Julius Baer Bank & Trust, The Winterbotham Trust Company and Windermere Corporate Management.
BFSB's CEO Aliya Allen and BFSB's Special Projects Associate Santia Dean attended the launch event for the Cadets, along with the MoE's Modern Language Department Head Donella Davis, who also serves as Project Coordinator for the Rosetta Language Learning programme within the public schools. Winterbotham President Ivan Hooper and the firm's Chief Fund Administrator Mario Maldini also participated in the introductory session.
"Acquiring language skills is fundamentally important to our country's future," said Ms. Allen, "whether those skills are applied to the financial services industry or other sectors of our economy. I applaud the students who have committed themselves to the programme and the teachers who are giving their time to this effort. I hope and believe that this is the start of a significant effort by younger Bahamians to embrace language learning as part of their personal and professional development."
Mr. Hooper encouraged students to apply the language skills they were learning as much as possible into their everyday lives. He spoke of his experiences in living in multiple countries (Uruguay, Peru and Spain) and how important language learning is within the financial services sector. "The financial services industry, like many other industries, has become global in nature," he said. "Professionally, the ability to communicate in the language of choice by clients and those who are advising them is crucial to gaining their trust and understanding their cultural nuances. And, having a second or even a third language is enriching on a personal level."
Ms. Davis told students the Bahamas Government recognizes that Bahamian participation in the global economy demands foreign language development especially by younger generation Bahamians. She told students "You are at the forefront of a new wave of skills development in The Bahamas. I know it will be a rewarding experience for you – but not without hard work and effort, and for that you should be congratulated."