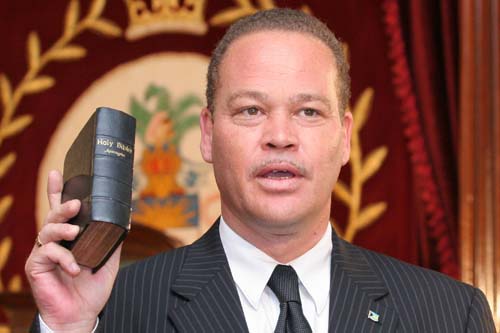 Carl Bethel, Minister of Education.
Bahamas Press remaining true to it's word and true to our thousands of readers who depend on Bahamas Press to represent the truth by 'keeping it real,' the scoundrel who defrauded the Government of tax dollars is none other than Carl Bethel, minister of education!!! One of our most trusted advisors and consultants told Bahamas Press that it would be most difficult for our readers to solve the riddle of which minister defrauded the Government, because from the pictures complimenting the initial warning—it could have been all of them! But alas, in this case, Carl Bethel it is, National Insurance is the agency defrauded and a dead woman and her family are the ones who were victimized.
Carl Bethel was a senior and still is an senior partner in the law firm of Bethel, Moss & Co. Bethel originally articled and 'cut his teeth,' if you will, at the law office of Arlington Butler & Associates. That relationship soured because Bahamas Press has learned that among other serious things, Carl Bethel, was not turning in all of the funds received from clients on behalf of Butler & Associates. This time he has taken his 'act' to the big stage, where worker and Government have been 'swung.' Bahamas Press wishes to note that Bethel is still listed as the representative of the company in the 2008 telephone directory, whilst he serves in the Cabinet of the Bahamas.
The death of that company's office secretary uncovered the crime when family members sought to receive benefits for the forty-three year deceased mother's dependents. Upon further investigation it was discovered that the company, Bethel Moss & Co. had not paid National Insurance [NIB] 'one copper' despite the fact the employee had deductions taken out of her pay for NIB for over a decade. However Bahamas Press was told that Bethel did agree to pay or did pay for the funeral of the dead woman. Sounds like a form of bribery to Bahamas Press.
Bahamas Press is beginning to wonder why the prime minister has not taken a closer look at those in his Cabinet such as Bethel, because he and his family are racking up quite a record of anti-social and deviant behavior. His son was the 'friendly campus rapist' at Queen's College, his nephew at another school was, as they say, 'servicing' a teacher on a regular basis at his high school and now the minister himself committing fraud! From a societal point of view, it is scary to know that these kinds of things runs in one family. From a criminal point of view, the minister and his family is heading for the top—the only thing left now for him or his to do is to commit murder!
Some would say that if the prime minister is to start looking closer at his ministers, then he should start by taking a closer look at himself! That sounds like a plan to Bahamas Press.