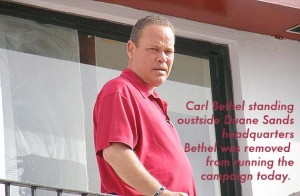 Bahamians Fired Foreigners HIRED!
Nassau, Bahamas– Breaking News coming up out of the constituency of Sea Breeze tells us the FNM candidate in the area is up to no good.
Sources on the ground confirmed to Bahamas Press that a number of illegals in the area have been bought lawnmowers in return for throwing their support to the FNM.
Residents in the position to know tell us they are disgusted by the actions of the FNM Chairman, who knows that thousands of residents in the community are without work.
How could a former Cabinet Minister have the gall to go and break the law, buying tools for illegals to work in the Bahamas, when our children cannot find work? The MP for this area should hang his head in shame. He is not for Bahamians and should be voted out of office.
The move by the government confirms the Party is getting ready for a major defeat. Just last week BP recorded that some 200 residents became full fledged citizens of the Bahamas.
The government stepped up its citizen for votes policy after realizing thousands of Bahamians have shifted their support away from the FNM Government.
Last night in Fox Hill, Prime Minister Hubert Ingraham was overheard begging PLP supporters to vote for him, even after claiming he is ahead in the polls.
In a desperate move to win but destined to lose, the PM said, ""I ask for your support this election.
"You don't have to tell anybody how you voted. Come to Papa. Your Papa ain't here no more and this new man just ain't got it!
"If you like the modernization of the country you've seen so far, give us five more years. Come with me."
If Hubert Ingraham is ahead and is winning, why does he need PLP support?
IT'S UNBELIEVABLE! UNTHINKABLE!
Gov't vehicles readies eastern beach for FNM event
Meanwhile in a desperate move to abuse the public purse to win an election Bahamas Press condemns the government use of public vehicles for an FNM RED SPLASH event on Easter Monday.
Trucks and Govt workers are working overtime – everywhere at the site of the location for the event obviously getting everything ready for the FNM's Easter Monday picnic – at public expense!
BP cries DUTTY SHAME on the Government at their rank abuse of public money for a private POLITICAL event.
Yinna GATS NO DAMN SHAME!

We report yinner decide!