Another politician caught in an alleged crime [with 10 live rounds] and yet the case cannot move!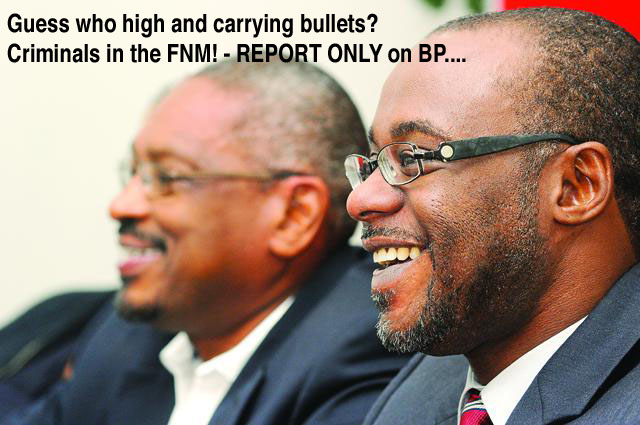 Nassau, Bahamas – Today the fifth delay in the ammunition case of former FNM Senator John Bostwick occurred.
Bostwick was initially arraigned before Chief Magistrate Joyann Ferguson-Pratt for the alleged possession of 10 live rounds of .22 ammunition, which were found in his bags on Saturday, May 17, 2014 as he attempted to gain clearance at the airport in Freeport.
He pleaded not guilty to the charge and was released on $9,000 bail. The trial has been dragging its feet now for almost one year and today, once again, the trial was delayed after courtroom recorders failed to show, and only one witness out of Grand Bahama made an appearance.
John Bostwick Jr. is represented by his father, former FNM Senator and Senior Queen's Counsel at the Bahamas Bar, J. Henry Bostwick. His mother, former FNM MP, the first woman to be elected to Parliament, former Minister of Housing and Labour, former Minister of Justice and Immigration and the first female Attorney General of The Bahamas and Minister of Foreign Affairs, Hon. Janet Bostwick, is ever-present in court! This is incredible because Mrs. Bostwick is perhaps one of the most influential female in the country!
This cannot be Swift Justice in the Bahamas and leaves one to wonder why are there so many hiccups in this case! BP is of the view this is a sure formula for eventual dismissal of this serious and damning case!
We at Bahamas Press wonder why is the case being heard in the capital and echo a concern expressed by the Attorney General where some individuals seems to be 'shopping for Judges'.
Scores of witnesses were in that Freeport Airport when the incident occurred, and we know they will most likely be unable to fly into the capital…so why is the trial here?
The alleged crime occurred on Grand Bahama and from the beginning it should have stayed in that part of the country. Which bring us to another question: Was someone behind this case shopping for the "RIGHT MAGISTRATE"? What is the cost for transporting witnesses and possibly hotel accommodations here in the capital to hear this matter? BP asserts that in the course of justice no cost should be spared!
And then again, this is a straightforward case!
As one daily reader of BP said, "The worst thing that could happen now to this case is that this is thrown out for whatever reasons; when we know people without prominent and popular parents are right now languishing in the Correctional Facility and they were not even caught near ammunition or weapon!"
This is a landmark case and the entire world – including the 560,000 BP READERS – are watching its outcome!
We report yinner decide!