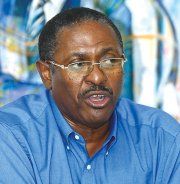 Press Statement
Bradley Roberts
National Chairman
Progressive Liberal Party
11th December 2012
Cash should welcome and embrace NIB forensic audit
I agree with Mr. Cash that the National Insurance Board (NIB) is an international embarrassment, but this embarrassment is due to the manner in which the former minister for NIB and former prime minister handled NIB.
Mr. Cash could kick up as much dust, wave as many smoke screens and deflect from the pertinent issues all he wants, but he still failed to address the issues of corporate governance and fiduciary responsibilities under the former board appointed by the FNM administration. The fact of the matter is that there is evidence that the authority of the NIB board was undermined by the former FNM political directorate in contravention of the National Insurance Act and established guidelines of corporate governance of the board. This is malfeasance of the worst kind and Cash will not be allowed to skirt this issue because it is an inconvenient truth for the FNM.
A few questions for Mr. Cash:
Who approved the huge bonuses for the former director?
Did the former Board Chairman Patrick Ward alone know of the bonuses or did the entire NIB Board know of and agreed to it?
If so do the minutes of the NIB Board meetings reflect this?
If employees and employers are mandated by law to make NIB contributions, then what were the bonuses for?
If the bonuses were to improve the rate of compliance, then what was the former director paid almost $200,000 per year for?
THERE IS ABSOLUTELY NO JUSTIFICATION FOR THE RENUMERATION PACKAGE.
The manner in which the FNM political directorate dealt with NIB is still shrouded in secrecy and remains a mystery but the Bahamian people need to know how their social security contributions was managed and how the Board was goverened. The dealings with the Board by the FNM government seemed to be underhanded in nature.
What complicates this matter is that the former State Minister for Finance, Zhivargo Laing stated in the media that he was unaware of the approved bonuses. This raises more serious questions about the corporate governance of NIB. It is clear that former chairman Ward approved the bonuses in the absence of ministerial approval, contrary to Section 40 of the National Insurance Act.
To his credit however, Prime Minister Christie was absolutely correct in calling for an independent forensic audit of NIB accounts in light of the allegations and revelations by the PLP and the PLP wholeheartedly supports the Prime Minister's decision.
Beyond the political theater, grandstanding and political bluster by the FNM, Mr. Cash and the FNM should welcome this course of action taken by the Prime Minister as it will bring accountability and transparency to the process of governance at the National Insurance Board. After all, the National Insurance Board is still the people's corporation and it's the people's money.
–30–