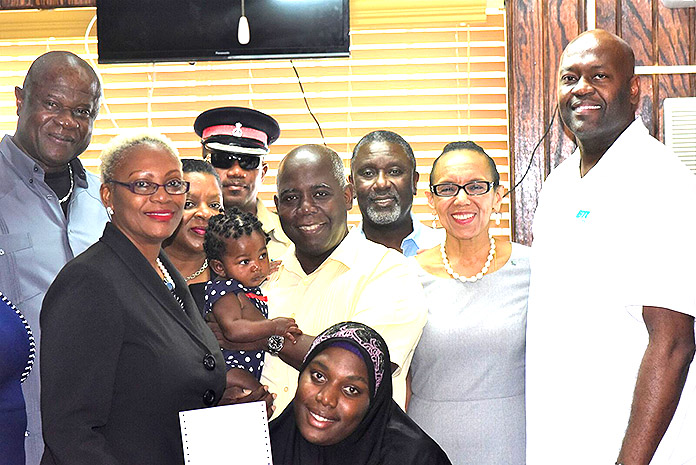 CAT ISLAND, The Bahamas — Deputy Prime Minister and Minister of Works and Urban Development, the Hon. Philip Davis, accompanied by the Attorney General, Senator the Hon. Allyson Maynard Gibson, arrived in New Bight, Cat Island, Thursday morning, March 30, and greeted Cat Island residents gathered to witness online birth registration and certification take place locally for the first time.
Implementation of the online registration and certification process would replace the need for Cat Islanders to have to travel to New Providence for registration and certification of newborns, or for other important life events such as marriages.
The Deputy Prime Minister and the Attorney General were accompanied by Acting Registrar General Deidre Maycock, the Assistant Registrar General, as well as senior government officials including Chief Administrator McIntosh, and Cat Island Chief of Police, Harry Williams.
The child, Beverly Afrika Princess Faith Higgs, was the first baby whose birth was registered and certified through online process in Cat Island for 2017.
Her parents, like other Cat Island residents, did not have to incur the expense of traveling to Nassau to receive civil registration amenities afforded to all citizens.
AG Maynard Gibson explained to the group the time frames and stipulations surrounding the registration of a newborn child.
Deputy Prime Minister Davis, Member of Parliament for Cat Island, Rum Cay, and San Salvador commended the Attorney General for this step in the right direction for Bahamians.
BTC's Travis Collie was present to assure residents that BTC is partnering with the Attorney General's Office and local government to ensure this service is uninterrupted.
Staff of the Attorney General's Office, led by Permanent Secretary Marco Rolle, were present to witness and assist the first birth registration, along with Local Government administration at the New Bight, Cat Island, Government Complex.
Online Registration and Certification has recently been implemented in North Andros, Eleuthera, and the Berry Islands.