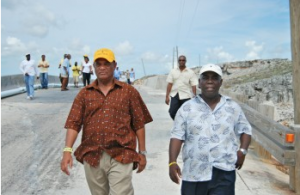 Cat Island, Bahamas — More than ten days after Hurricane Irene pounded Cat Island, residents and the Member of Parliament for the area say they are disappointed at the slow response from government agencies.
Bahamians in the south of Cat Island are still without lights or communications.
Residents like Pastor Henry Pratt of Bain's Town hoped for more: "I expected there would have been more relief out of Nassau on an emergency flight," he said.
He says many Cat Islanders are still unhappy with the Prime Minister's remarks about 'no devastation" and feels that Prime Minister Ingraham should have done a complete tour of the island.
"I thought he would have come 'round  and see what gone down. Just by saying hello, that would have healed a lot of things in the community."
Cat Island, Rum Cay and San Salvador MP, Philip "Brave" Davis, who was on the island one week earlier, commended all those residents including BTC and BEC workers and workers on the PGA project who were involved in the restoration efforts over the past seven days. However, he stressed his disappointment that there was not a more co-ordinated effort from the Capital and urged better preparedness in the future.
"We have 48 hours to put in place the necessary resources to be able to respond to the emergency needs of our people. From what I have observed, I don't know whether or not that was adequately or sufficiently done otherwise we would not be in the state we are in today," he said.
Mr. Davis also wants counselors to help residents who are still traumatized from the storm.
He was supported by PLP candidate for Golden Isles, Senator Michael Halkitis who grew up in Cat Island, PLP candidate for Sea Breeze, Senator Hope Strachan and PLP candidate for South Beach Cleola Hamilton. Senators Halkitis and Strachan highlighted the resilience of Cat Islanders and urged the nation not to forget the hardship they are experiencing. Mrs. Hamilton stressed the importance of the need for electricity to secure medication for diabetics and vaccines for children. She also urged the government to carry out fogging exercises to prevent the incidence of dengue fever on the island.