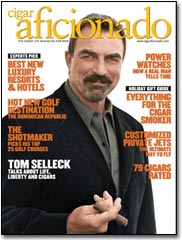 <<< Actor Tom Selleck on cover of Cigar Aficionado.
Cigar Aficinado is a millionaire's dream magazine, which tells the rich and rich wanabes where the real treasures of the world are hidden. In a special feature written by Carrie Gaska titled, Travel Millionaire Hideaways, Kamalame Cay's owner Brian Hew tells his story. The article features three island owners, with all telling stories of their 'tropical paradises'.
Bahamas Press read with interest on what was being said by the developer of beautiful Kamalame Cay, and thought we should also invite our now 200,000 daily readers to read it also. You see, many of the people who read this website were the former owners of those 96 acres that were given to Hew by Hubert Ingraham.
The Prime Minister of the country LIED TO THE BAHAMIAN PEOPLE WHEN HE SAID, "THE FNM GOVERNMENT NEVER SOLD THE LAND!" But here in this article, 'LICK GUNSHOT' HEW gives us the story as to who now are the real owners of the cay today, or as he boasts, "SANDBOX". Hubert Ingraham sold all 96 acres of public land to this Jamaican born developer for a mere $350,000. Today, Hew is 'flipping land' on the cay at $1,000,000.00 [million] per 0.75 acre. Who sold the people's land HUBERT? hmmmmmm!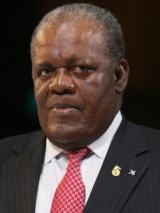 Brian Hew — Kamalame Cay, Andros, The Bahamas

For Brian Hew, work, life, pleasure and everything in between blend together and Kamalame Cay, the island he owns in the Bahamas with his wife, Jenny, is where it all happens. Unlike many private island owners, Hew lives a stone's throw away from his island full-time and does everything from clearing brush from the beach to building guest villas.

When Hew meets another private island owner, he often asks, "How big is your sandbox?" "It's kind of childish really, isn't it?" he says, with a gleam in his eye and a boyish grin. "But as you grow older, it's good to keep your youthful playfulness, too." With three miles of white sandy beaches on Kamalame Cay, Hew's sandbox is bigger than most men his age. So is his 7,000-square-foot home, which sits opposite the cay on land that is connected to Andros by a sand road.

The 49-year-old Hew, who also manages the Compass Point hotel resort in Nassau for an outfit called Island Outpost, lived and worked in Miami and Canada before he, Jenny, 49, and their son, David, 22, settled down on Kamalame Cay in 1994. Looking to connect with the outdoors, the Hews made a deal with the Bahamian government in the mid-1990s. The government wanted a number of islands developed as resorts to increase tourism. It would sell land cheaply, with the understanding that it must be developed before the buyer could take over the ownership of the island. So, the Hews had to put in infrastructure and buildings and get the island up to resort status before the transaction would be officially completed and they'd be the official island owners (which occurred in 2001).

"It gives a whole new dimension to remoteness and a challenge, you know." says Brian. "Out here we're responsible for our electrical needs, we're responsible for our water, the roads—all of those things. I think it's more a matter of exploring…it's like, Don't stop the carnival."

Mechanics and logistics occupy much of Hew's time. Living on an island means learning how to improvise; one of his biggest challenges was figuring a way to get materials to Kamalame Cay. The first thing Hew built when he arrived was a 12-by-36-foot barge named Sandbar Sally. All the building materials for the villas, which house a total of 18, were brought from Andros to the island on the barge.

Because Kamalame Cay is a resort, Hew spent a lot of time training his staff. "Anybody can build anything, but whether people come to your island is a matter of the people [you employ]. The people are what it's all about," says Hew.

Perhaps the biggest reward Hew has reaped from developing Kamalame Cay is the difference that it has made in his workers' economic and social development. "When I first came here ten years ago, I met kids who were 13 years old who are now 24 years old and I've trained them to be fishing guides to landscaping supervisors to management-type people," says Hew.

"The type of guests that come here and the exposure these people have had—these are people I wouldn't meet otherwise and neither would the staff. It's part of the experience."

Hew is content to let royalty, celebrities and sports figures come to him. "I don't travel a lot. I'm [totally] enveloped in my own little world. The world comes to me. They come to see what it's like and they enjoy it."