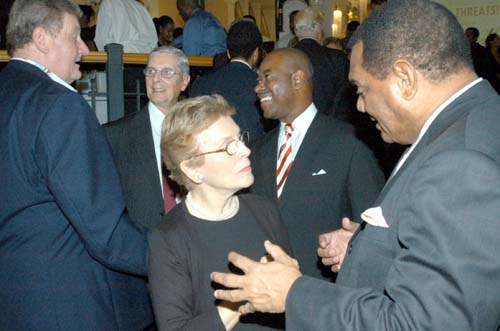 <<< Look at the 'Pussy Cat', the 'TOILET PAPER' and the 'SNITCH' working together AGAIN!
Nassau, Bahamas: Perry 'PUSSY CAT' Christie never ceases to amaze us at Bahamas Press. The weak leader of the PLP, who we liken to the posterior of a donkey, was all in the WUTLESS MEDIA this morning responding to our article on his weak leadership.
Now Christie is afraid of truth. He is against young people. He is afraid of technology, and yes he is a weak leader. Bahamas Press is not amaze to see that the 'PUSSY CAT' is now acting like the 'SNITCH' and is now all over the place trying to hit at some ghost by attacking Bahamas Press in today's newspaper. We wonder when will PLPs see that Christie has no interest in defending the people of this country.
Where was Christie's voice for those lil boys at the Eight Mile Rock High School when they were being molested? When parents were crying for help and Carl Bethel shared little concern for the children? Christie has yet to speak to the issue.
Where was Christie's voice when more that 1,200 workers at the Atlantis Resort were fired, many crying and falling out! Christie has yet to speak to the 'toilet paper' on that issue.
Where is Christe's voice for those 500 plus workers at the Emerald Bay Resort who will lose their jobs in three days? Christie can't speak on that either.
Nor has he yet met with the people who lost all they had at CLICO. And we can go on and on and on all day. But the PUSSY CAT could find the Tribune ['Toilet Paper'] when it comes to him. When the rubber slaps him down in the road, he finds quickly the OLE MAID to talk news, the traits of a SLY OLE PUSSY CAT INDEED!
Bahamas Press warns the leader of the PLP to pack his bags and GO before he gets a month long attack from this blog! We're SICK AND TIRED OF HIS VICKEDNESS CUNNING WAYS! He is a FAKE! He is a TRAITOR to the voice of opposition in this country! And he has FAILED the Bahamian people!
Keep looking for the ghost in your party Christie, but you will soon know and discover that the information was NOT given to us by any PLP! BP received our report from an FNM, a BIG TIME ONE TOO. And the next time you meet with MUGABE ask him and he will tell you. Don't push us any further on this! DAMN PUSSY CAT!