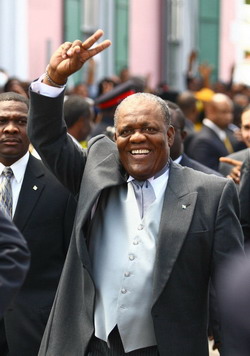 <<< Prime Minister and Minister of Finance the Rt. Hon. Hubert Ingraham waves to the cheering crowd as he makes his way, with Members of Parliament, to Rawson Square on Wednesday, May 23, 2007. (By: Tim Aylen)
A string of sexually explicit links have now appeared on the official website representing the Office of the Prime Minister [OPM]. Bahamas Press confirmed early today the embarrassing matter will be addressed at the Cabinet meeting and an investigation will follow.
The string of codes posted at: http://www.bahamas.gov.bs/bahamasweb…256F000070584A near the bottom of the page confirms that someone in the OPM ventured into cyberspace within the office and has now caused links to appear stringing across the Prime Minister's section of the website. The webpage publishes the address, contact numbers and duties assigned to Prime Minister of the Bahamas.
A computer engineer knowledgeable about websites confirmed to BP that the situation, "Looks like an iframe injection script running loose on their server. Probably due to some insecure folders. They need to fix those permissions and install MOD SEC before that spreads to all index pages."
Bahamas Press wonders, however, who in the OPM could have been pleasuring themselves whilst at work and is now causing a national embarrassment. Our deep throat in the OPM confirmed this morning, "Whoever has done this, in what can only be described as an attempt to embarrass the Prime Minister and the country around the world, will certainly dealt with."