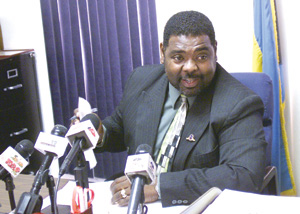 <<< John Pinder, president of the BPSU.

Nassau Bahamas — We've learned that many members of the civil service will be sent home this July as a mass exodus campaign to dismiss workers in the government will commence, following budget cuts across the public service.
Bahamas Press can now confirm that John Pinder, President of the Bahamas Public Service Union [BPSU], has agreed with the packages, which were done following his negotiations with Hubert Ingraham for his bid to run in the Fox Hill constituency.
Pinder, who won the BPSU presidency for a third term late last year, will run as a standard bearer for the Free National Movement against incumbent Fred Mitchell. Both Pinder and Mr. Ingraham share a nephew together. That nephew is the son of Larry Pinder, who is also the 'goon' for Brent Symonette, the 'mayor' of St. Anne's and the current Minister of Foreign Affairs.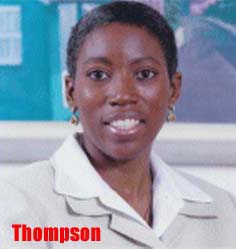 In 2004 when FNM 'trouble maker' Elizabeth Thompson was being fired from the Registrar department office, Pinder quickly rushed to her aid rallying 30 protest workers, which were angered by the government's decision. At the time Pinder had this to say, "If someone threatens your livelihood it puts you in a funny position and it frustrates you. The human resources person is also totally frustrated and she is not allowed to function the way she ought to.
"There is too much political interference, there are too many persons in here with political appointments and who are not established civil servants."
He concluded saying the sit-out is just a warning of what would come if Ms. Thompson was terminated. Well, that was 2004, but today [2009] now that more than 5,000 civil servants will go home this July, Pinder's voice has slipped into silence! Now you know why.
Prime Minister Ingraham will deliver his budget cuts during the reading of his 2009/10 Budget communication tomorrow in the House of Assembly. It is likely nothing will be said about terminations, however, Bahamas Press can confirm that a number of workers have already received their letters.