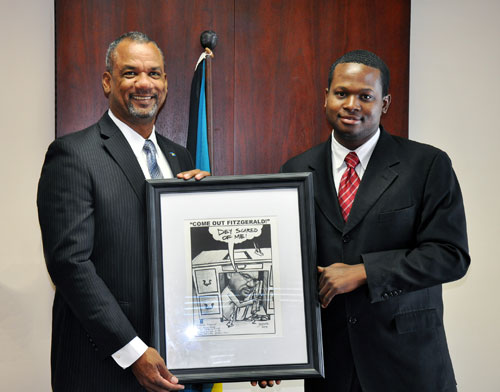 Nassau, Bahamas – Mr. Jamaal Rolle, a Celebrity Artist paid a courtesy call on the Minister of Education, Science and Technology, the Honourable Jerome Fitzgerald. Mr. Rolle, a graduate of R.M. Bailey Senior High School is a self-taught artist whose artistic roots are derived from his parents Harry, an artist and bronze sculptor and Judy, a conch shell artist.
The award winning visual artist, famous for his life-like portrait depictions of world figures, government officials, billionaires and A-list celebrities presented the Minister with a cartoon sketch entitled, "Come out Fitzgerald". He explained the depiction of Minister Fitzgerald as a twist in an event that took place during the Minister's earlier tenure in office.
Minister Fitzgerald noted his pleasure of receiving the sketch and told Mr. Rolle that it was one of his favourites. He also commended Mr. Rolle for his ability to produce such detailed, realistic portraits.