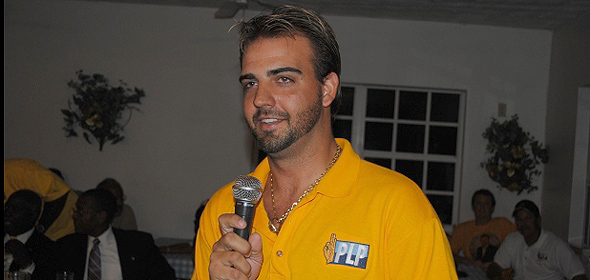 Nassau, Bahamas – The PLP just had a meeting in Lower Bogue Eleuthera that may have given House Speaker Alvin Smith a new reason to consider retirement. It seems the line to kick Alvin's [EXPLETIVE] in the upcoming elections is longer than anyone expected with at least four candidates vying for the chance. Having won by a mere few dozen votes in 2007, many see North Eleuthera as a winnable possibility.
Chrisfield Johnson ran for the party last time and hopes to get a do over. He may have a difficult time with the ascendancy of newcomer Clay Sweeting looking for the nod as well as the rabble rouser with the right last name, Dr. Lea Percentie. All are great possibilities with their own stories but the obvious stand out right now seems to be young Mr. Sweeting.
Lets get the obvious stuff out of the way.
Okay, for starters, he's a white guy. But not just any white guy. He's a young white guy. But not just a young white guy. He's a young white Bahamian from Spanish Wells. Spanish Wells has been like the Holy Grail for the PLP in pursuit of a winner in the north. The FNM's stronghold for so many years has been weakening with each elections and the excitement in some PLP circles seem to stem from the fact that this is the first time anyone can recall having the combination of a hometown boy, a Spanish Wells native, a minority candidate and a 20 something all packaged into one person. It doesn't hurt that the guy also has a working brain and has been successful at everything he's tried in his still young life.
Its hard to not fall for what we saw in North Eleuthra and this just makes Perry Christie's job all the more harder in choosing his man for that area. Since we have no problems catching flack for what we write here, I may as well just come out and say that the PLP would be nuts to not consider Clay Sweeting for the nomination. The party is still riding high off of the success of Ryan Pinder's narrow win in Elizabeth and are bouyed by the fact that Pinder quickly asserted himself as one of Christie's most reliably effective House of Assembly members and a pretty good guy in his area.
There is little doubt, with Ryan's roots going back to Spanish Wells and North Eleuthra that his success weighed heavily on Clay's decision to throw his name in the hat so soon and with so much at stake. Perry Christie spoke about the "wave." On Eleuthera, it seems to me that a wave has indeed broken out and surprisingly, the wave started all the way in New Providence with Ryan. The added pressure is likely to be something the party and its would be nominee won't mind trading if the turn out at the "listening tour" is any indication. It was standing room only and a mix of black and white, young and old Bahamians all united with one goal in mind. Winning.
Perry and his crew had better not waste any time in picking this one because regardless of who they choose, and by that I mean Clay, Alvin is going home for good. Now where can I find me one of those "Clay Time" shirts?