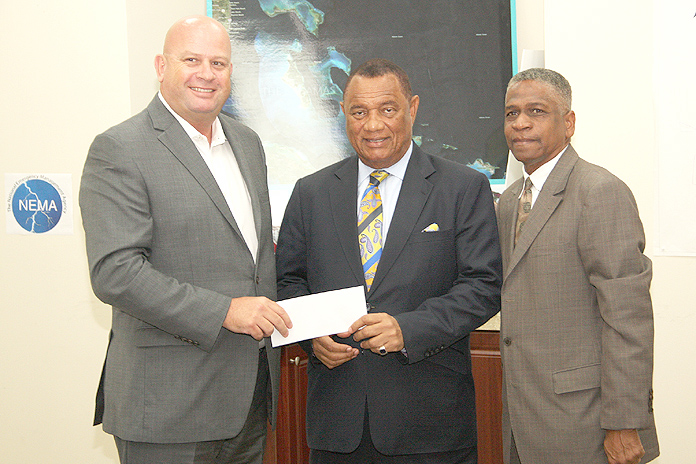 By Diane Phillips and Associates
The developer of Children's Bay Cay today donated an initial $25,000 to the National Reconstruction and Disaster Committee for hurricane relief, with $10,000 earmarked for survival kits providing temporary housing and emergency needs for families. The donation was made at NEMA headquarters to Prime Minister Perry G. Christie by Michel Neutelings, project director, on behalf of Dona Bertarelli.
"I was shocked to see the destruction caused by Hurricane Matthew," said Ms. Bertarelli. "But what has been so inspiring is the spirit of the Bahamian people shining through the adversity. I hope this donation will help with some of their most immediate and urgent needs for food and shelter."
"We are grateful for this contribution and look forward to this development taking place in Exuma," Mr. Christie said. "Given the lessons to be learned from this hurricane, what we have to do now is determine how does one incorporate those lessons into policy?"
The developer has pledged additional support for educational initiatives, particularly in environmental education, in response to damage wrought by Hurricane Matthew which on October 6-7 lashed southern New Providence, West End, Grand Bahama and North Andros with winds up to 145 mph and a strong storm surge, leaving thousands homeless or without a roof over their heads, flattening businesses and tossing boats onshore and into bush.
Rebuild Bahamas has reenergized and the National Reconstruction and Disaster Committee has raised hundreds of thousands of dollars, helping to support NEMA and other organizations assisting with repairs and restoration.