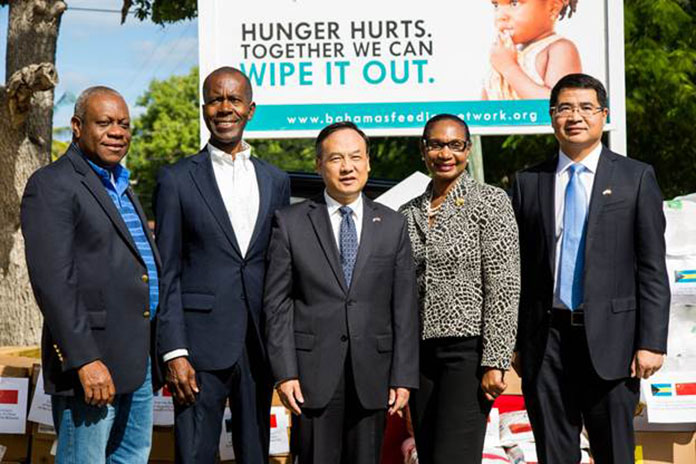 The People's Republic of China is helping to feed the needy in the Bahamian community with a generous food donation to the Bahamas Feeding Network (BFN).
The Embassy purchased $3,000 worth of food from local wholesalers on BFN's behalf. The gift, which comes in the wake of Thanksgiving, placed a smile on the face of Executive Director Philip Smith who said it would go a long way in helping society's most underprivileged.
"The food supplies are sufficient for 1,750 meals which will go toward helping to feed the more than 40,000 persons who do not know where their next plate of food will come from," said Smith, who oversees the operation that cooks and distributes some 3,500 hot meals and distributes 500 food parcels a week from its base at Moseff House in Fox Hill.
"Anyone who needs food can come to us. We never want to see anyone go hungry," he said.
Former President of the Bahamas China Friendship Association, Philip Simon brought the Network to the consulate's attention. Every year the Chinese Embassy seeks to support charitable works in The Bahamas.
"He told us about the organization's mission to provide food for the poor and we wanted to help," said Chinese Ambassador Huang Qinguo.
"Bilateral relations exist not only between the two governments but also between our people. We would like the Bahamian people to feel the greetings and goodwill from the Chinese people as we head into the holiday season."
He added: "It is my great honor to present $3,000 worth of food to the Bahamas Feeding Network to support the great cause of fighting against hunger."
Following the presentation, Smith led Ambassador Qinguo on a brief tour of the organization's facilities. Inside the humble building more than a dozen volunteers worked in harmony packing food parcels and loaded vans with hot meals to distribute through a web of non-profit organisations of churches, soup kitchens and other feeding programs.
Bahamas Feeding Network is the brainchild of His Excellency Frank J Crothers, Ambassador of the Sovereign Military Hospitaller Order of St John of Jerusalem of Rhodes and Malta. Launched in 2013, the Bahamas Feeding Network commenced operation preparing around 450 fresh meals and distributing around 50 food parcels to its feeding partners. To date, the Bahamas Feeding Network has distributed more than $450,000 in food vouchers to those in need. This year alone the organization has made and shared 182,000 meals.