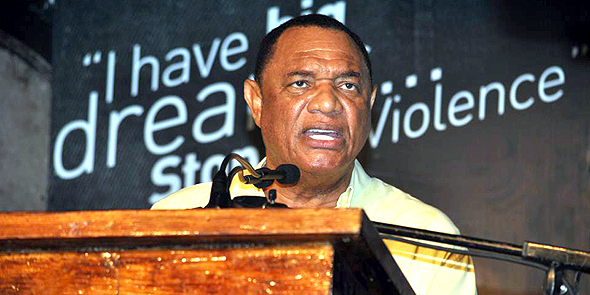 By www.tribune242.com
OPPOSITION leader Perry Christie last night said that Prime Minister Hubert Ingraham was reluctant to call elections because he fears an FNM loss.
Addressing the crowd at a PLP mass rally at Arawak Cay, Mr Christie said his supporters are ready for a new day – whether or not Mr Ingraham is.
He said: "The Prime Minister finally ran out of time, his back was against the wall, he was forced to ring the bell.
"He might not be ready, but we sure are! He didn't want to ring that bell, did he? He knows Bahamians are angry about record levels of violence.
"He knows Bahamians are fed up with the global recession excuse – Bahamians know that other Caribbean nations are growing faster than the Bahamas, gaining stopover tourists even as we continue to go in the wrong direction."
On Monday, Mr Ingraham named May 7 as Election Day. According to the law, he did not have to name a date until May 23, and had the right to call an election as late as August.
Despite this, according to Mr Christie, the Prime Minister "waited until the last minute" – and did so because he knows Bahamians are tired of a government "that doesn't even believe in Bahamians."
He asked voters if they want to stick with a party that presided over $100 million in cost overruns for the New Providence Infrastructure Improvement Project, and promised relief to struggling homeowners in October 2008, "but never delivered – no plan, no help, no sympathy, as the foreclosure crisis grows and grows."
In a recurring theme at recent PLP events, the party leader used the podium to tout his crime fighting plan, Project Safe Bahamas.
Mr Christie said he worked with law enforcement experts, community leaders and "this amazing new generation of PLP leaders" to create an innovative and effective anti-crime plan.
High on the agenda, he said, is better witness protection, an increase in border patrols, robust school policing, and higher penalties for illegal weapons.
Mr Christie said: "We can't wait any longer, Bahamas. We need safe havens for those who fear immediate violence.
"We need Operation Cease Fire – a focus on repeat offenders – and we need increased surveillance of those out on bail.
We're also going to introduce Violence Breakers – outreach workers with street credibility who will be trained in conflict mediation and available 24/7.
"And we're going to have a massive new investment in education and training, because if Bahamians are going to have a chance to lift themselves up, they're going to need 21st century skills."
Mr Christie also warned all PLP supporters to conduct themselves throughout the campaign in an "orderly and sober" manner.
He said: "There is to be no physical or verbal abuse of anyone. You are entitled to be a PLP and we're thankful that you are.
"But just remember that if someone else wants to be FNM or anything else, he or she is entitled to be that too. So, please, let's all conduct ourselves in a way that brings out the best in all of us and in our democracy.
"The same thing goes if you're provoked or insulted by the other side. Don't get into a fight. Just move on. We want a good, clean, fair election."