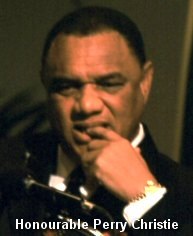 NASSAU, BAHAMAS — The man who preaches for BP to 'MAN UP' must now prove to stalwarts being denied registration at the PLP Convention that he still Leader of the Party.
Bahamas Press' eyes and ears now tell us scores of delegates and stalwarts descending at the 2009 Convention site, including old men and women on pension, are being told they cannot register unless they pay up their dues.
BP confirmed that four stalwarts all excited came from Abaco and went to the Convention room to register. The old senior men were denied at the door. One told BP, "I came way down here to be treated this way? How can Christie allow this wickedness to be cast against us? We came to vote for him and this is what he's allowing to happen to us? NO MAN, this cannot be happening in my party! Christie must put his foot down or he will lose if this allows this to continues."
For weeks now leading up to the PLP convention, Bahamas Press has called for the resignation of the Convention Chairman, Obie Wilchcombe. We've also called for Christie to put his foot down on this kind of misbehavior/CORRUPTION in the PLP. If Christie cannot fix this, scores of these same now angry delegates and stalwarts will turn up their anger against him and he will lose on the Convention FLOOR.
Our advice to Christie is this; REMOVE THOSE CROOKED PEOPLE OUT OF THE CONVENTION REGISTRATION ROOM, or face a blunt force from PLPS from around the country.
Ahhhh well all we could say is this, we told ya so.