Investors boast strong confidence with New Christie Government – More Jobs headed for Eleuthera under Perry Christie!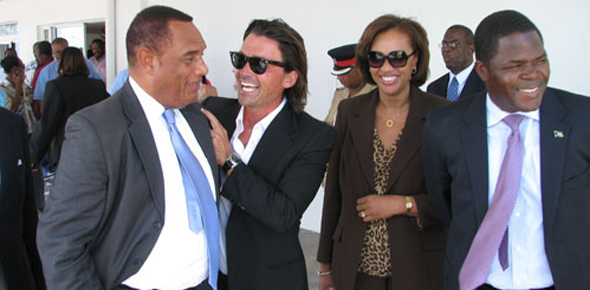 Eleuthera, Bahamas, July 30, 2012 – Bahamas Prime Minister Perry Christie toured the site of The Cove Eleuthera Resort set to open in November, 2012 on the island of Eleuthera in the Bahamas.  New Orleans entrepreneur and French Quarter hotelier Sidney D. Torres, IV  recently purchased the 32-acre oceanfront property with plans to return the resort to its position at the top of the list of the world's best secret island getaways.
P.M. Christie praised the project for its economic development potential and told Torres that his visit today was "to let Bahamians see that [Torres] has the support of the government from the get go. This is a project that is going to be successful."  Speaking of Torres, the prime minister further stated:  "he's young he's aggressive and he's smart and he has all the funding he needs to do even more."
Extensive enhancements are presently taking place behind the gates at The Cove, an exclusive, secluded 50–room resort that guests won't want to leave.  Twenty-six new garden and beachfront guest suites will complement the existing 24 rooms.  Reservations are being taken now in time for November's grand reopening.    Visit: thecoveeleuthera.com or call 888-776-3901.
Highlights of the extensive renovations include a new 110 ft. Infinity pool, full-service Bahamian-flavor restaurant featuring Chef Chris Lynch, who trained under New Orleans' own Emeril Lagasse, a brand new sunset bar located on the Point of The Cove which overlooks the beautiful waters of the Bahamas, a cocktail park including a fire-pit and lounge area for evening cocktails, meticulous landscaping with walking trails for morning/afternoon strolls.  These trails will allow you to enjoy the untouched, natural habitat of the island. A new "Bahama Bean" coffee shop from local Bahamian Coffee Co. features on-site, freshly roasted coffee, lattes & cappuccinos. A new fitness and business center has also been added.
All guestroom makeovers include 500+ thread count bedding, iPod docking stations, 50" flat screen televisions, in-room wireless internet access, in-room safes and luxury brand bath amenities.  Guest may also enjoy private fishing charters, amazing snorkeling and kayaking in the crystal clear waters of the Bahamas.
In addition to The Cove's 50 guestrooms and suites, 33 home sites are being added as well.  Three will be completed by November.  A model home is available for viewing.  Financing is available through Torres's IV Capital Investments.
New owner, Sidney D. Torres, IV says "Eleuthera is a magical island and our goal is to bring the same legendary hospitality, food and decor of the New Orleans French Quarter to the Bahamas. We're very excited to welcome guests back to the breathtaking secluded, pink sand beaches of The Cove at Eleuthera."
Private, exclusive air charters are available from New Orleans. Guests will be transported to the island of Eleuthera within a mere one hour, forty-five minutes.