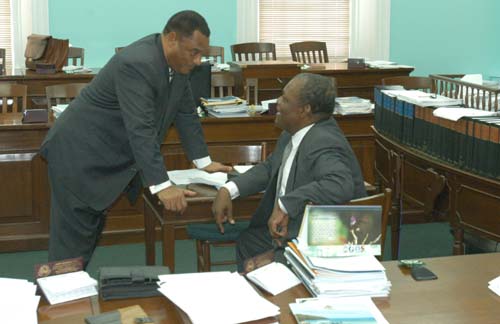 Former Prime Minister Perry Christie telling Ingraham to set in skin down and listen. (file photo)
Nassau, Bahamas: Former Prime Minister Perry Christie has taken on Prime Minister Hubert Ingraham with his government's decision to retire scores of senior officers from the Royal Bahamas Police Force.
The officers will join others throughout the public service, SENT HOME along with the terminations of over 1,200 temporary workers dismissed in 2007 and early 2008, by Hubert Ingraham's administration.
Ingraham told residents in 2006 at the construction cite of the Atlantis Cove that he would REDUCE the Civil Service if he is returned to power, then in an about-face told a rally on R.M.Bailey Park, "All government workers need not fear for their jobs under an FNM administration," WHAT ANOTHER WICKED LIE BY MUGABE! Now police are being sent home under Ingraham's FNM, in the midst of the hardest CRISIS the world has ever seen!
Again we at Bahamas Press say, INGRAHAM HAS DONE THIS TO THE BAHAMIAN PEOPLE!
Bahamas Press believes Ingraham is preparing to mobilize his "GUSTAPO POLICE Machine" within the Royal Bahamas Police FORCE! IF SO, GOD HELP THE COUNTRY!
___________________________________________________________
STATEMENT BY THE RT. HONOURABLE PERRY G. CHRISTIE, MP
LEADER OF THE OPPOSITION ON POLICE RETIREMENT THURSDAY, 8TH JANUARY, 2009.
The Progressive Liberal Party wishes to express its serious concern about the involuntary retirements from the Royal Bahamas Police Force.
The actions of the Government in this matter raised immediate issues with regard to the lawfulness of the Government's conduct. It also raises the issue of the negative effect on the morale of the force.
The last thing the Government should do is to make policies or take actions to undercut the ability of the Force to fight crime.
The Government is put on notice that the Force must not be destabilized by actions which can be interpreted as contrary to the best interests of the Force.
It seems incredible to us that police officers who have constitutional protections, can have them removed without notice. The letters of notice to the officers given by the government only gave each individual forty eight (48) hours to respond.
This has had the effect of stripping away the dignity of these individuals, disrespecting their years of service to the country and adversely affecting their families, their present and future well being. The government's actions appear to be heartless.
– end –