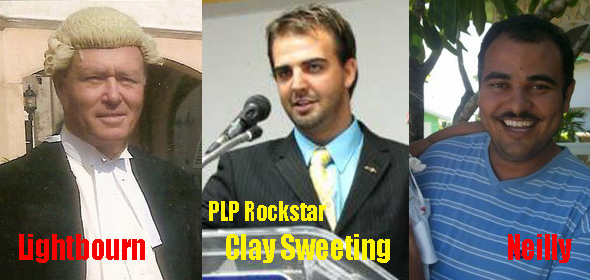 ITS A NEW DAY WITH CLAY!
Dunmore Town, Harbour Island — The North Eleuthera seat is quickly heating up to be the focus of the national political debate come this November, as FNMs around the country are becoming more concerned about their candidate's success at the poll.
As we speak, a dangerous battle between FNMs, Theo Neilly, and  Richard Lightbourn – lawyer and former UBP henchman – is heating up.
Last week Lightbourn was canvassing the constituency spending his money on the ground. On the other side of the FNM divide, we hear chimney smoker, Abner Pinder, has been shopping around Neely, saying that's his man for the FNM in North Eleuthera. Supporters of the FNM are now confused and we are told even Ricky Mackey, a violent support of the FNM, don't know who to support and is left confused.
Late breaking news suggest supporters on the island of Briland are saying if Lightbourn is not given the nod, he will run as an independent. This is not good news in the FNM camp which is fallen victim to infighting and name calling.
No matter how the ball bounce on the side of the FNM, the race in North Eleuthera is quickly turning into a battle between the OLD and the NEW. Between the PEOPLE's MAN over a RICH MAN. It is quickly becoming a choice about the way forward, against a decision to go backwards; a decision between The FUTURE against a look back into the PAST!
PLP Clay 'Rockstar' Sweeting has the FNM waters on. He is new, young, good-looking, and is smart and ambitious. He is a self-made success story. He is the PLP's candidate for the area; ratified just a few weeks ago, where he brought over 200 hardcore supporters to Nassau for his acceptance into the race.
We are told since Clay's selection, an overwhelming base of support has been shown for the young PLP Turk. Scores of young energy driven supporters have flocked to his aid seeking to assist him in his election bid. We are also told scores of supporters who voted for him during the recent local government elections where he was successful are saying they will support him again in the General Elections. One Russell Island supporter said, 'WE ARE GOING ALL THE WAY WITH CLAY!'
We are also told the selection of Clay have broken the pottery shop of the FNM. The rift between the FNM candidates is getting nasty and wide; leaving a huge fight inside the Party.
Alvin Smith is out and from what we see from these latest developments, so is the seat come the next election.
WE NEED CHANGE! VOTE BP's CANDIDATE CLAY SWEETING!
ITS A NEW DAY WITH CLAY!