New Opportunity for Students at COB in attaining higher education…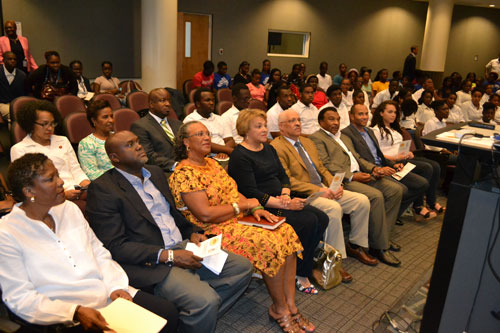 The College of The Bahamas has established formal relations with Central State University (CSU) which will permit capacity-development opportunities for faculty and staff, joint research projects and cross-cultural activities to strengthen faculty and student engagement.
Leaders of the two institutions signed a Memorandum of Understanding recently at a ceremony held at The College's Harry C. Moore Library and Information Centre.
Established 127 years ago, CSU is Ohio's only predominately African American public institution of higher education. President Dr. Cynthia Jackson-Hammond welcomed the partnership with The College of The Bahamas.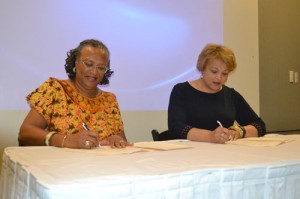 "We have longed for this day ever since we came here six weeks ago; we knew that we had the potential to have a partnership that's meaningful for both institutions," said Dr. Jackson-Hammond who characterized CSU as a transformational institution. "Everything we do, from the time that we wake up to the time we go to bed, is about transforming the lives of students because we know that if we transform the lives of students, we will transform the lives of families and their communities."
In February, CSU became a 1890-land grant institution, making it one of two institutions in the state of Ohio to receive an additional federal subvention of $1.3 million per year for the first five years and $2.6 million in subsequent years to promote science, technology, engineering, mathematics and agriculture.
Acting President of The College of The Bahamas Dr. Earla Carey-Baines anticipates a rich and vibrant relationship between The College and CSU which are similar in key areas. Many years ago CSU transitioned from college status. It is also attempting to diversify its student population and the majority of those students are pursuing Business courses, much like at The College of The Bahamas.
"We are 40 years old this year and we are extremely proud to be partnering with an historically black university that is as old and as prestigious as Central State University. We have much we can learn from each other," said Dr. Carey-Baines. "We want our students to study at home, but we want to give them opportunities to study with and learn from others and we are certain that this partnership with CSU will help us to achieve that goal."
There will also be opportunities for CSU and other international students to study at The College and experience Bahamian culture once The College has expanded its residence halls at the Oakes Field and Northern Bahamas campuses, as is anticipated under a comprehensive ten-year Master Plan.
"We expect to be able to offer CSU students space in our residence halls, even if only during the summer when they are available, so they will have opportunities to learn from and study with us here in The Bahamas and to experience some of our culture," the Acting COB President said.
Vice President of Advancement at The College Dr. Ian Strachan was also optimistic about opportunities to strengthen the partnership between the two institutions. He was particularly enthusiastic about learning of CSU's community engagement undertaking. The College is seeking to develop a model called the University Zone in order to forge strategic relations with community leaders, social and civic organisations and governmental and non-governmental entities in the communities that border the Oakes Field Campus in order to enrich its research, service and outreach programme.
"We would be interested in learning what types of outreach models are used by CSU that we could emulate here in this urban environment as we try to make sure we have a full impact, not only in terms of teaching and research, but in terms of service to our communities," Dr. Strachan explained.
The establishment of exchange programmes with other universities is a strategic priority for The College of The Bahamas – which is transitioning to university status – in order to increase the international exposure of its students and faculty as well as to build its international reputation.