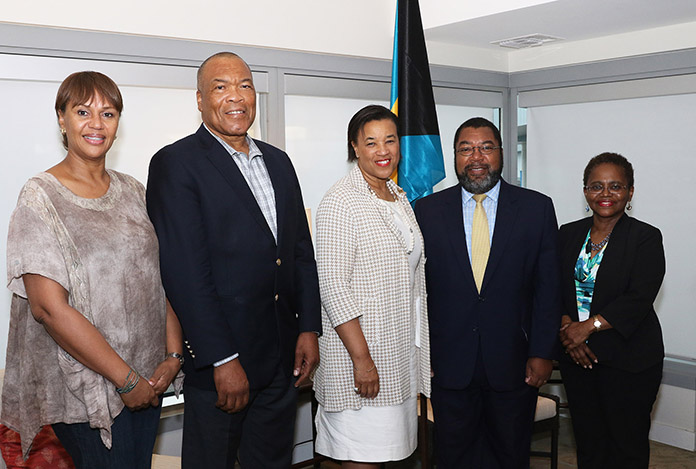 NASSAU, The Bahamas – The Rt. Hon. Patricia Scotland, Commonwealth Secretary-General, is paying an Official Visit to the Commonwealth of the Bahamas, July 15-20, 2017.
In her first Official capacity to The Bahamas, the Secretary General arrived in the capital Nassau on Saturday, July 15, and received an official welcome at the VIP Lounge of the Lynden Pindling International Airport.
She was greeted by Sharon Brennen-Haylock, Director General of the Ministry of Foreign Affairs, Wellington Miller, Chairman of the Bahamas Commonwealth Youth Games Organizing Committee, Joy Jibrilu, Director General of the Ministry of Tourism and other officials from the Ministry of Foreign Affairs.
Ms. Scotland is accompanied by Mr. Barnie Choudhury, Director of Media and Mr. Oliver Dudfield, Head of Sports.
While here, The Secretary-General will pay a Courtesy Call on Her Excellency Dame Marguerite Pindling, Governor-General of the Commonwealth of the Bahamas, and attend an Official Welcoming Reception at Government House.
She will also pay Courtesy Calls on Dr. the Hon. Hubert Minnis, Prime Minister of the Commonwealth of The Bahamas; Leader of Her Majesty's Loyal Opposition the Hon. Philip Davis; and other high level officials. She will visit some of the Commonwealth Youth Games (CYG) venues and participate in medal ceremonies before leaving The Bahamas on July 20.
The Commonwealth Secretary-General is the head of the Commonwealth Secretariat, the central body of the Commonwealth of Nations since its establishment in 1965.
On November 27, 2015, in Malta, the Commonwealth Heads of Government appointed the Rt. Hon Patricia Scotland QC of Dominica as the first woman and the sixth Commonwealth Secretary-General. She assumed office on April 1, 2016.
She was born on August 19, 1955 in Dominica and moved to the UK with her family and grew up in east London.
Ms. Scotland is a trained lawyer and became the first black woman to be appointed a Queen's Counsel in 1991; at 35 she was also the youngest woman ever to be made a QC.
She is credited for undertaking major reform of the criminal justice system, including the introduction of the Domestic Violence Crime and Victims Act. Her other posts include Chancellor of the University of Greenwich, Patron of the Corporate Alliance Against Domestic Violence, Patron of Lifeline (Trinidad & Tobago) and the Caribbean Science Foundation.