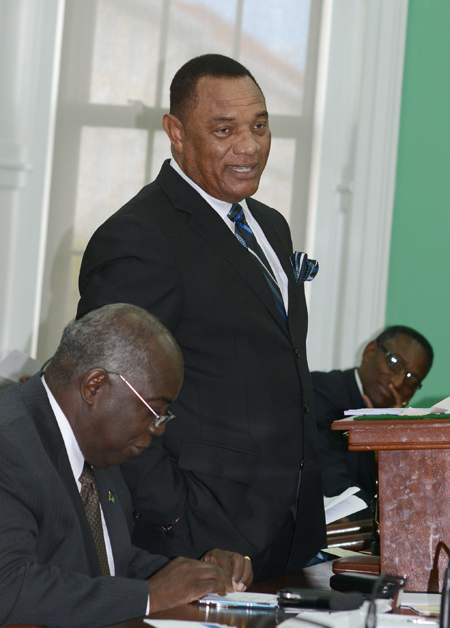 COMMUNICATION BY
THE RT. HON. PERRY G. CHRISTIE
PRIME MINISTER AND MINISTER OF FINANCE
2013/2014 BUDGET DEBATE
TUESDAY, 18TH JUNE 2013
MR. SPEAKER,
AS I INDICATED IN THE BUDGET COMMUNICATION THIS IS A PIVOTAL BUDGET IN THE HISTORY OF OUR SMALL NATION.  IT IS A BUDGET THAT SECURES THE FUTURE FOR ALL BAHAMIANS.
MR. SPEAKER,
WITH THAT OPENING STATEMENT I WILL NOW SPECIFICALLY ADDRESS MY COLLEAGUES ELECTED TO SERVE AS PROGRESSIVE LIBERAL PARTY MEMBERS OF PARLIAMENT.
WE MUST NOT FORGET OR EVEN MINIMIZE THE CENTRAL REALITY OF OUR POSITION AS THE GOVERNING PARTY OF THE BAHAMAS.  AS SUCH, WE WERE ELECTED IN MIGHTY NUMBERS TO SECURE THE FUTURE FOR ALL BAHAMIANS AND IN THIS DEBATE WE HAVE ALL DECLARED THAT IS EXACTLY WHAT WE INTEND TO DO.  WE MUST THEREFORE BE UNCOMPROMISINGLY FOCUSED ON THAT OBJECTIVE.  WE MUST NOT BE DISTRACTED BY POLITICAL MANEUVERS OR EVEN BY OPINIONS AND VIEWS WHICH HAVE NO FOUNDATION IN FACT OR TRUTH.  ACCORDINGLY, YOU CAN WITH GREAT JUSTIFICATIONS IGNORE MOST OF WHAT THE LEADER OF THE OPPOSITION HAD TO SAY IN HIS CONTRIBUTION.
WE MUST EXPECT THE OFFICIAL OPPOSITION, SUCH AS THEY ARE, TO ALWAYS TAKE A POSITION OPPOSITE TO OUR VIEWS.  THEY, NOR THEIR SUPPORTERS, WHOEVER THEY MAY BE AND WHATEVER POSITIONS THEY MAY HOLD WILL NEVER CONCEDE THAT A PROGRESSIVE LIBERAL PARTY GOVERNMENT IS DOING GOOD FOR THE BAHAMAS AND BAHAMIANS.
I BELIEVE THAT IN THIS BUDGET MY ADMINISTRATION HAS ESTABLISHED A SOLID FOUNDATION FOR THE SUSTAINED ECONOMIC REBOUND WHICH IS NOW BEGINNING TO TAKE PLACE IN THE BAHAMAS.
MR. SPEAKER, COLLEAGUES,
I DO NOT EXPECT THE OFFICIAL OPPOSITION AND THEIR SUPPORTERS TO EVER AGREE THAT IMPROVEMENTS ARE BEING EXPERIENCED IN MANY AREAS OF OUR GOVERNANCE. ARMED WITH THEIR POLITICS OF SMOKE AND MIRRORS THEY WILL CONTINUE TO SAY WE HAVE DONE NOTHING.
JUST AS THEY MADE THE CARDINAL MISTAKE OF UNDER-ESTIMATING THE PROGRESSIVE LIBERAL PARTY POLITICALLY AND WERE PROVEN WRONG IN THE 2012 GENERAL ELECTION SO HAVE THEY AGAIN UNDERESTIMATED US IN OUR GOVERNANCE WE WILL PROVE THEM WRONG ONCE AGAIN.
AND SO COLLEAGUES WE MUST PRESS ON WITH A SUSTAINED EFFORT TO FURTHER DEVELOP THE BAHAMAS AND IMPROVE THE QUALITY OF LIFE FOR THE MOST DISADVANTAGED OF OUR PEOPLE.  THAT IS OUR QUEST. WE MUST NOT BE DISTRACTED. WE MUST PRESS ON TOWARDS THE GOAL OF A BETTER BAHAMALAND.
MR. SPEAKER,
THE HONOURABLE MEMBER FOR LONG ISLAND IS CORRECT, IN OBSERVING THAT THE 2012/13 DEFICIT WAS THE LARGEST IN HISTORY.  WHAT SHE OMITTED SAYING, HOWEVER, WAS THAT IT WAS THE FISCALLY IRRESPONSIBLE POLICIES OF HER PARTY THAT BROUGHT US TO THAT POINT.
WHEN WE TOOK OFFICE IN MAY, 2012 WE WERE CONFRONTED BY THE FOLLOWING:
IN 2011/2012 UPON COMING TO OFFICE, THIS ADMINISTRATION FACED A GFS DEFICIT OF $504 MILLION.  THESE WERE OVER 100% GREATER THAN THE PREVIOUS PUBLISHED ESTIMATE OF $248 MILLION.
THE MAJOR CONTRIBUTOR TO THE DEFICIT WAS A CAPITAL EXPENDITURE WHICH WAS BUDGETED AT $280 MILLION BUT THE OUTTURN WAS $400 MILLION.  CONTRAST THIS TO THE PRESENT STATE OF AFFAIRS WHERE CAPITAL EXPENDITURE IS WELL WITHIN BUDGET.
MR. SPEAKER,
THE HONOURABLE MEMBER FOR KILLARNEY IS ALSO CORRECT INDICATING THAT THE GOVERNMENT OVER THE LAST TWO YEARS HAS BORROWED SUBSTANTIAL SUMS.  HOWEVER, WHAT HE HAS OMITTED IS THAT THE RESPONSIBILITY FOR THE INCREASE IN BORROWING LIES WITH THE ADMINISTRATION WHICH HE WAS ASSOCIATED WITH BETWEEN MAY 2007 AND MAY 2012.
BETWEEN THIS PERIOD RECURRENT EXPENDITURE GREW BY 20% WHEREAS RECURRENT REVENUE GREW BY LESS THAN ½%.  CAPITAL EXPENDITURE GREW BY 72%.  THE ACCUMULATED DEFICIT WAS $1.567 BILLION DOLLARS.
LAST YEAR IN MY BUDGET COMMUNICATION I PROVIDED THIS ASSESSMENT AND NOTED THAT "OUR ROOM FOR MANEUVER IS, AT LEAST IN THE SHORT TERM, SEVERELY CONSTRAINED BY THE DIRE FISCAL SITUATION THAT HAS BEEN HANDED TO US BY THE PREVIOUS ADMINISTRATION."
I ALSO NOTED THAT "WE ALSO FACE THE CARRY OVER INTO 2012/2103 OF CERTAIN RECURRENT EXPENDITURE COMMITMENTS OF THE PREVIOUS ADMINISTRATION IN RESPECT OF THE PROMOTIONS EXERCISE, BACK PAY, SALARY INCREASES AND THE PAYMENT OF INSURANCE BENEFITS."  TO SATISFY THESE REQUIREMENTS BORROWING AUTHORITY WAS SOUGHT FOR AN ADDITIONAL $100 MILLION DURING THE MID-YEAR BUDGET.
SO YES, THE GOVERNMENT HAS BORROWED A SUBSTANTIAL AMOUNT BUT THE RESPONSIBILITY DOES NOT LIE WITH THIS ADMINISTRATION.
MY GOVERNMENT HAS NOW TAKEN THE RIGHT DECISION TO CHANGE COURSE, AND PUT THE PUBLIC FINANCES BACK IN ORDER, BY BEGINNING TO PLUG UP THE HOLES IN OUR REVENUE BASE AND TO IMPOSE GREATER DISCIPLINE ON EXPENDITURE.
AND LEST THERE BE ANY DOUBT ABOUT OUR INTENTION WE WILL KEEP THE BAHAMIAN PEOPLE INFORMED OF OUR PROGRESS, ON THEIR BEHALF. WE WILL BE RESTRUCTURING OUR INFORMATION SERVICES TOWARDS ENSURING THAT BAHAMIANS IN EVERY ISLAND AND CAY WILL BE INFORMED OF THE WORKS AND ACHIEVEMENTS OF THE GOVERNMENT OF THE COMMONWEALTH OF THE BAHAMAS.  WE CANNOT AND WILL NOT MAKE THE MISTAKE OF RELYING ON OTHERS TO TELL OUR STORY.  WE MUST ALWAYS REMEMBER THAT OLD AFRICAN PROVERB "UNTIL LIONS HAVE THEIR OWN WRITERS THE STORY OF THE HUNT WILL ALWAYS GLORIFY THE HUNTER". WE WILL TELL OUR STORY.
MR. SPEAKER,
IN THE 2013/14 BUDGET WE HAVE REDUCED THE GOVERNMENT'S BORROWING BY $147  MILLION IN COMPARISON TO THE LAST FISCAL YEAR.  WE HAVE DONE THIS BY REDUCING RECURRENT EXPENDITURE BY $83 MILLION, CAPITAL EXPENDITURE BY $106 MILLION AND BY PROVIDING A MORE ACCURATE REVENUE ESTIMATE THROUGH A REDUCTION OF $47 MILLION IN THE BUDGETED AMOUNT WHICH REPRESENTS A $123 MILLION INCREASE OVER THIS YEAR'S PROJECTED REVENUE.
MR. SPEAKER,
IF THE OFFICIAL OPPOSITION WAS TRULY INTERESTED IN SEEING AND RECEIVING RELIABLE EVIDENCE OF GOOD SOUND AND PRUDENT FISCAL MANAGEMENT I JUST GAVE IT TO THEM.
NEXT YEAR, WHICH IS YEAR 2 OF OUR FIVE YEAR PLAN FOR FISCAL CONSOLIDATION, WE PROPOSE TO REDUCE GOVERNMENT DEBT TO $217 MILLION, THE LOWEST LEVEL IN THE LAST 10 YEARS EXCLUDING 2010/2011 WHEN PROCEEDS FROM SALE OF THE SHARES OF BTC WERE INCLUDED IN THE CAPITAL REVENUE CATEGORY.
THIS WILL BE ACHIEVED BY ELIMINATING INEFFICIENCIES IN GOVERNMENT EXPENDITURES AND INTRODUCING WELL TARGETED REVENUE MEASURES.
OUR FOCUS ON REVENUE IS BASED ON THE BELIEF THAT CORPORATE ENTITIES WHICH BENEFIT FROM AN ENABLING  ENVIRONMENT CONDUCIVE TO BUSINESS PROSPERITY AND GROWTH PROVIDED BY THE GOVERNMENT SHOULD CONTRIBUTE FAIRLY TO THE  COST OF GOVERNMENT'S OPERATIONS.
THIS KIND OF UNDERSTANDING AS TO CORPORATE RESPONSIBILITY BY PRIVATE SECTOR ENTITIES IN THEIR RELATIONSHIP WITH THE GOVERNMENT IS BEST ACHIEVED BY THE GOVERNMENT ESTABLISHING A COLLABORATIVE AND COOPERATIVE RELATIONSHIP WITH THEM ON MATTERS AFFECTING THE ECONOMY SO THAT THERE MAY BE A SHARED EFFORT IN ARRIVING AT A BALANCED DECISION ON THE BASIS OF FAIRNESS AND TRANSPARENCY.
BUT AS YOU WILL HEAR ME SAY REPEATEDLY WE ARE AN ISLAND NATION WHERE WE HAVE TO DUPLICATE INFRASTRUCTURE AND IMPROVEMENTS ON A LARGE NUMBER OF ISLANDS AND CAYS. WE DON'T HAVE THE LUXURY OF BEING A ONE ISLAND NATION LIKE JAMAICA, BARBADOS AND OTHER ISLAND NATIONS IN THE REGION.
WE MUST SELECT OUR PRIORITIES WISELY.  WE ALSO HAVE TO BE INNOVATIVE INTRODUCING NEW PARADIGMS OF DEVELOPMENT LIKE PRIVATE PUBLIC PARTNERSHIPS.  THERE ARE OBVIOUS ADVANTAGES TO A PUBLIC/PRIVATE SECTOR PARTNERSHIP WHERE PRIVATE DEVELOPERS MAY CONSTRUCT OFFICE BUILDINGS DOCKS, AIRSTRIPS, EVEN ROADS TO THE ORDER OF THE GOVERNMENT WITH PAYMENT BEING MADE TO THEM ON A RECURRENT BASIS.
THAT IS WHAT WE WERE ELECTED TO DO – GOVERN EFFECTIVELY AND WHERE INNOVATIONS AND NEW PARADIGMS ARE NECESSARY WE WILL IMPLEMENT THEM IN THE BEST INTEREST OF THE BAHAMIAN PEOPLE BUT ALWAYS SUBJECT TO FAIRNESS AND TRANSPARENCY TO THOSE WHO MAY BE AFFECTED BY THE DECISIONS.
IN THIS REGARD, IN THE PREPARATION OF THIS BUDGET THE TECHNICAL OFFICERS OF THE MINISTRY OF FINANCE HAVE CONSULTED MANY OF THE BUSINESSES IMPACTED BY THE PROPOSED REVENUE CHANGES AND HAVE CONTINUED THESE CONVERSATIONS, AS THE FOCUS ON REVENUE HAS TO BE A SUSTAINED UNDERTAKING.
MR. SPEAKER,
I HAVE ALSO PARTICIPATED IN SOME OF THESE DISCUSSIONS AND HAVE MET RECENTLY WITH THE CLEARING BANKS ASSOCIATION WITH RESPECT TO THE MEASURES PROPOSED IN THE BUDGET.  WE HAD FRANK DISCUSSION AND AGREED THAT WE SHARE A COMMON INTEREST IN THE FISCAL HEALTH OF THE NATION.
I EMPHASIZED TO THEM THAT THE NEED FOR THE GOVERNMENT TO REPLICATE SERVICES THROUGHOUT THE ARCHIPELAGO PLACES AN ENORMOUS STRAIN ON OUR COUNTRY'S RESOURCES. UNLIKE ANY OTHER COUNTRY IN THE REGION, THIS FACT UNDERPINS THE NECESSITY TO EXPAND OUR TAX BASE IN ADDITION TO THE STEPS BEING TAKEN TO IMPROVE EXPENDITURE EFFICIENCIES.
I ALSO INDICATED THAT EVEN WITH THE PROPOSED INCREASES THE COMMERCIAL BANKS IN THE BAHAMAS ENJOY A CONSIDERABLE ADVANTAGE IN COMPARISON TO ENTITIES OPERATING ELSEWHERE IN THE REGION.
ON A RELATED POINT, I INDICATED MY VIEW THAT MORE MUST BE DONE TO FOSTER A CULTURE OF RESPONSIBLE BORROWING BY OUR CITIZENS.  THE CLEARING BANKS ASSOCIATION AGREED AND I BELIEVE THAT FURTHER DISCUSSIONS COULD LEAD TO CONCRETE STEPS BEING TAKEN IN THIS AREA.
I SHOULD ALSO ACKNOWLEDGE THAT MANY FIRMS HAVE VOICED  CONCERNS ABOUT THE ADJUSTMENT IN BUSINESS LICENCE FEES.
MR. SPEAKER THE PUBLIC ANALYSIS OF THE BUSINESS IMPACT OF THE MEASURE IN BUSINESS LICENSE FEES AND OTHER REVENUE RAISING MEASURES HAS BEEN INCOMPLETE.  SIGHT HAS BEEN LOST OF THE FACT THAT WE HAVE HAVE BEGUN TO TACKLE THE COST OF ELECTRICITY WHICH IS ONE OF THE MOST ONEROUS EXPENSES FOR BUSINESS IN THE BAHAMAS.  WE ARE ELIMINATING THE EXCISE TAX ON FUEL USED BY BEC.  THIS WILL LEAD TO A 6 PERCENT REDUCTION IN ELECTRICTY COSTS, WHICH BEC  WILL BEGIN TO PASS ALONG AS EARLY AS THIS SUMMER.  THE OWNERS OF ESTABLISHMENTS IN PARTICULAR THAT SHOULD INTERNALIZE THIS FACT ARE THOSE OPERATING HOTELS, RESTAURANTS, FOOD STORES AND LARGE DEPARTMENT STORES.
MR. SPEAKER,
OUR COUNTRY CANNOT AFFORD TO ALLOW AN INCREASING NUMBER OF OUR CITIZENS TO OVER-BORROW TO THE POINT WHERE THEY CAN NO LONGER MEET THE COST OF CONTINUING TO LIVE IN A MANNER THAT THEY HAD BECOME ACCUSTOMED TO.  IN OTHER WORDS AFTER DEDUCTIONS OF MONEYS THEY OWE THERE IS VIRTUALLY NOTHING LEFT TO MEET THEIR DAILY EXPENSES.  THIS IS AN ISSUE THAT MUST BE ADDRESSED AND SOON.
THE AREAS OF MOTOR VEHICLE REGISTRATION, PORT FEES, BEER TAXES, IMMIGRATION FEES, CONTRIBUTIONS FROM THE TOURISM SECTOR ARE ALL AREAS WHICH WERE BOUGHT TO MY ATTENTION DURING THE BUDGET PREPARATION PROCESS.  IN MANY AREAS OF GOVERNANCE THE GOVERNMENT IS SPENDING MORE THAN IT IS DERIVING IN RATES AND/OR TAXATION. I HAVE THEREFORE REQUESTED THAT IN THESE AREAS AND IN OTHER AREAS OF INTEREST THE GOVERNMENT IS PUT IN A POSITION TO CONCLUDE ON AN APPROPRIATE COURSE OF ACTION BY EARLY FALL.
MR. SPEAKER,
ON THE EXPENDITURE SIDE, LET THERE BE NO DOUBT ABOUT OUR COMMITMENT TO REDUCE WASTAGE AND HOLD THOSE ACCOUNTABLE FOR PROVIDING SERVICES TO THE GOVERNMENT, TO DO SO IN A MANNER THAT PROVIDES NO DIMINUTION OF THE QUALITY OF THE SERVICES WE PROVIDE.
ADDITIONALLY, THE MINISTRY OF PUBLIC SERVICE AND THE MINISTRY OF FINANCE WILL BE CONDUCTING WORK RELATED AUDITS IN THE PUBLIC SERVICE TOWARDS ENSURING THAT PUBLIC OFFICERS ARE EFFECTIVELY ENGAGED IN PRODUCTIVE WORK.
THIS BUDGET CONTAINS REDUCTIONS IN A NUMBER OF AREAS, TELECOMMUNICATION, ELECTRICITY, PRINTING AND DUPLICATION ETC. BECAUSE THE MINISTRY OF FINANCE HAS FOUND THAT THE EXPENDITURES IN THESE AREAS WERE NOT CONSIDERABLY LESS THAN WHAT WAS PREVIOUSLY BUDGETED OR THAT THE SAME LEVEL OF SERVICE COULD BE PROVIDED AT A CHEAPER RATE.   DURING THE COURSE OF THE YEAR WE WILL BE ABLE TO DETERMINE WHETHER WE WERE CORRECT IN ANY DEDUCTIONS WE MADE IN THIS BUDGET BUT IN ANY EVENT WE WILL NOT ALLOW ANY SERVICE PROVIDED BY THE GOVERNMENT TO BE DIMINISHED.
IN SOME AREAS, WE HAVE ASKED MINISTRIES AND DEPARTMENTS TO EMBRACE THE USE OF TECHNOLOGY AS A MEANS OF BECOMING MORE EFFICIENT; AND IN OTHER AREAS MINISTRIES AND DEPARTMENTS HAVE ENTHUSIASTICALLY EMBRACED THE CHALLENGE AND SOUGHT WAYS AND MEANS TO REDUCE WASTAGE.  IN THIS REGARD SPECIAL COMMENDATION SHOULD GO TO THE OFFICE OF THE ATTORNEY GENERAL.
MR. SPEAKER,
I NOW WANT TO ADDRESS SOME OF THE QUESTIONS RAISED IN THIS BUDGET DEBATE.  MANY OF THESE QUESTIONS ARE RELATED TO MEMBERS NOT HAVING A GLOBAL VIEW OF THE BUDGET.  TO THE UNINFORMED IT MAY APPEAR THAT THESE ARE REDUCTIONS IN ALLOCATIONS BUT THESE CHANGES WERE MADE TO IMPROVE ACCOUNTABILITY AND TRANSPARENCY.
WE HAVE CREATED AN ITEM FOR CONTRACT EMPLOYEES ENDING THE PRACTICE OF PLACING EMPLOYMENT CONTRACTS UNDER A WHOLE RANGE OF ITEMS WITHIN THE BUDGET.
WE HAVE CENTRALIZED THE FUNDING OF NATIONAL INSURANCE CONTRIBUTIONS IN THE TREASURY'S BUDGET.
IN THE MINISTRY OF FOREIGN AFFAIRS WE HAVE NOW INCLUDED ALL OF THE FUNDING FOR OUR EMBASSIES AND MISSIONS IN ONE ITEM AS OPPOSED TO HAVE FUNDING INCLUDED IN MANY DIFFERENT ITEMS.
WE HAVE TRANSFERRED ALL OF OUR RENTAL EXPENSES INTO THE DEPARTMENT OF PUBLIC SERVICE, THE AGENCY RESPONSIBLE FOR RENTAL OF ALL GOVERNMENT ACCOMMODATIONS.
OUR COMMITMENT TO REFORM AND MODERNIZATION WITHIN THE GOVERNMENT INCLUDES THE BUDGET PROCESS.  SO WE WOULD BE MAKING ADDITIONAL IMPROVEMENTS.  IN FUTURE YEARS WE WOULD PRESENT BUDGETS WHICH ALIGN WITH INTERNATIONAL BEST PRACTICES AND INCLUDE DETAILED ESTIMATES FOR THE NEXT TWO ADDITIONAL FISCAL YEARS.
IT REALLY DOES NOT MATTER WHETHER YOU OR ANY OF THE NAYSAYERS BELIEVE US – WE INTEND TO BE TRANSFORMATIVE AND JUST AS WE TALK THE TALK – WE WILL WALK THE WALK.
WE WOULD ALSO BEFORE THE END OF THE TERM OF THIS ADMINISTRATION PRESENT A BUDGET, WHICH CLEARLY INDICATES THE PROGRAMMES, WHICH THE GOVERNMENT IS FUNDING.  THIS WOULD IMPROVE TRANSPARENCY AND QUALITY OF THE DISCUSSIONS ABOUT THE BUDGET.
FOR THE CITY OF NASSAU, WE ARE EXTENDING THE CITY OF NASSAU REVITALIZATION ACT WHICH EXPIRES AT THE END OF JUNE, 2013.  WE HAVE UNDER CONSIDERATION THE ADVISABILITY OF EXTENDING THIS ACT TO INCENTIVIZE DEVELOPMENT IN URBAN "OVER THE HILL" AREAS.
WE HAVE COMMITTED TO PUBLISHING A PUBLIC PRIVATE FRAMEWORK BEFORE THE END OF THE FISCAL YEAR.  WITH THIS FRAMEWORK IN PLACE, THE GOVERNMENT AS A MAJOR PROPERTY OWNER WOULD PARTNER WITH THE PRIVATE SECTOR TO REDEVELOP SOME OF ITS OFFICE BUILDINGS WHICH HAVE FALLEN INTO A SERIOUS STATE OF DISREPAIR.
IN RECOGNITION OF THE LARGE GOVERNMENT'S EXPENDITURES ON OFFICE RENTS AND LEASES A NEW PARADIGM IS ENVISAGED WHICH WOULD INVOLVE UTILIZING THIS EXPENDITURE TO SUPPORT PRIVATE CONSTRUCTION OF NEW OFFICE PREMISES, BUILT TO THE GOVERNMENT'S OWN SPECIFICATIONS.  THIS NEW POLICY INITIATIVE WILL ENABLE THE GOVERNMENT TO ENGAGE MORE QUICKLY IN VITAL CAPITAL WORKS THROUGHOUT THE BAHAMAS.
MR. SPEAKER,
AS I CLOSE THIS RELATIVELY TECHNICAL SEGMENT OF MY CONTRIBUTION IN THIS DEBATE, I CAN WITH FULL ASSURANCE AND CONVICTION STATE THAT EVEN WITH OUR EXPANSIVE AGENDA WE HAVE PRESENTED A BUDGET WHICH HAS BEEN VIEWED BY RATING AGENCIES AS CREDIT POSITIVE.  HOWEVER, WE TAKE LITTLE COMFORT IN THIS AS WE KNOW THAT THIS BUDGET IS PART OF THE JOURNEY THAT WE MUST TRAVERSE IN SECURING THE FUTURE OF ALL BAHAMIANS.
MR. SPEAKER,
WE HAVE TO BE CONCERNED ABOUT THE AMOUNT OF INCENTIVES AND CONCESSIONS THE GOVERNMENT PROVIDES TO THE TOURISM INDUSTRY AND BE SATISFIED THAT THE CONCESSIONS ARE COST EFFECTIVE AND A STIMULUS TO JOB CREATION.
OUR CONCERN HAS LED US TO ENGAGE IN A CONSULTANCY THAT WILL PROVIDE SUFFICIENT INFORMATION TO ASSIST US IN UNDERSTANDING WHAT OTHER COMPETING JURISDICTIONS DO AND WHETHER IN THE FINAL ANALYSIS THE CONCESSIONS PROVE TO BE JUSTIFIED BY HAVING A POSITIVE IMPACT ON THE INDUSTRY.
OUR COMMITMENT TO THE FAMILY ISLANDS IS CLEARLY EXPRESSED THROUGH THE EXTENSION OF THE FAMILY ISLAND DEVELOPMENT ACT AND THE ALLOCATION FOR FUNDING FOR THE DEVELOPMENT OF SPORTS FACILITIES IN THE VARIOUS FAMILY ISLANDS. I HAVE ALSO INDICATED AND THE MINISTER OF WORKS HAS CONFIRMED A COMMITMENT TO COMMENCE WITHIN THIS FISCAL PERIOD MAJOR INFRASTRUCTURE WORKS IN ISLANDS SUCH AS ABACO, ANDROS AND ACKLINS.   THE LONG SOUGHT RELIEF FROM BAD ROADS WILL SOON BE OVER.
MR. SPEAKER,
ONE YEAR AGO IF ANYONE ASKED FOR AN OPINION AS TO THE MAJOR PROBLEM CONFRONTING THE ISLAND OF NEW PROVIDENCE THERE WOULD HAVE BEEN THE RESPONSE  "THE ECONOMY" AND UNEMPLOYMENT AND CRIME WOULD HAVE BEEN A CLOSE SECOND. TODAY IF ASKED, THE UNRELENTING SCOURGE OF CRIME, THE SEEMINGLY WANTON DISREGARD FOR HUMAN LIFE WILL PLACE "CRIME" AND THE FEAR OF CRIME AS THE SINGLE GREATEST CHALLENGE FOR THE ISLAND OF NEW PROVIDENCE. I WILL SPEAK TO THE ISSUE OF CRIME BUT FIRST I WOULD MAKE  BRIEF INTERVENTION ON THE ROYAL BAHAMAS DEFENCE FORCE.
ROYAL BAHAMAS DEFENECE FORCE
MR. SPEAKER,
WE HAVE CONTINUED WITH THE REVIEW OF THE DEFENCE FORCE'S NEED FOR NEW EQUIPMENT AND RENOVATED HARBOUR BASES FOR USE THROUGHOUT THE BAHAMAS. WE HAVE, AS YOU HAVE HEARD, MADE A MAJOR DECISION TO SPEND OVER $200 MILLION DOLLARS IN THE ACQUISITION OF MARINE CRAFT, PREPARATION OF HARBOUR BASES, AT CORAL HARBOUR TO ADD THE CAPACITY TO HAVE A HOME BASE WHICH COULD ACCOMMODATE ALL OF THE DEFENCE FORCE VESSELS; TO COMPLETE THE HARBOUR AND ACCOMMODATIONS AT GUN POINT IN RAGGED ISLAND; TO EXPAND AND REFURBISH THE HARBOUR AT MATTHEW TOWN, INAGUA TO FACILITATE DEFENCE FORCE ACCOMMODATION IN FREEPORT AND IN SOME RESPECTS TO ENSURE A PRESENCE IN BIMINI.
ADDITIONALLY, WE HAVE AGREED TO RECRUIT A SIGNIFICANT NUMBER OF OFFICERS TO ADD TO THE COMPLEMENT OF THE FORCE.
MY GOVERNMENT'S COMMITMENT REPRESENTS THE LARGEST SINGLE INVESTMENT EVER IN THE DEFENCE FORCE.  AND CONTRARY TO WHAT THE LEADER OF THE OPPOSITION SAID THERE WAS NEVER A CONSIDERATION TO ACT AS IF THIS WAS PRIMARILY A PLP INITIATIVE.
PRIOR TO OUR COMMENCING GOVERNMENT IN THIS TERM THERE WAS CONSTANT AND CONTINUOUS CRITICISM OVER ILLEGAL FISHING PARTICULARLY BY FISHERMAN FROM THE DOMINICAN REPUBLIC. MY GOVERNMENT ADDRESSED THIS PRESSING ISSUE IMMEDIATELY UPON COMING TO OFFICE.
WE COMMENCED BILATERAL DISCUSSIONS WITH THE DOMINICAN REPUBLIC GOVERNMENT AND ITS MILITARY IN BOTH THE DOMINICAN REPUBLIC AND THE BAHAMAS TOWARDS AGREEING ON A SHARED STRATEGY TO STOP ILLEGAL INCURSIONS INTO OUR WATERS.
WE BELIEVE WE HAVE MADE SIGNIFICANT PROGRESS IN PROTECTING THE RIGHTS OF BAHAMIAN FISHERMAN. AND AGAIN WE HAVE NO INTEREST IN DISCUSSING WHETHER OR NOT OUR PREDECESSORS INTENDED TO DO THE SAME THING IF THEY HAD BEEN ELECTED.  THE FNM WAS NOT ELECTED.  THEY THEREFORE COULD NOT DO IT.  THE PLP WAS ELECTED –  WE PROMISED WE WOULD DO IT – AND WE DID.
AS WE REBUILD THE BUILDINGS AT THE DETENTION CENTRE WHICH HOUSES ILLEGAL MIGRANTS WE ARE PUTTING IN PLACE MORE CONTROLS TO ENSURE THE REQUIRED COMFORT AS WELL AS THE ENFORCED DISCIPLINE REQUIRED AT THE CENTRE ARE IN PLACE.
JUST TODAY THE MINISTER RESPONSIBLE ADVISED ME OF WHAT APPEARS TO BE A CONTRIVED ATTACK ON OUR COUNTRY ON THE INTERNET ON THE BASIS OF HOW WE TREAT MIGRANTS IN OUR CUSTODY AT DETENTION CENTERS. WE WILL REBUILD THE CENTRES WHICH WERE DESTROYED AND WILL MAKE EVERY EFFORT TO PUT IN PLACE WHAT IS RIGHT AND JUST FOR THOSE WHO OCCUPY THE BUILDINGS AND THOSE WHO MANAGE THEM.
WE WILL CONTINUE TO WORK CLOSELY WITH THE UNITED STATES AGENCIES TO ENSURE THE SAFETY OF BOTH THE BAHAMAS AND THE UNITED STATES.
WE THANK OUR FRIENDS OF THE USA FOR THE INVALUABLE SERVICE THEY CONTINUE TO PROVIDE TO OUR COUNTRY AND FOR INDICATING A WILLINGNESS TO SHARE INTELLIGENCE AND PROVIDE ASSISTANCE TO OUR POLICE, DEFENCE FORCE AND OUR NEWLY ESTABLISHED NATIONAL INTELLIGENCE AGENCY.
IT MUST BE ABUNDANTLY OBVIOUS TO ALL IN OUR REGION THAT THE BAHAMAS AS AN ISLAND NATION HAS VERY SPECIAL COSTLY CHALLENGES. EXPENDITURE OF OVER $200 MILLION DOLLARS ON THE DEFENCE FORCE IS A GOOD EXAMPLE. THE BAHAMAS HAS BEEN CARRYING AN INCREASINGLY HEAVY BURDEN IN TRYING TO EFFECTIVELY POLICE OVER ONE HUNDRED THOUSAND SQUARE MILES THAT MAKE UP THE BAHAMAS. WE WILL CONTINUE TO IMPRESS UPON OUR FRIENDS THE NEED TO PROVIDE EXPANDED ASSISTANCE IN THIS ENDEAVOUR.
CRIME/LAW AND ORDER
MR. SPEAKER,
ON MAY 29TH, 2013 I SAID IN THIS PLACE, "IT GOES WITHOUT SAYING THAT, AS A PREREQUISITE, WE MUST HAVE A SAFE AND SECURE ENVIRONMENT FOR BOTH OUR CITIZENS AND VISITORS.  I WANT TO REITERATE AT THIS TIME MY GOVERNMENT'S UNFLINCHING COMMITMENT TO DO WHATEVER IS NECESSARY TO REDUCE CRIME, THE FEAR OF CRIME AND GUARANTEE LAW AND ORDER IN OUR SOCIETY."
I AM PLEASED, THEREFORE, TO ANNOUNCE SEVERAL SPECIAL MEASURES THAT WILL COMMENCE IMMEDIATELY AND WHOSE IMPACT WE EXPECT TO BE FELT IN THE SHORT TERM IN OUR ONGOING EFFORTS TO STEM THE TIDE OF CRIME IN OUR COUNTRY.
SATURATION PATROLS IS AN EFFECTIVE CRIME-FIGHTING TOOL.  THE ADDITIONAL $1.5 MILLION ALLOCATED FOR NEW POLICE VEHICLES WILL ENABLE SATURATION PATROLS TO BE INCREASED AND EXPANDED, AND WILL BRING GREATER EFFICIENCY AND SPEED-OF-RESPONSE. THE LEADER OF THE OPPOSITION QUESTIONED THE EXISTENCE OF SATURATION PATROLS – HE ASKED WHERE ARE THEY?  WE SHALL INVITE THE COMMISSIONER OF POLICE TO ASSIST YOU WITH THE ANSWERS TO YOUR QUESTION.  WE SHALL INVITE HIM TO DEPLOY THE VEHICLES AND POLICEPERSONS IN ZONES. WE WILL ALSO INVITE HIM TO ESTABLISH MONITORS TO MEASURE THE EFFECTIVENESS OF THE PATROLS BY MARKED AND UNMARKED VEHICLES.  THE GOVERNMENT, IN TURN WILL INCREMENTALLY INCREASE RESOURCES TO ACHIEVE EVEN GREATER SUCCESSES.   WE WILL DEDICATE MANPOWER AND EQUIPMENT TO PROVIDE THE COVERAGE REQUIRED.
WE HAVE AUTHORIZED THE MINISTRY OF NATIONAL SECURITY TO TRIPLE THE SIZE OF THE NEXT CLASS OF RECRUITS AND TO ENSURE THAT THEY ARE DEDICATED TO WORK EXCLUSIVELY IN NEW PROVIDENCE WHICH, OF COURSE, IS WHERE THE MAJOR PART OF OUR CRIME PROBLEM IS CONCENTRATED.
MY GOVERNMENT IS COMMITTED TO INCREASING PUBLIC PRIVATE SECTOR PARTNERSHIP. THIS THRUST WILL EXTEND TO CRIME FIGHTING IN THE TOURISM ARENA.
WE WILL COLLABORATE WITH PRIVATE SECURITY IN HOTELS, BAY STREET AND OTHER AREAS FREQUENTED BY TOURISTS.
WE WILL PROTECT TOURISM, THE LIFE BLOOD OF OUR ECONOMY.
WE EXPECT VERY SHORTLY TO COMPLETE FORMAL DOCUMENTATION AND PROTOCOLS TO AUGMENT INTELLIGENCE SHARING BETWEEN THE BAHAMAS, THE UNITED STATES, CARICOM AND OTHERS.
FORMER COMMODORE BUTCH SCAVELLA AND HIS TEAM WILL BE RESOURCED TO CARRY OUT THEIR INTELLIGENCE-RELATED DUTIES. I REMIND ALL BAHAMIANS THAT CRIME IS EVERYBODY'S BUSINESS. THE POLICE DEPEND UPON INFORMATION OR INTELLIGENCE FROM THE GENERAL PUBLIC. AS WE WANT SAFE COMMUNITIES AND A SAFE BAHAMAS, EACH OF US MUST COOPERATE AND COLLABORATE WITH THE POLICE. WE KNOW WHAT IS HAPPENING IN OUR COMMUNITIES AND WE MUST ADVISE THE POLICE OF LAW-BREAKING WHEREVER AND WHENEVER WE BECOME AWARE OF IT.  THIS IS OUR SACRED DUTY AS CITIZENS, A DUTY FROM WHICH WE CANNOT SHIRK.  IT IS ABSOLUTELY ESSENTIAL TO THE REMEDIATION OF THE CRIME PROBLEM THAT AFFLICTS OUR COUNTRY TODAY.
THE MINISTERS OF NATIONAL SECURITY, FOREIGN AFFAIRS AND THE ATTORNEY GENERAL HAVE BEEN ASKED TO COMPLETE AS SOON AS POSSIBLE THE NEGOTIATIONS THAT THEY COMMENCED ON THEIR VISIT TO WASHINGTON IN MARCH.
WE SUPPORT INTERNATIONAL COLLABORATION AND ASSISTANCE TO REMOVE THE SCOURGE UPON OUR COUNTRIES CAUSED BY HUMAN TRAFFICKING, TRAFFICKING IN PERSONS AND GUN TRAFFICKING.  IN ORDER TO DEPRESS THE LEVEL OF CRIME, PARTICULARLY IN RELATION TO THE UNACCEPTABLY HIGH INCIDENCE OF ARMED ROBBERIES, WE WILL CONSIDER ALL OPTIONS INCLUDING THE QUESTION OF WHAT ACTION NEEDS TO BE TAKEN TO CURB OR MORE CLOSELY MONITORS AND REGULATE RETAIL OUTLETS WHICH BUY USED JEWELRY AND OTHER VALUABLES.
WE WILL NOT TOLERATE THE BAHAMAS BEING USED TO TRAFFIC GUNS. AS PROMISED IN PROJECT SAFE BAHAMAS, LEGISLATION WILL BE BROUGHT TO TRY IN THE SUPREME COURT AND INCREASE PENALTIES FOR THOSE WHO ARE CAUGHT WITH HIGH-POWERED WEAPONS.
MR. SPEAKER,
CONSIDERATION IS NOW BEING GIVEN TO INTRODUCING LEGISLATION TO ADMIT CCTV DIGITAL IMAGES AS EVIDENCE IN TRIALS AND TO ADMIT IN TRIALS EVIDENCE THAT A PERSON WEARING AN ANKLE BRACELET WAS AT THE SCENE OF A CRIME. THIS WILL MEAN THAT IF THE OFFENDER'S DIGITAL IMAGE FROM CCTV OR HIS UNIQUE IDENTIFIER FROM HIS ANKLE BRACELET PLACES HIM AT THE CRIME SCENE, A REBUTTABLE PRESUMPTION WILL BE RAISED THAT HE WAS AT THE CRIME SCENE. IN SUCH A CASE THERE WILL BE THE NEED FOR THE PRIVATE SECTOR TO ASSIST AND COOPERATE WITH THE POLICE IN DEVISING THE PROTOCOLS AND PROCEDURES THAT SHOULD, IN TURN, ASSIST THE JUDICIARY IN RELATION TO THE TESTS FOR ADMISSIBILITY OF CCTV DIGITAL IMAGES INTO EVIDENCE.  IN THE LONGER TERM, THIS NEW TECHNOLOGY WILL MINIMIZE THE NEED FOR HUMAN WITNESSES IN MANY CASES, THEREBY ALSO REDUCING THE PROBLEM OF HAVING TO DEDICATE RESOURCES FOR WITNESS PROTECTION PROGRAMMES AND THE LIKE.
ALREADY ON THE AGENDA FOR DEBATE IS LEGISLATION ENABLING VIDEOCONFERENCING TO BE USED FOR ARRAIGNMENTS AND ANY OTHER MATTER UP TO AND INCLUDING TRIAL.
ALTHOUGH SWIFT JUSTICE IS REGISTERING IMPRESSIVE RESULTS, WE ARE NOT SATISFIED THAT WE HAVE GONE FAR ENOUGH YET. CITIZENS ARE ESPECIALLY CONCERNED THAT PERSONS WHO HAVE COMMITTED SERIOUS CRIMES WHILST ON BAIL CONTINUE TO COMMIT SERIOUS CRIME AND HAVE BECOME RECIDIVISTS. THIS TOO CANNOT BE TOLERATED.
I REPEAT MY GOVERNMENT'S UNFLINCHING COMMITMENT TO DO WHATEVER IS NECESSARY TO REDUCE CRIME, THE FEAR OF CRIME AND GUARANTEE LAW AND ORDER IN OUR SOCIETY. TO THIS END, BEFORE PARLIAMENT ADJOURNS FOR THE SUMMER RECESS, WE WILL BRING LEGISLATION TO ENABLE THE APPOINTMENT OF UP TO 20 SUPREME COURT JUDGES. COMMENCING SEPTEMBER 2013, FOR 12 MONTHS, IN THE FIRST INSTANCE, WE WILL PROVIDE THE RESOURCES TO ENABLE THE COURTS TO INCREASE THE NUMBER OF CRIMINAL TRIALS THAT CAN BE CONDUCTED SIMULTANEOUSLY. IT IS OUR HOPE THAT THE COURTS WILL BE IN A POSITION TO CONDUCT AS MANY AS 10 CRIMINAL TRIALS AT THE SAME TIME. INITIAL INDICATIONS ARE THAT THE JUDICIARY IS PREPARED TO INITIATE THIS MEASURE TO INCREASE THE NUMBER OF CRIMINAL TRIALS BEING CONDUCTED IN THE COURTS. WE BELIEVE THIS WOULD BE AN IMPORTANT TOOL IN OUR CRIME-FIGHTING ARSENAL.
I HAVE BEEN ASSURED BY THE ATTORNEY GENERAL THAT HER OFFICE WILL BE ABLE TO PROSECUTE UP TO TEN CRIMINAL TRIALS AT THE SAME TIME.
WE BELIEVE THAT JUDGES LIKE ALL BAHAMIANS AND PERSONS WITHIN OUR BORDERS WOULD LIKE TO SEE MATTERS PROCEED TO TRIAL AS SWIFTLY AS POSSIBLE.
WE BELIEVE THAT IN A COUNTRY AS SMALL AS OURS, SERIOUS CRIME SHOULD BE TRIED WITHIN 12 MONTHS. AND, WE BELIEVE THAT ANY ASSAULT OR THREAT UPON PERSONS CONCERNED WITH THE ADMINISTRATION OF JUSTICE, SUCH AS A JUDGE, SHOULD BE TRIED WITHIN 6 MONTHS.
WE BELIEVE THAT 10 CRIMINAL COURTS SITTING CONCURRENTLY FOR A PERIOD OF ONE YEAR, IN THE FIRST INSTANCE, WILL SEND A CLEAR MESSAGE OF OUR DETERMINATION TO SWIFTLY TRY OFFENDERS AND TOGETHER WITH OUR OTHER CRIME STRATEGIES TOOLS WILL BREAK THE BACK OF CRIME.
THE UK EXPERIENCE FOLLOWING THE RIOTS IS INSTRUCTIVE. IMMEDIATELY AFTER THE RIOTS SPECIAL MEASURES WERE IMPLEMENTED ON A TEMPORARY BASIS AND OVER 2000 TRIALS WERE HEARD WITH A CONVICTION RATE OF 83% [SEE BBC REPORT DATED 3 MAY 2012].
MR. SPEAKER,
LET ME SAY CLEARLY AGAIN THAT FIGHTING CRIME IS EVERYBODY'S BUSINESS.
10 COURTS SITTING AT THE SAME WILL NEED BAHAMIANS PREPARED TO DO THEIR CIVIC DUTY BY SERVING ON JURIES. AS I SPEAK, WE ARE WORKING WITH THE JUDICIARY TO PUT IN PLACE NECESSARY MEASURES THAT WILL, IN THE OPINION OF THE JUDICIARY, MAKE IT EASIER TO SELECT JURY PANELS, FOR JURORS TO SERVE WITH AS LITTLE INCONVENIENCE AS POSSIBLE, AND FOR JURORS TO BE WILLING TO SERVE AGAIN WHEN CALLED UPON. FOR EXAMPLE, WE ARE SEEKING A SOLUTION TO THE CHALLENGE OF JUROR PARKING DOWNTOWN.
WE HAVE HEARD THE CONCERNS ABOUT THE LIMITED NUMBER OF DEFENSE COUNSEL. WHILE WE CONTINUE TO FUND THE SYSTEM COME TO BE KNOWN AS CROWN BRIEFS, WE HAVE INDICATED TO THE EUGENE DUPUCH LAW SCHOOL OUR PREPAREDNESS TO SUBVENT THE ENGAGEMENT OF FULL TIME COUNSEL TO WORK FROM THEIR LEGAL AID DIVISION AS PUBLIC DEFENDERS.
WE BELIEVE THAT THIS WILL ALLEVIATE THE BOTTLENECK IN THE SYSTEM INSOFAR AS IT MAY BE CAUSED BY HAVING TOO SMALL A POOL OF CRIMINAL DEFENCE LAWYERS.
IN THIS CONNECTION, WE EXPECT THAT THE EUGENE DUPUCH LAW SCHOOL WILL PLACE IN JULY ADVERTISEMENTS TO RECRUIT 6 PUBLIC DEFENDERS.
WE HAVE INVESTED OVER $1 MILLION IN INTEGRATED JUSTICE SOFTWARE. THIS SOFTWARE HAS A CALENDARING SYSTEM THAT WILL, AMONG OTHER THINGS, PREVENT DOUBLE BOOKINGS OF COUNSEL AND WITNESSES IN COURTS.
WE INVITE THE COOPERATION OF JUDGES AND DEFENSE COUNSEL. JUSTICE DELAYED IS JUSTICE DENIED. DOUBLE-BOOKING CREATES BACKLOG.  WE ARE CONFIDENT THAT SUSTAINED PROSECUTION OF SERIOUS MATTERS WITHIN 12 MONTHS WILL SEND A CLEAR MESSAGE OF OUR COLLECTIVE DETERMINATION TO BREAK THE BACK OF CRIME ONCE AND FOR ALL.
THERE ARE ALSO OTHER MEASURES INCLUDING BUT NOT LIMITED TO EXPEDITING FORENSIC, PATHOLOGY AND COURT TRANSCRIPTS THAT WILL BE TAKEN TO SUPPORT THE EFFECTIVE IMPLEMENTATION OF 10 CRIMINAL COURTS SITTING AT THE SAME TIME. MORE WILL BE SAID ABOUT THESE MEASURES AT A LATER STAGE.
WHILST ON THE ADMINISTRATION OF JUSTICE, I AM ALSO CONCERNED ABOUT THE DELAY BEING EXPERIENCED BY A NUMBER OF BAHAMIANS IN RECEIVING JUDGMENTS IN MATTERS THAT HAVE ALREADY BEEN TRIED IN THE COURTS. IN INCREASING THE NUMBER OF JUSTICES TO 20 IT IS HOPED THAT STEPS WILL BE TAKEN BY THE JUDICIARY TO ENABLE THOSE OUTSTANDING JUDGMENTS TO BE DELIVERED AS A MATTER OF URGENCY WITH THE LEAST AMOUNT OF DISRUPTION TO THE DAILY WORK OF THE COURTS.
I WILL TAKE THIS OPPORTUNITY TO CONFIRM THAT WORK ON THE COMPLETION TO THE RENOVATIONS OF ANSBACHER HOUSE WILL BE UNDERTAKEN. WHEN COMPLETED, THIS WILL REDUCE THE COST PRESENTLY BORNE BY THE PUBLIC TREASURY IN RENTING INADEQUATE ACCOMODATIONS IN CHARLOTTE HOUSE, SAFFREY SQUARE AND BAF BUILDING.
MR. SPEAKER,
THE SAFETY OF OUR HOMES AND STREETS IS EVERYBODY'S BUSINESS. WE CALL UPON ALL BAHAMIANS, ALL PERSONS WITHIN OUR BORDERS AND HER MAJESTY'S LOYAL OPPOSITION TO JOIN US IN THESE EFFORTS TO RESTORE SAFETY AND REBUILD RESPECT FOR OUR LAWS AND LEGAL SYSTEM.  IN THIS REGARD, I AM TO ADVISE THIS HONOURABLE HOUSE THAT THE LEADER OF THE OPPOSITION HAS SENT A WRITTEN INDICATION OF HIS WILLINGNESS TO COOPERATE WITH THE GOVERNMENT IN THIS REGARD.  I WELCOME THIS GESTURE.
WE HAVE INCLUDED FUNDING IN THE MINISTRY OF NATIONAL SECURITY TO ASSIST NON-GOVERNMENTAL ORGANIZATIONS WHICH PROVIDE SUPPORT TO DEPORTEES.  THIS AS MANY HAVE KNOWN IS AN AREA OF GREAT CONCERN TO ME AND MY COLLEAGUES.  WE CONTINUE WITH OUR EFFORTS TO MINIMIZE TO THE EXTENT WHICH THESE DEPORTEES WILL CONTINUE WITH A LIFE OF CRIME IN THE BAHAMAS.
MR. SPEAKER,
BEFORE LEAVING THE SUBJECT OF LAW AND ORDER, I NEED TO RE-AFFIRM THAT I REMAIN ABSOLUTELY CONVINCED, AS DO ALL OF MY COLLEAGUES IN GOVERNMENT, ESPECIALLY THOSE, LIKE MYSELF, WHO REPRESENT OVER-THE-HILL OR OTHER SOCIALLY CHALLENGED AND ECONOMICALLY DEPRESSED CONSTITUENCIES, THAT THE URBAN RENEWAL PROGRAMME IS, AND MUST CONTINUE TO BE, A VITAL COMPONENT OF OUR ANTI-CRIME STRATEGY.
URBAN RENEWAL, AT ITS FUNDAMENTAL LEVEL, DEALS WITH THE UNDERLYING CAUSES OF CRIME WHILE AT THE SAME TIME BUILDING MUCH NEEDED RAPPORT AND MUTUAL GOODWILL BETWEEN THE POLICE AND THE COMMUNITIES THEY SERVE.
I AM CONSCIOUS THAT THERE ARE STILL CYNICS AND DOOMSAYERS IN OUR COUNTRY WHEN IT COMES TO URBAN RENEWAL BUT THERE IS EXTREMELY POWERFUL EVIDENCE – UNDENIABLE EVIDENCE, I WOULD SUBMIT – BOTH STATISTICAL AND ANECDOTAL, THAT URBAN RENEWAL IS CONTINUING TO NOT ONLY SAVE LIVES BUT TO TRANSFORM LIVES FOR THE BETTER AS WELL.  IT IS ALSO HELPING TO DEEPEN THE BONDS OF BROTHERHOOD WITHIN OUR COMMUNITIES, INCULCATING A GREATER SENSE OF MUTUAL RESPECT AND OTHER LIFE-GIVING VIRTUES LIKE ANGER-MANAGEMENT AND PEACEFUL DISPUTE RESOLUTION SKILLS. THE IMPORTANCE OF THESE THINGS, THESE VIRTUES, THESE STRENGTHS OF CHARACTER, CANNOT BE UNDEREMPHASIZED AS WE LOOK AT THE LONG-TERM AND SOLUTIONS TO CRIME.
SLOWLY BUT SURELY, ONE BY ONE, STREET BY STREET, COMMUNITY BY COMMUNITY, URBAN RENEWAL IS HAVING A POSITIVELY TRANSFORMATIVE EFFECT ON THE LIVES OF THE YOUNG AND ELDERLY ALIKE, AND MOST ESPECIALLY AMONG YOUNG PEOPLE WHO ARE "AT RISK", AT RISK OF SUCCUMBING TO THE TEMPTATIONS OF CRIMINALITY.
I THEREFORE EXHORT ALL MY COLLEAGUES IN THIS HOUSE, ON BOTH SIDES OF THE POLITICAL DIVIDE, TO EXTEND THEIR FULL AND UNQUALIFIED SUPPORT TO THE EXCELLENT WORK THAT IS BEING DONE IN OUR CRIME-RIDDEN COMMUNITIES UNDER THE AEGIS OF URBAN RENEWAL.
MR. SPEAKER,
THE SAFETY OF OUR HOMES AND STREETS IS EVERYBODY'S BUSINESS. WE CALL UPON ALL BAHAMIANS, ALL PERSONS WITHIN OUR BORDERS AND HER MAJESTY'S LOYAL OPPOSITION TO JOIN US IN THESE EFFORTS TO RESTORE SAFETY AND REBUILD RESPECT FOR OUR LAWS AND LEGAL SYSTEM.  IN THIS REGARD, I AM TO ADVISE THIS HONOURABLE HOUSE THAT THE LEADER OF THE OPPOSITION HAS SENT A WRITTEN INDICATION OF HIS WILLINGNESS TO COOPERATE WITH THE GOVERNMENT.
WE HAVE INCLUDED FUNDING IN THE MINISTRY OF NATIONAL SECURITY TO ASSIST NON-GOVERNMENTAL ORGANIZATIONS WHICH PROVIDE SUPPORT TO DEPORTEES.  THIS AS MANY HAVE KNOWN IS AN AREA OF GREAT CONCERN TO ME AND MY COLLEAGUES.  WE CONTINUE WITH OUR EFFORTS TO MINIMIZE TO THE EXTENT WHICH THESE DEPORTEES WILL CONTINUE WITH A LIFE OF CRIME IN THE BAHAMAS.
MR. SPEAKER,
OUR STRONG COMMITMENT TO EDUCATION IS CLEARLY DEMONSTRATED IN THIS BUDGET.  WE HAVE DEMONSTRATED OUR COMMITMENT TO INVESTMENT IN EDUCATION BY PROVIDING FOR THE CONSTRUCTION OF THREE NEW SCHOOLS WITHIN THIS FISCAL YEAR; WE HAVE ALSO FUNDED THE ESTABLISHMENT OF AN AGRICULTURE AND MARINE SCHOOL IN ANDROS.  AS WELL, WE HAVE INCORPORATED FUNDING FOR A SCHOOL FOR SPECIAL NEEDS CHILDREN AND FOR THE ESTABLISHMENT OF A FACILITY FOR SPECIAL NEEDS PERSONS WHO COMPLETED SCHOOL BUT REQUIRE A PLACE TO BE WHEN PARENTS ARE AT WORK.  THESE SPECIAL NEEDS PERSONS WILL ALSO BE GIVEN THE OPPORTUNITY TO WORK.
IN THIS BUDGET COMMUNICATION, I SPOKE OF THE GOVERNMENT FACILITATING THROUGH THE CARIBBEAN DEVELOPMENT UP TO $30 MILLION FOR THE TRANSITION OF THE COLLEGE OF THE BAHAMAS TO THE UNIVERSITY OF THE BAHAMAS.  I AM HAPPY TO REPORT THAT OFFICIALS FROM THE BANK ARE CURRENTLY IN THE BAHAMAS HOLDING DISCUSSIONS WITH THE MINISTER OF EDUCATION, THE CHAIRMAN OF THE COUNCIL AND OTHER EDUCATION OFFICIALS.  WE EXPECT THAT THESE DISCUSSIONS WOULD BE CONCLUDED THIS YEAR.  AND THAT THE UNIVERSITY OF THE BAHAMAS WILL BE ESTABLISHED BY 2015.
WE ALSO EXPECT THE COLLEGE OF THE BAHAMAS, BTVI THE NATIONAL TRAINING AGENCY  TOGETHER WITH PRIVATE SECTOR INTERESTS TO MOVE FORWARD AGGRESSIVELY WITH MAJOR TRAINING INITIATIVES.
SOCIAL SERVICES
MR. SPEAKER,
IN THE SOCIAL AREAS OUR COMMITMENT TO THE PROVIDING ASSISTANCE THROUGH THE DEPARTMENT OF SOCIAL SERVICES IS UNDIMINISHED. IMPORTANTLY, WE ARE PARTNERING WITH THE INTER-AMERICAN DEVELOPMENT BANK TO IMPROVE OUR TARGETING AND DELIVERY OF ASSISTANCE TO THE MOST VULNERABLE.  IN THIS REGARD, LET ME STATE ON BEHALF OF THE GOVERNMENT THAT WE WILL NOT COMPROMISE ON OUR OBLIGATION TO HELP AT ALL TIMES THE MOST DISADVANTAGED OF OUR NATION.
THE HONOURABLE MELANIE GRIFFIN WILL BE TAKING THE LEAD ON THE DEVELOPMENT OF AN INTEGRATED SITE FOR CHILDREN AND YOUNG PERSONS WITH SPECIAL NEEDS.
WE ALSO EXPECT THE HONOURABLE MINISTER TO MOVE WITH DUE HASTE TO INSTALL THE GREEN HOUSES AT SIMPSON PENN AND WILLAMAE PRATT SO THAT THE RESIDENTS MAY RECEIVE THE BENEFIT OF BEING A PART OF SUCH A WORTHWHILE ENDEAVOUR.
WE LOOK FORWARD TO THE MINISTRY OF SOCIAL SERVICES AND COMMUNITY DEVELOPMENT CONTINUING TO PLAY A SIGNIFICANT ROLE IN THE OPERATIONS OF THE URBAN RENEWAL PROGRAMME. THE INFORMATION THAT THE MINISTRY WILL COLLECT IN ITS HOUSE VISITATION PROGRAMME WILL GO A LONG WAY IN INFORMING PUBLIC POLICY OF THE MOST VULNERABLE IN OUR COUNTRY.
HEALTH CARE
MR. SPEAKER,
IN THE AREA OF HEALTHCARE, WE HAVE SECURED THE FUNDING FOR THE COMPLETION OF THE CRITICAL CARE BLOCK AT THE PRINCESS MARGARET HOSPITAL.  A PROJECT THAT WAS COMMISSIONED WITHOUT FULL FUNDING BEING SECURED BY OUR PREDECESSORS, CONTRARY TO ANY OTHER PUBLIC STATEMENTS.  THEY WERE TOO BUSY OPENING THE STADIUM BEFORE IT WAS COMPLETED, RUSHING THE COMPLETION OF THE STRAW MARKET, GRANDSTANDING, GROUNDBREAKING POLITICAL EVENTS INSTEAD OF PROPER PLANNING AND EXECUTION.
WE ARE COMMITTED TO IMPROVING ALL OF OUR INSTITUTIONS DELIVERING HEALTH CARE.  WE WILL CONTINUE TO DEDICATE RESOURCES TO ENSURE IMPROVEMENT IN THE SERVICES OFFERED BY HOSPITALS AND CLINICS AND IN HUMAN RESOURCES NEEDED TO PROVIDE HIGH QUALITY CARE.
AS THE LEADER OF THE OPPOSITION HAS CORRECTLY POINTED OUT THE GOVERNMENT NOW HAS THE TASK OF COMPLETING AND STAFFING MINI HOSPITALS IN ABACO AND EXUMA.  WE PROPOSE TO BREAK GROUND FOR ANOTHER MINI HOSPITAL IN CENTRAL ELEUTHERA AND A SMALLER VERSION IN CAT ISLAND. OUR CHALLENGE IS TO ENSURE THAT AS MUCH AS POSSIBLE WE ARE ABLE TO UTILIZE BAHAMIAN DOCTORS AND NURSES WHO ARE ELIGIBLE FOR SERVICE IN THESE FAMILY ISLAND INSTITUTIONS AS WELL AS IN THESE FAMILY ISLANDS WHERE THEY MAY BE IN DESPERATE NEED OF A DOCTOR.
AS WE BEGUN SERIOUS CONSIDERATION OF THE REQUIRED STEPS TO THE INTRODUCTION OF UNIVERSAL HEALTH CARE, WE WILL MOVE TO AGGRESSIVELY ACTIVATE AND STAFF THE HEALTH FACILITIES IN THE ISLANDS.
AS DEVELOPMENT OCCURS, IN PLACES LIKE BIMINI, CAT ISLAND, AND SAN SALVADOR THERE IS AN ADDITIONAL NEED FOR MORE MEDICAL PERSONNEL.  AS IT IS AN ESSENTIAL COMPONENT OF WHAT THE GOVERNMENT IS EXPECTED TO PROVIDE, WE SHALL WORK WITH THE PRIVATE SECTOR TO PROVIDE SOME RELIEF.
WE ARE COMMITTED TO NATIONAL HEALTH INSURANCE AND HAVING AN EXPERT GROUP EXAMINING THE FEASIBILITY AND TIMING OF IMPLEMENTATION.  WE WILL REPORT PERIODICALLY TO THE HOUSE OF ASSEMBLY.
WE ARE COMMITTED TO THE DEVELOPMENT OF A MEDICAL TOURISM INDUSTRY.  WE HAVE EVERY REASON TO BE PROUD OF OUR EFFORTS TO DATE.  BEFORE WE BREAK FOR THE SUMMER WE WILL MOVE AND PASS STEM CELL LEGISLATION WHICH HAS ALREADY ATTRACTED MAJOR INVESTMENTS TO THE BAHAMAS.
WE ANTICIPATE THAT HAVING PUT A LEGAL REGIME IN PLACE THE BAHAMAS CAN LOOK FORWARD TO POSITIVE GROWTH AND JOB CREATION IN MEDICAL AND HEALTH TOURISM.
THE MINISTER FOR GRAND BAHAMA HEADS A CABINET COMMITTEE ON DETERMINING THE MOST FEASIBLE OPTION FOR THE CONSTRUCTION OF A NEW HOSPITAL FOR GRAND BAHAMA.
ANTIQUITIES CORPORATION AND,
CLIFTON HERITAGE AUTHORITY,
NATIONAL HEROES PARK
MR. SPEAKER,
THE CLIFTON HERITAGE AUTHORITY AND THE ANTIQUITIES, MONUMENTS AND MUSEUMS CORPORATION ARE TWO OF THE PRIMARY NATIONAL CULTURAL HERITAGE INSTITUTIONS THAT I HAVE MINISTERIAL RESPONSIBILITY FOR.
AS MEMBERS ARE AWARE, THE CLIFTON HERITAGE AUTHORITY, IN PARTICULAR, WAS INSTITUTED, AND THE DEVELOPMENT OF THE NATIONAL PARK WAS BEGUN ON LAND PURCHASED FROM THE OAKES FAMILY.  TODAY, THE VALUE OF THE PARK IS STILL REFLECTED IN THE FACT THAT IT MAY ARGUABLY BE THE ONLY SITE IN THE BAHAMAS WHERE THREE CIVILIZATIONS (I.E. LUCAYAN, EUROPEAN AND AFRICAN) EXISTED.
DURING THIS UPCOMING BUDGET YEAR, SEVERAL INITIATIVES WILL BE ACTIONED TO EFFECT THE CONTINUED DEVELOPMENT OF THE HERITAGE PARK. AMONG THE PRIORITY OF ACTIONS TO BE TAKEN WILL BE THE FOLLOWING:
CLIFTON HERITAGE AUTHORITY
n     PURCHASE OF LAND ADJACENT TO SLAVE HOUSES: CONSIDERED TO BE NECESSARY BECAUSE OF THE LOCATION OF THE GREAT HOUSE AND ANCILLARY HISTORIC BUILDINGS ON THE SITE.
n     RE-ROUTING OF EXISTING ROAD THAT RUNS ALONG WEST BAY STREET, PASSES THE JAWS BEACH ENTRANCE AND CONTINUES TOWARD THE BEC POWER PLANT HAS BECOME A NECESSARY PRECAUTIONARY MEASURE TO DIS-ALLOW UNWANTED VEHICULAR TRAFFIC THROUGH THE PARK. THE CONTINUOUS VEHICULAR TRAFFIC FLOW WHICH INCLUDES LARGE PETROLEUM CARRIERS THAT FREQUENTLY USE THE ROUTE POSES A CONSTANT DANGER TO THE VISITING PEDESTRIANS, PARTICULARLY AS CERTAIN AREAS OF THE PARK ARE LOCATED ON BOTH SIDES OF THE THOROUGHFARE.
n     ONE MAJOR INITIATIVE THAT IS PROPOSED IS THE RESTORATION OF GREAT HOUSE TO REFLECT LIFE DURING THE PERIOD OF EARLY LOYALIST OCCUPATION. HOUSE WILL BE OUTFITTED AS A MUSEUM WITH PERIOD FURNISHING AND COSTUMED ATTENDANTS. ONCE COMPLETED SURROUNDING ENVIRONS WILL BE SIMILARLY DEVELOPED.  THE RESTORED GREAT HOUSE WILL REPRESENT ONE OF THE LAST AND FINEST EXAMPLES OF LOYALIST-STYLED MANSIONS IN THE BAHAMAS.
n      THERE WILL BE A REPLICATION OF A LUCAYAN COMMUNITY DEVELOPED ON AN ACTUAL HISTORIC LUCAYAN SITE. REPRESENTATION WILL BE MADE OF THE ARCHITECTURE, PHYSICAL APPEARANCE AND SOCIO-RELIGIOUS PRACTICES OF THE EARLY BAHAMIANS. IT IS INTENDED THAT GUIDES WILL GREET VISITORS DRESSED IN LUCAYAN ATTIRE.
n     THE SLAVE HOUSES WILL BE RE-DEVELOPED TO DEMONSTRATE THE DAILY LIFE-STYLE OF SLAVES OF THE PERIOD. SOME HOUSES WILL SHOW REPLICATED FURNISHING AND YARDS WILL SHOW A SAMPLE OF THE VARIETY OF THEIR FOOD-WAYS. ADDITIONAL SIGNS WILL BE ERECTED TO TELL THE STORY OF THE EARLY AFRICAN EXPERIENCE ON THE PLANTATIONS.
n     A FAMILY BEACH AREA WILL BE DEVELOPED WHERE BARBECUE PITS, LOUNGE CHAIRS AND ADEQUATE PICNIC ESSENTIALS WILL BE MADE AVAILABLE TO FAMILIES FOR LEISURE AND PLEASURE WITHIN THE SECURED CONFINES OF THE PARK. A TRAM SYSTEM WILL TRANSPORT THE VISITING FAMILIES FROM THE PARKING LOTS TO THE SITE. A BATHROOM FACILITY WILL BE MADE AVAILABLE.
n     A CAMP SITE WILL BE ESTABLISHED TO ENCOURAGE YOUTH AND OTHER SOCIAL AND CIVIC GROUPS TO SPEND TIME CAMPING AT THE PARK. A NUMBER OF SUITABLE HUTS, EQUIPPED WITH SHOWERS WILL BE ERECTED TO FACILITATE THE CAMPING ACTIVITIES. FACILITIES FOR COOKING AND EATING WILL BE ERECTED AND OUTFITTED. A BATHROOM FACILITY WILL BE MADE AVAILABLE.
n     THE PARK WILL FEATURE A VARIETY OF AQUATIC ACTIVITIES, INCLUDING SNORKLING TRAILS AND SWIMMING AREAS. BATHROOMS WITH EXTERIOR SHOWERS WILL BE STRATEGICALLY LOCATED THROUGHOUT THE PARK.
n     IN AN EFFORT TO FACILITATE THE PROGRAMS OUTLINED, THE PARK WILL BE FULLY ELECTRIFIED TO PROVIDE NECESSARY SOURCES OF POWER FOR LIGHTING OF TRAILS AND BATHROOMS.
N     ADDITIONALLY, A PROGRAM FOR THE RESTORATION OF THE COASTLINE, TO INCLUDE RENOURISHMENT OF BEACHES WILL TAKE PLACE.
MR. SPEAKER,
MY GOVERNMENT WILL BE GUIDED BY ENVIRONMENTAL BEST PRACTICES IN ADDRESSING ALL OF THE ISSUES AFFECTING CLIFTON AND ITS ENVIRONS.  WE HAVE SECURED EXPERT ADVICE AND SUCH WILL UTILIZE ADVICE WHENEVER IT IS DEEMED APPROPRIATE AND WOULD EXPECT THAT ANY DECISIONS MADE WILL BE SO GUIDED AND DIRECTED.
MEMBERS ARE EQUALLY AWARE THAT THE ANTIQUITIES, MONUMENTS AND MUSEUMS CORPORATION IS THE PRINCIPAL NATIONAL INSTITUTION RESPONSIBLE FOR THE PRESERVATION, CONSERVATION, RESTORATION, DOCUMENTATION, STUDY AND PRESENTATION OF SITES AND OBJECTS OF HISTORICAL, ANTHROPOLOGICAL, ARCHAEOLOGICAL AND PALAEONTOLOGICAL INTEREST.
DURING THE NEXT FISCAL YEAR, IT IS THE INTENTION OF MY MINISTRY TO ENGAGE IN THE FOLLOWING INITIATIVES:
THE ANTIQUITIES, MONUMENTS AND
MUSEUMS CORPORATION
n     RESTORATION OF THE POMPEY MUSEUM LOCATED IN THE NEWLY-DEVELOPED POMPEY SQUARE IS EXPECTED TO BE COMPLETED BY NOVEMBER THIS YEAR. THE MUSEUM WILL FEATURE ASPECTS OF THE HISTORY OF SLAVERY IN THE BAHAMAS, HIGHLIGHTED BY A DIORAMA OF THE SLAVE SHIP – PETER MOWELL, WHICH SANK IN BAHAMIAN WATERS OFF ABACO, in 1860 BUT FROM WHICH A NUMBER OF SLAVES WERE RESCUED, SOME OF WHOSE DESCENDANTS LIVE IN THE BAHAMAS TODAY.
n     DEVELOPMENT OF HERITAGE CENTRES ON FAMILY ISLANDS, TO INCLUDE A MUSEUM, LIBRARY AND COMPUTER LAB. CENTERS TO BE OPERATED AND MANAGED BY LOCAL PERSONS IN COLLABORATION WITH THE ANTIQUITIES CORPORATION.
THE ESTABLISHMENT OF A HERITAGE CENTER IS ALREADY UNDERWAY ON SAN SALVADOR AND ANOTHER IS FULLY OPERATIONAL ON LONG ISLAND.
ON CROOKED ISLAND, IN PARTICULAR, THE GRAVE SITE OF "POOR BLACK KATE" WILL BE IDENTIFIED AND A COMMEMORATION WILL BE ESTABLISHED TO THE MEMORY OF THE UNFORTUNATE SLAVE, WHO WAS SUBJECTED TO SERVERE CRUELITY THAT LED TO HER DEATH.  HER TORTURERS DID NOT GO UNPUNISHED, HOWEVER, AND THE STORY OF KATE'S FATAL MISFORTUNE CREATED INTERNATIONAL SENSATION AND WAS USED BY THE ABOLITIONIST MOVEMENT TO PROMOTE THEIR ANTI-SLAVERY CAUSE.
n     THE RESTORATION OF THE OLD COMMISSIONER'S RESIDENCE ON HARBOUR ISLAND IS INTENDED TO BE ADAPTIVELY RE-USED AS A HERITAGE CENTER. THE PROJECT IS UNDER DEVELOPMENT AS A PUBLIC-PRIVATE PARTNERSHIP INITIATIVE INVOLVING LOCAL RESIDENTS. AMONG OTHER THINGS, THE BUILDING WILL HOUSE AN ART GALLERY AND MUSEUM AND GIFT SHOPS THAT THE ENTIRE COMMUNITY AND VISITORS CAN ENJOY.
THIS MANSION WAS ONCE THE HOME OF THE EARL OF DUNMORE, WHO WAS A FORMER BRITISH GOVERNOR OF NEW YORK AND THE LAST GOVERNOR OF VIRGINIA.  THE EVENTS OF THE AMERICAN REVOLUTION RESULTED IN A RETREAT BY BRITISH FORCES FROM THE AMERICAN COLONIES TO PLACES THAT INCLUDED THE BAHAMAS.
DUNMORE BECAME GOVERNOR OF THE BAHAMAS AND BUILT MAJOR FORTICATIONS IN NEW PROVIDENCE SUCH AS FORTS CHARLOTTE AND FINCASTLE. THE MANSION AT HARBOUR ISLAND WAS DUNMORE'S SUMMER HOME.
n     NEGOTIATIONS ARE UNDERWAY TO DEVELOP A HERITAGE MUSEUM COMPLEX IN GRAND BAHAMA AS A PRIVATE-PUBLIC PARTNERSHIP INITIATIVE INVOLVING THE GRAND BAHAMA DEVELOPMENT COMPANY, LOCAL VESTED-INTEREST GROUPS AND THE BAHAMAS GOVERNMENT. AMONG OTHER THINGS, THE PROJECT INTENDS TO HIGHLIGHT ASPECTS OF THE UNIQUE HISTORY OF GRAND BAHAMA, INCLUDING A REPLICATION OF THE OLD FREETOWN EX-SLAVE COMMUNITY. THE PROJECT IS INTENDED TO CONTRIBUTE SIGNIFICANTLY TO THE CONTINUED AND SUSTAINABLE DEVELOPMENT OF CULTURAL HERITAGE ON GRAND BAHAMA.
n     THE FORT FINCASTLE AREA WILL BE RE-DEVELOPED INTO A PEDESTRIAN HERITAGE PARK. THE WATER TOWER WILL BE RESTORED TO ALLOW PUBLIC ACCESS TO RESUME. IN SOME AREAS, ASPHALT ROADS WILL BE REPLACED WITH BRICK-LINED PEDESTRIAN WALK-WAYS, SHADE TREES AND PARK BENCHES.
n     FORT CHARLOTTE WILL FEATURE A LIVING HISTORY PROGRAM IN WHICH PERIOD-COSTUMED SOLDIERS WILL RE-ENACT MILITARY-STYLED DRILLS AND CANNONS WILL BE ROUTINELY FIRED. A SOUND-N-LIGHT FEATURE OF ASPECTS OF THE HISTORY OF THE ISLANDS WILL BE BECOME A NIGHT-TIME ACTIVITY FOR TOURIST AND LOCAL RESIDENTS TO ENJOY.
SURVEYS INDICATE THAT CRUISE SHIPS WILL HAVE THEIR PASSENGERS SUPPORT THESE HISTORICAL AND LANDMARK EXPRIENCES.  IT IS BELIEVED THAT THESE FORTS WILL BE REVENUE EARNERS.
n     A RESEARCH SECTION IS BEING DEVELOPED TO FACILITATE RESEARCH AND PUBLICATION OF ASPECTS OF BAHAMIAN HISTORY. A CORPS OF YOUNG COLLEGE GRADUATES HAVE BEEN ASSEMBLED TO BE TRAINED AND ENGAGED IN THE PROGRAM. IT IS ENVISIONED THAT AT LEAST ONE BOOK ON BAHAMIAN HISTORY WILL BE PUBLISHED EACH YEAR AND A SERIES OF SCHOLARLY ARTICLES PUBLISHED IN NATIONAL AND INTERNATIONAL JOURNALS. THE GRADUATES WILL ENGAGE IN A SYSTEMATIC PROGRAM OF ORAL HISTORY RESEARCH IN WHICH SENIOR BAHAMIANS WILL BE INTERVIEWED AND THEIR STORIES PUBLISHED IN ARTICLES OR INCLUDED IN BOOKS ON THE RELATED SUBJECT.
NATIONAL HEROES PARK
A HEROES PARK WILL BE DEVELOPED WHERE THE LEGACY OF BAHAMIAN NATIONAL HEROES WILL BE PERENNIALLY ENSHRINED IN SCULPTURE AND SIGNAGE. BAHAMIANS AND VISITORS WILL BE ABLE TO TOUR THE GARDENS AND VIEW HISTORICAL PERSPECTIVES ON PERSONS WHO HAVE CONTRIBUTED TO THE DEVELOPMENT OF THE NATION.  THE LIST OF LUMINARIES FEATURED WILL INCLUDE, BUT NOT BE EXCLUSIVE TO, SIR LYNDEN, SIR MILO, SIR JAMES CARMYCHAEL SMYTHE, "POMPEY" AND "POOR BLACK KATE". LEVELS OF RECOGNITION WILL BE BASED ON THE TIERED-SYSTEM STATED IN THE NATIONAL HEROES LEGISLATION.
MR. SPEAKER,
THE BUDGET COMMUNICATION INCLUDED 5 MAJOR INTERVENTIONS BY MY GOVERNMENT.
WE BELIEVE THAT EACH OF THE PROPOSED INTERVENTIONS REPRESENTS A VERY SIGNIFICANT DEVELOPMENT IN THE NATIONAL AFFAIRS OF THE BAHAMAS AND WILL PROVE TO BE A DEFINING DECISION WITH VERY POSITIIVE OUTCOMES FOR BOTH THE PEOPLE WHO ARE AFFECTED AND THE BAHAMAS.
1.            SCHOOL FOR SPECIAL CHILDREN, OCCUPATIONAL AND THERAPEUTIC FACILITIES FOR CHILDREN AND PERSONS WITH LEARNING DISABILITIES
THE GOVERNMENT HAS AGREED TO RENT FROM THE CATHOLIC DIOCESE THE FORMER OUR LADY'S PRIMARY SCHOOL PREMISES FOR THE ESTABLISHMENT OF A SCHOOL THAT WILL ACCOMMODATE OVER 100 CHILDREN WITH LEARNING DISABILITIES. THIS IS A MAJOR INTERVENTION FOR CHALLENGED CHILDREN AND REPRESENTS MY GOVERNMENT'S COMMITMENT TO BRING RELIEF AND ASSISTANCE TO PARENTS AND SPECIAL CHILDREN ALIKE.
IN THIS BUDGET, WE HAVE ALSO PROVIDED FOR THOSE SPECIAL PERSONS WHO MAY HAVE COMPLETED SCHOOLING BUT HAVE NO OTHER OPTION BUT TO REMAIN AT HOME.  RECOGNISING AN ACUTE NEED TO PROVIDE THESE DISABLED PERSONS WITH ADDITIONAL RELIEF AND ASSISTANCE, THE GOVERNMENT HAS ANNOUNCED AN INTENTION TO ESTABLISH A PARTNERSHIP WITH ASSOCIATIONS SUCH AS R.E.A.CH. AND THE DOWN SYNDROME ASSOCIATION IN WHICH THE GOVERNMENT WOULD PROVIDE SUFFICIENT LAND AND OTHER RESOURCES FOR THE ESTABLISHMENT OF A MULTI-PURPOSE FACILITY WHERE SPECIAL CHILDREN AND THOSE WHO ARE OLDER WILL BE ABLE TO BE KEPT WHILE MEMBERS OF THEIR FAMILIES ATTEND WORK AS WELL AS BE USEFULLY EMPLOYED ON SITE IN SOME INDUSTRIAL OR AGRICULTURAL ENTERPRISE.
THE SITE WILL BE DEVELOPED JOINTLY AND BE DESIGNED TO PROVIDE ALL THAT IS NECESSARY FOR THE CARE AND THERAPEUTIC AND OCCUPATIONAL WELL-BEING OF THE USERS.
I TRAVELLED WITH REPRESENTATIVES OF AND OFFICIALS OF R.E.A.C.H. AND THE DOWN SYNDROME ASSOCIATIONS TO A GRADUATION CEREMONY OF THE SCHOOL IN ABACO "EVERY CHILD COUNTS".
THE SCHOOL WAS IN THE PROCESS OF ADDIING A  VOCATIONAL BUILDING FOR THESE STUDENTS WHO HAD GRADUATED AND ORGANISING OTHERS TO WORK IN ESTABLISHMENTS IN MARSH HARBOUR THAT AGREED TO GIVE THE GRADUATES AN OPPORTUNITY TO WORK.
MR. SPEAKER,
WE APPLAUD MRS. LYN MAJOR, ADMINISTRATOR OF THE SCHOOL AND ALL OF THE SPONSORS WHO SUPPORT THE SCHOOL.
THIS IS A MAJOR MULTI-FACETED DEVELOPMENT FOR NEW PROVIDENCE AND IT HAS BEEN ENTHUSIASTICALLY WELCOMED BY THOSE ASSOCIATIONS WE HAVE CONSULTED.
WE ARE MINDFUL, HOWEVER, OF THE NEED THAT EXISTS THROUGHOUT OUR NATION FOR SUCH INTERVENTIONS.
WE HAVE SPOKEN WITH A MOTHER IN GRAND CAY WHO HAD TO LEAVE HER JOB IN GRAND BAHAMA BECAUSE THERE WAS NO ONE TO TAKE CARE OF HER AUTISTIC CHILD.
OR THE MOTHER WHO SPOKE TO ME THIS LAST WEEK-END ABOUT HAVING TO LEAVE HER HOME IN THE BLUFF ELEUTHERA AND MOVE TO NEW PROVIDENCE TO GIVE HER SPECIAL CHILD ACCESS TO A SCHOOL THAT COULD ACCOMMODATE HIM. SHE ASKED IF WE COULD ADD A CLASS FOR SUCH CHILDREN TO THE SCHOOL AT THE BLUFF.
WE MET UNIVERSITY LECTURERS AT THE RECENT SEMINAR AT THE COLLEGE OF THE BAHAMAS WHO HAVE A RESEARCH ASSOCIATING WITH A SMALL SCHOOL IN GOVERNOR'S HARBOUR, ELEUTHERA.
WE KNOW THAT WHAT WE ARE NOW ESTABLISHING WILL HAVE TO BE REPLICATED IN A SMALLER WAY IN OTHER PLACES IN THE BAHAMAS AND OUR COMMITMENT AND RESOLVE TO EASE THE PAIN, AND ANGUISH OF PARENTS WHO ARE INCREDIBLY CHALLENGED WITH SUCH CHILDREN AND WITHOUT THE NECESSARY ASSISTANCE OF THE KIND WE ARE NOW INTRODUCING.
THE MINISTER OF SOCIAL SERVICES AND COMMUNITY DEVELOPMENT WILL COORDINATE A PRIVATE/PUBLIC SECTOR GROUP WHICH WILL VISIT SPECIAL FACILITIES IN NEW YORK AND FLORIDA AND CUBA WITH A VIEW TO ASSISTING IN THE DESIGNING OF WHAT WILL BE INCLUDED IN THE PROPOSED DEVELOPMENT.
2.            BAHAMAS FESTIVAL – MARDI CRAS OR CARNIVAL
MR. SPEAKER,
I ANNOUNCED ON BEHALF OF THE GOVERNMENT, AN INTENTION TO SPONSOR A BAHAMIAN FESTIVAL, MARDI GRAS, CARNIVAL OR I SAID BY WHATEVER NAME IT IS CALLED.
THIS WAS A VERY SERIOUS COMMITMENT BY THE GOVERNMENT WHICH SAW IT AS BOTH A MAJOR ECONOMIC INTERVENTION AND CULTURAL EXPANSION.
MANY PERSONS RUSHED TO JUDGEMENT AND QUESTIONED WHY SHOULD THE BAHAMAS COPY TRINIDAD OR BRAZIL.  AND WHY SHOULD WE MOVE AWAY FROM JUNKANOO WHICH IS SPECTACULARLY BAHAMIAN.
LET ME SAY AT THE OUTSET THAT PRIOR TO MAKING MY ANNOUNCEMENT I CONSULTED WITH SEVERAL ICONS IN THE WORLD OF JUNKANOO AND WITHOUT EXCEPTION THEY WERE FULLY SUPPORTIVE OF THE IDEA AND IMMEDIATELY CONFIRMED THEIR WILLINGNESS TO WORK WITH THE COMMITTEE WHICH WILL BE APPOINTED TO PREPARE THE BAHAMAS AND THE WORLD FOR THIS NEW FESTIVAL.  IT WILL BE ESSENTIALLY BAHAMIAN BUT ALSO INCLUDE THOUSANDS OF VISITORS WHO WILL BE ATTRACTED BY WHAT WILL BE AN ABSOLUTELY FABULOUS AFFAIR.
THE GOVERNMENT WILL SHORTLY APPOINT THE COMMITTEE. I HAVE TAKEN THE LIBERTY TO INVITE PAUL MAJOR, A FORMER BANKER AND JUNKANOO PARTICIPANT TO CHAIR THE COMMITTEE AND INTEND TO FORMALLY INVITE ROBERT SANDS AND ED FIELDS AND OTHER MAJOR FIGURES IN THE CULTURAL FIELD – IN PAINTING, MUSIC, DRAMA ALL OF WHICH ARE A PART OF THIS NEW ENTERPRISE.
I EXPECT THE COMMITTEE TO HOLD FULL CONSULTATIONS WITH ALL OF THE MAJOR PERSONALITIES OF JUNKANOO, AND ASSOCIATES.
I WILL FOR MY PART ADVISE THE COMMITTEE THAT I DO NOT WISH THEM TO INTERFER WITH JUNKANOO. THIS IS A SEPARATE AND DIFFERENT ACTIVITY.
THE MAJOR JUNKANOO GROUPS AND THEIR LEADERS WILL BE ADVISED THAT WE DO NOT PROPOSE TO LICENCE THOSE GROUPS, UNLESS THERE IS OVERWHELMING EVIDENCE OF GENERAL ACCEPTANCE BY THE RANK AND FILE.
THE GROUPS TO BE LICENSED WILL HAVE TO FORM THEMSELVES INTO A COMPANY AND OPERATE AS A BUSINESS. THIS IS A MASSIVE UNDERTAKING WHICH WILL RECEIVE VERY CAREFUL CONSIDERATION OF THE GOVERNMENT. THIS IS VERY NECESSARY AS THE CORPORATE GROUPS WILL BE ADVERTISING ABROAD AND INVITNG PERSONS TO PURCHASE COSTUMES ONLINE AS WELL AS FROM STORE FRONTS IN A CULTURAL VILLAGE OR ELSEWHERE.
THE COMMITTEE WILL ULTIMATELY MOVE RECOMMENDATIONS TO THE GOVERNMENT FOR ITS CONSIDERATION.
IT IS MY INTENTION TO INVITE THE COMMITTEE TO CONSIDER STIPULATING MANDATORY COMPONENTS FOR THE COSTUME.  FOR EXAMPLE, 20% OF THE COSTUME INCORPORATING THE USE OF SISAL AND/OR STRAW.
IN THIS WAY THERE COULD BE THE ADDED VALUE OF STIMULATING THE PRODUCTION OF SISAL AND STRAW. WE WOULD ALSO INVITE THE COMMITTEE TO CONSIDER INCLUDING THE "RONNIE BUTLER" ANNAUL SONG COMPETITION TOWARDS STIMULATING THE MUSIC INDUSTRY.
THE COMMITTEE WILL MOVE RECOMMENDATIONS AS TO THE NAME OF THE FESTIVAL AND THE DATES.
I MET WITH MR. SARKIS IZMIRLIAN OF BAHA MAR AND ADVISED HIM THAT THIS FESTIVAL WAS ONE OF THE MAJOR PROMOTIONS WE WERE PUTTING IN PLACE IN VIEW OF HIS INTRODUCING 2,200 NEW HOTEL ROOMS IN DECEMBER 2014.  HE LIKED THE IDEA.  THE COMMITTEE WILL RECOMMEND WHETHER THERE SHOULD BE A PREFERRED RESORT DESTINATION OR LEAVE IT TO THE CHOICE OF VISITORS.
MR. SPEAKER,
CARNIVAL IS PART OF A WORLD-WIDE MASQUERADE INDUSTRY. THIS INDUSTRY HAS BEEN SUCCESSFUL IN ATTRACKING COSTUME MAKERS, WIRE BENDERS, PAINTERS, DESIGNERS AND PERFORMERS AT SOME OF THE LARGEST FESTIVALS IN THE WORLD.  IT HAS AN EXPORT DIMENSION.  WE KNOW OF MAJOR FESTIVALS IN TRINIDAD, BRAZIL, TORONTO, BARBADOS, NEW YORK, MIAMI, LONDON. CARNIVAL IN THE DIASPORA GENERATES HUNDREDS OF MILLIONS OF DOLLARS AND CREATES MANY JOBS AND ENTREPRENEURIAL OPPORTUNITES.
IT IS BIG BUSINESS AND IT REQUIRES BUSINESS PLANNING, MANAGEMENT, MARKETING OF PRODUCTS AND ORGANISATIONAL STRUCTURE.
COSTUMES FROM CARNIVAL INSPIRED DESIGNERS SHOW UP IN NEW YORK, TORONTO, NOTTING HILL LONDON, MIAMI AND MANY OTHER CENTRES IN THE USA.
THE COMMITTEE WILL BE BRIEFED AND HAVE THE OPPORTUNITY TO VISIT CARNIVAL ENTERPISES IN BRAZIL, TRINIDAD AND EVEN TORONTO WHERE CARNIVAL HAS BECOME ARGUABLY THE LARGEST FESTIVAL IN THE WORLD.
FOR THE PURPOSE OF THE LEADER OF THE OPPOSITION, THIS IS NOT A HALF BAKED IDEA AS YOU DESCRIBED IT. THE UNVERSITY OF THE WEST INDIES OFFERS A DEGREE COURSE IN CARNIVAL/FESTIVAL STUDIES.  THE NATIONAL TRANINING AGENCY OF TRINIDAD IN COLLABORATION WITH THE NATIONAL CARNIVAL DEVELOPMENT FOUNDATION AND THE UNIVERSITY OF THE WEST INDIES DEPARTMENT OF CARNIVAL AND FESTIVAL ARTS EMBARKED ON AN INIATIVE TO DEVELOP OCCUPATIONAL STANDARDS TO CERTIFY "CARNIVAL AS MAS PRACTITIONERS IN THE INDUSTRY".
MR. SPEAKER,
IT'S BIG BUSINESS. IT WILL ENABLE PERSONS SUCH AS GUS COOPER AND VOLA FRANCIS FOR THE FIRST TIME IN THEIR CULTURAL LIFE ASPIRE TO EARN A FULL TIME INCOME FOR THE USE OF THEIR ARTISTIC GENIUSES AND EXCEPTIONAL ARTISTRY.
WHEN NICOLETTE BETHEL SAID IT DID NOT MAKE SENSE – HOW COULD IT WORK? I WILL LET TIME AND THE BRILLIANT ARTISTS OF THE BAHAMAS NOW AND IN THE FUTURE PROVIDE THE ANSWERS.
3.            URBAN AGRICULTURE
IN ANNOUNCING IN MY BUDGET COMMUNICATION THE PLACEMENT OF GREEN HOUSES IN VARIOUS INSTITUTIONS, I WAS INTRODUCTING A NEW INTERVENTION OF URBAN AGRICULTURE.
URBAN AGRICULTURE FALLS UNDER THE UMBRELLA OF THE URBAN RENEWAL PROGRAMME AND IS AN AGRICULTURAL PROGRAMME BY WHICH A CENTRAL UNIT OF THE GOVERNMENT WOULD JOINT VENTURE WITH CHURCHES AND/OR SPECIFIC COMMUNITY-BASED ORGANISATIONS IN THE INNER CITY TO BRING ABOUT AN UNDERSTANDING AS TO THE EXTENT TO WHICH WE CAN ACHIEVE THE FOLLOWING OBJECTIVES:
1) grow some of the main staples of the Bahamian diet as a means to
2) bring down the cost of these food items while ensuring their quality and standards
3) help to develop proper eating habits in our communities
4) save foreign exchange on food import
5) stimulate a community owned economy
6) provide a business – model that generates profit, to assist the ministry of the church or organizations concerned to build economic empowerment and
encourage entrepreneurship among their membership
The Government would provide:
1) land and greenhouse
2) green house, cooler and processing plant
3) security of perimeter of land by fencing
4) technical expertise for the farming of food staples
5) mutually agreed percentage of salary of workers
6) support extended to:
(i)      training of persons identified in the food  production
(ii)      overall organization of crop rotation
The church would:
1) assume responsibility for proper function and oversight of the green house
2) appoint green house supervisor/manager/coordinator
3) Provide:
(i)      persons to be trained to work at the plant
(ii)      mutually agreed % of salary of workers
(iii)     transportation to assist with sales
(iv)     security/accountability of products
All profit made from the programme will be shared as mutually agreed.
The Facility
·      scattered throughout The Bahamas
·      each in partnership with a nearby church or community based organization.
The programme will start with a limited number on New Providence so as to provide models of success on which to build.
MR. SPEAKER,
I FORESHADOWED THAT THE GOVERNMENT WILL CAUSE GREEN HOUSES TO BE PLACED IN THE PRISON, WILLAMAE PRATT AND SIMPSON PENN SCHOOLS AND HOUSES FOR YOUNG PERSONS AND ELDERLY PERSONS.
ADDITIONALLY, AS A PART OF THE URBAN RENEWAL PROGRAMME WE MOVED TO IDENTIFY LAND IN VARIOUS CONSTITUENCIES WHERE MEMBERS OF THE COMMUNITY WILL BE EMPLOYED AND TRAINED TO MANAGE GREEN HOUSES.
THE MEMBER OF PARLIAMENT FOR BAIN'S AND GRANT'S TOWN HAS ALREADY IDENTIFIED AVAILABLE LAND IN HIS CONSTITUENCY AND PERSONS TO BE SELECTED FOR TRAINING. LET'S GET IT ON!
4.            EQUITY IN SPORTS FACILITIES
MR. SPEAKER,
IN MY COMMUNICATION I ADVISED THIS HONOURABLE HOUSE THAT THE GOVERNMENT RECOGNIZED THAT A VERY SPECIAL EFFORT TO GIVE PEOPLE IN THE FAMILY ISLANDS ACCESS TO PROPER SPORTING FACILITIES SHOULD BE REGARDED AS A FUNDAMENTAL OBLIGATION.  HOW COULD WE HAVE NATIONAL CHAMPIONSHIPS WHEN SOME ISLANDS HAVE NO FACILITIES OR INADEQUATE FACILITIES?
WE DECIDED THAT WE HAD ALL THE EVIDENCE WE NEEDED TO BELIEVE THAT IN OUR ISLANDS THERE ARE OLYMPIC GOLD MEDALISTS WAITING TO BE DISCOVERED.
WE SAW HOW A YOUNG MAN 18 YEARS OLD FROM GRENADA WON CARIFTA WORLD CHAMPIONSHIP AND THE GOLD MEDAL IN THE 400 METRE AT THE OLYMPICS.  WE SAW A 19 YEAR OLD FROM TRINIDAD WIN THE GOLD MEDAL AT CARIFTA, AT THE JUNIOR WORLD CHAMPIONSHIP AND AT THE LONDON OLYMPIC GAMES.
WE KNOW OF OUR PLAYERS WHO PLAYED MAJOR LEAGUE BASEBALL, NBA BASKETBALL.
WE HAVE SEEN ARIANNA VANDERPOOL IN SWIMMING – OUR BEACH SOCCER TEAM IN THE RECENT CHAMPIONSHIP.
WE KNOW THAT TEAMS SELECED TO REPRESENT THE BAHAMAS GENERALLY COME FROM NEW PROVIDENCE AND GRAND BAHAMA WHERE FACILITIES EXISTS.
WE WILL NOW CHANGE COURSE AND INTRODUCE A SPORTS BUILDING PROGRAMME IN THE FAMILY ISLANDS TOWARDS ULITMATELY GIVING OUR YOUNG TALENTED ATHLETES ACCESS TO PROPER FACILITIES AND THEREFORE THE POTENTIAL TO BE THE BEST THEY CAN BE.
WITH THE FACILITIES WILL COME PROPER COACHING.
THE MINISTER RESPONSIBLE FOR SPORTS IS MOVING QUICKLY AND HAS ALREADY HAD CONSULTANTS AND OFFICERS OF THE GOVERNMENT IDENTIFY SITES FOR A SPORTS COMPLEX IN ABACO, MOORES ISLAND AND EXUMA!  THE MINISTER WILL CONTINUE WITH IDENTIFYING SITES IN ELEUTHERA, ANDROS, CAT ISLAND AND IN OTHER ISLANDS OF THE BAHAMAS. FULL AND COMPLETE PLANS WILL BE PUT IN PLACE.
THE GOVERNMENT HAS IDENTIFIED A MODE OF FINANCING THESE SPORTS CENTRES AND YOU WILL HAVE SEEN THE BUDGETARY ALLOCATIONS OF $10 MILLION DOLLARS.
I AM VERY EXCITED OVER THIS INTERVENTION BECAUSE FOR ME, AS A FORMER TRACK AND FIELD ATHLETE, I BELIEVE THERE IS A GOLD MEDALIST TO BE DISCOVERED FOR THE NEXT OLYMPICS IN BRAZIL.  I EXPECT THAT WORK IN ABACO WILL START RELATIVELY QUICKLY BECAUSE BAKER'S BAY DEVELOPERS HAVE AGREED TO ASSIST THE GOVERNMENT IN THE ESTABLISHMENT OF THE CENTRE IN ABACO.
5.                          ESTABLISHMENT OF THE AGRICULTURE
AND MARINE INSTITUTE
MR. SPEAKER,
I NOW ADDRESS A MAJOR INITIATIVE OF THE GOVERNMENT OF THE BAHAMAS, FOR THE ESTABLISHMENT OF THE AGRICULTURE AND MARINE INSTITUTE.   ON THIS OCCASION I WILL LIMIT MY REMARKS TO THE SCHOOL OF AGRICULTURE AS IT IS NOW IN THE PROCESS OF BEING ESTABLISHED.
THE BAHAMAS IMPORTS NEARLY US$1BILLION IN FOOD ANNUALLY. AN EXAMINATION OF THE AGRICULTURE INFRASTRUCTURE REVEALS AN AGING POPULATION OF FARMERS, WHO IN THE MAIN DO NOT EMPLOY IMPROVED TECHNOLOGIES AND THE KNOWLEDGE OF MODERN DAY AGRICULTURAL PRACTICES ELUDES MANY DUE TO THE UNAVAILABILITY OF TRAINING SYSTEMS.
THE INFRASTRUCTURE TO PROTECT FARMERS AND ASSURE MARKET ACCESS DOES NOT EXIST. BASED ON THESE REALITIES IT IS SAFE TO SAY THAT THERE IS NO FORMAL SYSTEM TO TRAIN PERSONS IN AGRICULTURE.
THIS GAP HAS CREATED ONE MISCHIEF, AND THAT IS THE PAUCITY OF HUMAN RESOURCES TO DEVELOP, PROTECT AND ASSURE A FOOD PRODUCTION AND SUPPLY INFRASTRUCTURE AND IPSO FACTO THE ASSURANCE OF FOOD SECURITY IN THE BAHAMAS AND ALSO TO INCLUDE THE MANAGEMENT OF AGRICULTURE RELATED INVESTMENTS SUCH AS TURF AND FODDER GRASS, NURSERY, LANDSCAPING AND AGRO PROCESSING. TO MENTION A FEW THIS GAP ALSO CAUSES A VOID IN THE THOUGHT PROCESS FOR AN APPRECIATION FOR VALUE ADDED PROCESSES USING LOCAL RESOURCES.
AN ORIENTATION IN AGRICULTURAL EDUCATION AT SECONDARY, TERTIARY AND PROFESSIONAL DEVELOPMENT LEVELS HAS BEEN RECOGNIZED TO BE OF NATIONAL IMPORTANCE IF MEANING AND EFFECT IS TO BE GIVEN TO THE ARTICULATED POLICY FOR THE PRIMACY OF FOOD PRODUCTION AND FOOD SECURITY.
THE RELATIVELY HIGH AVERAGE AGE OF FARMERS AND THE LONG STANDING RECOGNITION OF THEIR LOW AGRICULTURAL EDUCATIONAL LEVELS UNDERSCORE THE NEED FOR SUSTAINED POLICY TO ENSURE IMPROVEMENT IN THE SKILLS OF FARMERS AND AGRICULTURAL WORKERS.
AN ANALYSIS OF AGRICULTURAL DEVELOPMENT IN DEVELOPING COUNTRIES HAS SHOWN THAT ADEQUATE INVESTMENT IN AGRICULTURAL EDUCATION (RESEARCH AND SUPPLY OF MODEM TECHNICAL INPUTS) INCREASES OUTPUT PER WORKER BY SEVERAL MULTIPLES EVEN IF LAND AREA PER WORKER CONTINUES TO DECLINE. AGAINST THIS BACKGROUND MY GOVERNMENT BELIEVES THAT THE DECISION TO ESTABLISH AN AGRICULTURE AND MARINE INSTITUTE IN NORTH ANDROS IS A VERY GOOD ONE.
1. PHILOSOPHY
MR. SPEAKER,
THE INSTITUTE WILL OFFER TEACHING AND TRAINING TO PROVIDE THE PROFESSIONAL AND TECHNICAL QUALIFICATIONS NECESSARY FOR VARIOUS BRANCHES OF AGRICULTURE AND TO PROVIDE STRONG ACADEMIC TRAINING AND EXTENSIVE HANDS ON ORIENTATION IN CROP AND LIVESTOCK PRODUCTION, FARM MANAGEMENT, ENVIRONMENT CONSERVATION, AGRI-BUSINESS AND MANAGEMENT OF MARINE RESOURCES.
THE WORK OF THE INSTITUTE WILL FALL INTO THREE MAIN DIVISIONS: TEACHING, RESEARCH AND EXTENSION. TEACHING, SKILLS TRAINING, PROFESSIONAL DEVELOPMENT AND RESEARCH WILL FORM THE MAJOR PART OF THE INSTITUTE'S WORK. EXTENSION WORK WILL BE UNDERTAKEN AS THE NEED OR OPPORTUNITY MAY ARISE.
2. THE INSTITUTION WILL REQUIRE 400 ACRES OF LAND:
(A) 50 ACRES FOR ADMINISTRATION, ACADEMIC, RESEARCH/TEACHING LABORATORIES AND RESIDENTIAL FACILITIES FOR FACULTY AND SOME STAFF AND FOR STUDENTS.
(B) 30 ACRES FOR THE GERMPLASM BANK
(C) 300 ACRES FOR THE TUTORIAL COMMERCIAL FARM AND DEMONSTRATION FACILITIES.
MR. SPEAKER,
GERMP/ASM BANKTHE PRINCIPAL PURPOSE OF THE FARM AND GERMPLASM BANK IS TO PROVIDE FACILITIES FOR TEACHING, DEMONSTRATION, PRACTICUM AND APPLIED RESEARCH BY THE VARIOUS DEPARTMENTS OF THE INSTITUTE.
THE GERMPLASM BANK WILL REPOSE THE MAJOR SPECIES OF ECONOMIC AGRICULTURAL CROPS CAPABLE OF COMMERCIALIZATION IN THE BAHAMAS AND ALSO THE BREEDS AND SPECIES OF FARM ANIMALS WITH POTENTIAL FOR COMMERCIALIZATION IN THE BAHAMAS.
THE GERMPLASM BANK WILL BE USED FOR RESEARCH, TEACHING AND DEMONSTRATION PROJECTS RELATING TO PLANT AND ANIMAL GENETIC RESOURCES AND VALUES. THE BANK WILL FEATURE A BOTANICAL TRAIL, A BIRD SANCTUARY AND FACILITIES FOR TOURIST LEISURE ACTIVITIES.
THE LIBRARY THE LIBRARY WILL HAVE A COLLECTION WHICH MAY INCLUDE RESEARCH AND TEACHING MATERIALS FOR THE AGRICULTURAL PROGRAMS. IT WILL BE A DEPOSITORY FOR MANY IF NOT ALL PUBLICATIONS AND DOCUMENTS OF THE GOVERNMENT OF THE BAHAMAS ON AGRICULTURAL AND MARINE MATTERS, AND WILL SUBSCRIBE TO SERIAL TITLES, JOURNALS AND PERIODICALS WITH INTERNATIONAL CURRENCY.
THE TUTORIAL FARM.THIS FARM WILL BE MULTIFACETED AND WILL BE OPERATED AS A TUTORIAL COMMERCIAL FARM THAT IS FULLY INTEGRATED AND FULLY SELF SUSTAINING AND WILL BE A PROFIT CENTRE THAT WOULD IDEALLY HAVE NO OPTION OF RECOURSE TO THE PUBLIC PURSE. THE FARM WILL OPERATE AS A SEMI-AUTONOMOUS ENTITY WITH ITS MANAGEMENT TEAM. IT WILL EFFECTIVELY DELIVER THE FOLLOWING SERVICES:
1.     SUPPLY ALL THE FOOD MATERIAL NEEDED BY THE INSTITUTE FOR ITS DOMESTIC OPERATION
2.     IT WILL BE A PLAYER IN THE MARKET FOR PRODUCTION, MARKETING AND SALE OF HIGH QUALITY PRODUCTS AT VARIOUS LEVELS ON THE VALUE CHAIN.
3.     REPOSITORY OF A GERMPLASM BANK
4.     RESEARCH ACTIVITIES IN VARIOUS ASPECTS OF AGRICULTURE
5.     TEACHING AND DEMONSTRATION
6.     LIVESTOCK COMMERCIAL FARM
7.     GENERAL COMMERCIAL CROP FARM
8.     COMMERCIAL APIARY
9.     COMMERCIAL AGRO-PROCESSING PILOT PLANT
THE COMMERCIAL TUTORIAL FARM WILL PRODUCE ALL THE MEAT AND FOOD REQUIREMENT OF THE INSTITUTE FOR ITS TOTAL DEMAND AND FOR SALE TO THE COMMERCIAL TRADE.
ALSO, THE PRODUCE WILL BE USED FOR PROCESSING VALUE ADDED PRODUCTS FOR INSTITUTE'S USE AND FOR THE COMMERCIAL TRADE. THIS WILL ENSURE THE COMPREHENSIVE ORIENTATION AND HANDS ON KNOWLEDGE OF EACH STUDENT OR OTHER PARTICIPANTS.
THE FARM WILL BE EQUIPPED WITH THE STATE OF THE ART EQUIPMENT AND SUPPLIES THAT ARE APPROPRIATE TO THE BAHAMAS' ENVIRONMENT AND SOCIOLOGY IN ORDER TO .PROVIDE TRAINING IN THE PRACTICES THAT WILL ALLOW FOR COMPETITIVENESS AND COMPLIANCE WITH THE STANDARDS AND PRACTICES OF THE WORLD FOOD STANDARDS BODIES SUCH AS THE CODEX ALLIMENTARIOUSCOMMISSION, ISO 22000, ISO 14000, HACCP, THE GAP OF THE EU AND THE USA PROTOCOL ON FOOD SAFETY AND TRACEABILITY.
RESIDENTIAL FACILITIES WILL BE CONSTRUCTED TO HOUSE FACULTY AND STAFF, STUDENTS AND ANCILLARY WORKERS.
2. OPERATION OF THE INSTITUTE – THE INSTITUTE WILL BE AN INTEGRAL PART OF THE COLLEGE OF THE     BAHAMAS, ON ITS WAY TO FULL UNIVERSITY STATUS, PROVIDING PRACTICAL AND ACADEMIC TRAINING IN AN UNDERSERVED AREA:
A.    ACADEMIC AND SKILLS TRAINING PROGRAMS
THIS ACTIVITY WILL EMBRACE FOUR MAJOR PROGRAMS:
• ASSOCIATES DEGREE IN AGRICULTURE (A.SC. (AGR)
A THREE YEAR PROGRAM FROM THE BGCSE "0" LEVEL
• DIPLOMA IN AGRICULTURE (DIP. AGR)
A ONE YEAR PROGRAM IN PRACTICAL AGRICULTURE DESIGNED TO PREPARE STUDENTS FOR CAREERS IN FARMING OR WORK CLOSELY ASSOCIATED WITH AGRICULTURE AT THE PRODUCTION LEVEL. THIS MAY ALSO BE ACCESSED BY HIGH SCHOOL STUDENTS WITHOUT BGCSE MATRICULATION.
• PROFICIENCY CERTIFICATE
A THREE MONTH ORIENTATION PROGRAM IN ANYONE OF THE FOLLOWING FOR THOSE WITH COLLEGE DEGREES IN OTHER DISCIPLINES AND WHO WISH TO BE EMPLOYED OR OPERATE GENERAL BUSINESSES RELATED TO AGRICULTURE SUCH AS SUPERMARKETS, NURSERY SHOPS OR PROPERTY MANAGEMENT, QUALITY CONTROL OPERATIONS FOR MEAT, FRUITS VEGETABLES AND PROCESSING ETC.
1)    CROP PRODUCTION
2)    LIVESTOCK PRODUCTION
3)    NURSERY PRODUCTION
·      QUALITY CONTROL
·      SKILLS TRAINING CERTIFICATES
A SIX MONTHS MODULAR PROGRAM IN ANY ONE OF THE FOLLOWING MODULES FOR THOSE WISHING TO DEVELOP HANDS ON PRACTICAL SKILLS TO BE PROFICIENT EMPLOYEES IN AN AGRICULTURAL PRODUCTION ENTERPRISE OR AGRICULTURAL SERVICE PROVIDER SUCH AS NURSERY, TURF GRASS, AGRICULTURAL MARKETING, MEAT INSPECTORATE ETC.
1)   CROP PRODUCTION
2)   LIVESTOCK PRODUCTION
3)   FARM SUPERVISION
4)   NURSERY PRACTICES
5)   TURF GRASS AND FODDER GRASS MANAGEMENT
3.      THE CURRICULUM
1.   SKILLS TRAINING
THE PRACTICAL SKILLS WOULD INCLUDE PRODUCTION AND THE APPLICATION OF KNOWLEDGE AS IT RELATES TO THE WORK TO BE DONE IN THE SPECIALIZED AREA OF AGRICULTURAL BUSINESS ACTIVITY. PRACTICAL WORK ON THE COMMERCIAL AND DEMONSTRATION FARM WILL PROVIDE THE EXPERIENCE AND SKILL REQUIRED, INTERPRETATION OF TECHNICAL INSTRUCTIONS FOR APPLICATION AND EXECUTION IN A FARM SETTING.
2.   ASSOCIATE DEGREE IN AGRICULTURE
THE CURRICULUM WILL CONSTITUTE A COMPREHENSIVE AND SYSTEMATIC PROGRAM IN THE APPLICATION OF THE VARIOUS DISCIPLINES OF AGRICULTURE AND MANAGEMENT TO PROBLEM SOLVING. THE CURRICULUM SHOULD BE DESIGNED TO PROVIDE A GENERAL SCIENTIFIC AND APPLIED BACKGROUND FOR MODERN AGRICULTURE IN THE BAHAMIAN CONTEXT WITHOUT THE REQUIREMENTS OF A SPECIALIZED PROGRAM AND TO DEVELOP AN APPRECIATION OF APPLIED SCIENCE TO AGRICULTURE IN ITS ON-FARM ENVIRONMENT.
DIPLOMA IN AGRICULTURE
THE PRACTICAL APPLICATION OF THE PRINCIPLES OF AGRICULTURAL SCIENCE SHOULD BE EMPHASIZED. THE OBJECTIVES OF THE PROGRAM SHOULD BE:
(A)                  TO PROVIDE THE STUDENTS WITH THE BEST POSSIBLE INSTRUCTIONS IN THE AGRICULTURAL PRACTICES OF THE BAHAMAS AND THE CARIBBEAN IN GENERAL.
(B)                   TO DEVELOP IN THE STUDENT AN UNDERSTANDING OF THE PROBLEMS OF AGRICULTURE AND PROVIDE THE KNOWLEDGE REQUIRED FOR AN INTELLIGENT APPROACH TO THEIR SOLUTION.
(C)                   TO PREPARE THE STUDENT FOR LEADERSHIP IN THE COMMUNITY
3.   PROFESSIONAL DEVELOPMENT
THE CURRICULUM WILL ALLOW FOR THE INTERPRETATION OF CONTEMPORARY ISSUES IN THE PRODUCTION, MANAGEMENT AND MARKETING IN THE SPECIALIZED AREA OF AGRICULTURE SELECTED. ALSO THE GENERAL UNDERSTANDING OF AGRICULTURAL MANAGEMENT AND POLICY ISSUES IN THE SPECIALIZED AREA SELECTED BY THE STUDENT. THE PACKAGE WILL SERVE TO EQUIP THE STUDENTS FOR DECISION MAKING BOTH WITHIN THE FIRM AND TOP MANAGEMENT.
4.   THE FACULTY
MR. SPEAKER,
IN THE SHORT TO MEDIUM TERM, THE FACULTY WILL DEPEND IN PART ON PART-TIME AND OR VISITING INSTRUCTORS IN THE SPECIALIZED AREAS OF AGRICULTURE (ADJUNCT FACULTY), WHILE THE BASIC SCIENCE AND SUPPORT COURSES MAY BE AVAILABLE ON A FULL TIME BASIS.
THE FACULTY WILL COMPRISE A CORE OF FULL TIME INSTRUCTORS WITH THE FOLLOWING SPECIALIZATION:
·      LIVESTOCK SPECIALIST /SCIENTIST
·      VETERINARIAN
·      CROP HUSBANDRY SPECIALIST
·      PLANT HEALTH SPECIALIST/SCIENTIST
·      HORTICULTURALIST (ORNAMENTAL & NURSERY)
·      AGRONOMIC ENGINEER
·      AGRICULTURAL ENGINEER
·      NATURAL SCIENCE (BIOLOGY, CHEMISTRY, PHYSICS)
·      MATHEMATICS
·      SOCIOLOGY
·      ECONOMICS
ALL OTHER SPECIALIZATION MAY BE RECRUITED AS ADJUNCT FACULTY IN THE SHORT TO MEDIUM TERM.
A POOL OF LECTURERS FROM VARIOUS AGRICULTURAL UNIVERSITIES AND PROFESSIONAL AGRICULTURAL RESEARCH INSTITUTES FROM WITHIN THE CARIBBEAN AND THE USA WILL BE SOUGHT TO PROVIDE THE ADJUNCT FACULTY REQUIREMENT.
THIS INSTITUTE WILL BE DESIGNATED A CENTRE OF EXCELLENCE AND WE WILL MOVE TOWARDS ENSURING HORIZONTAL COLLABORATION WITH AND ASSISTANCE FROM:
1.    FOOD AND AGRICULTURAL ORGANIZATION OF THE UNITED NATIONS
2.    EUROPEAN UNION FOOD SUPPORT PROGRAM
3.    LAND GRANT AGRICULTURAL COLLEGES IN THE USA
THE TOTAL COST OF THE FARM PROJECT IS ESTIMATED TO BE APPROXIMATELY US$6,420,790 AND IS BROKEN DOWN AS FOLLOWS:
1.    COST OF CAPITAL ITEMS                   US$2,755,853
2.    WORKING CAPITAL                           US$1,772,937
3.    FARM ESTABLISHMENT
& DEVELOPMENT                              US$1,469,468
4.    CONTINGENCIES                               US$   422,532
THE GROSS REVENUE FROM THE PROJECT OVER THE TEN YEARS OF ASSESSMENT IS ESTIMATED TO BE US $99,688,765 (AVERAGE OF US $9.97 MILLION PER ANNUM).
THE AVERAGE INTERNAL RATE OF RETURN (IRR) OF THE PROJECT ON TOTAL CAPITAL EMPLOYED OVER THE TEN YEARS OF ASSESSMENT IS 37.34%.
THE AVERAGE NET PRESENT VALUE (NPV) OF THE PROJECT ON TOTAL CAPITAL EMPLOYED IS US$15,374,815 AT THE TEST DISCOUNT RATE OF 5%.
THE TOTAL NET INCOME TO BE GENERATED FROM THE PROJECT OVER THE TEN YEARS OF ASSESSMENT IS US $2,739,773 (AVERAGE OF US $2.74 MILLION PER YEAR).
THE COMBINED CUMULATIVE NET CASH BALANCE OF THE PROJECT OVER THE FIRST TEN YEARS OF ASSESSMENT IS US $23,457,259 (AVERAGE OF US $2.345 MILLION PER ANNUM AFTER DEBT SERVICE).
REQUIRED FINANCING
A.   DEVELOPMENT PRINCIPAL US$4,879,085
B.   COST OF FUNDS 5%
C.   BOND REDEMPTION OR LOAN REPAYMENT
PERIOD 60 MONTHS
D.   MORATORIUM ON PRINCIPAL 24 MONTHS
THE FARM PROJECT IS EXPECTED TO COMPLETELY REPAY THE INITIAL INVESTMENT SUM PLUS 5% INTEREST AT THE END OF THE FIRST FIVE YEARS OF THE PROJECT.
COST OF THE TOTAL PROJECT
1.    CONSTRUCTION OF BUILDING
FOR INSTITUTE                                                  B$4.5M
2.    FARM DEVELOPMENTS                                         B$4.88M
A LOG FRAME IS BEING DEVELOPED TO ENSURE TIMELINESS IN DELIVERY OF SUB PROJECTS AND TO IDENTIFY THOSE RESPONSIBLE FOR THEIR EXECUTION.
AT THE END OF THE FIRST SIX MONTHS OF THE LAUNCH OF THE INSTITUTE, THE FARM WILL PUT THE FIRST US $1 MILLION OF PRODUCE ON THE MARKET.
JOB CREATION/ECONOMIC BENEFITS
IN THE INITIAL DEVELOPMENT PHASES THE PROJECT WILL EMPLOY NEARLY 100 PERSONS IN THE CONSTRUCTION AND DEVELOPMENT.
THE FARM OPERATIONS WILL EMPLOY 180 PERSONS AT VARIOUS LEVEL OF EXPERTISE DURING ITS OPERATION.
THE ACADEMIC PROGRAM WILL EMPLOY 60 TO 100 PERSONS ON A FULL TIME BASIS. ALL THIS WOULD BE A BOOST TO ECONOMY OF NORTH ANDROS.
ONE OF THE OBJECTIVES OF THE PROJECT IS TO WIDEN THE WEALTH BY INCREASING THE NUMBER OF SMALL AND MEDIUM AGRICULTURAL BUSINESSES IN THE BAHAMAS BY SPAWNING AND ESTABLISHING SATELLITE FARMS.
SOCIAL BENEFITS
THE INSTITUTE CAN BECOME A FULCRUM OF A QUALITY INFRASTRUCTURE IN THE BAHAMAS
¨     TESTING OF FOOD PRODUCTS
¨     VERIFICATION OF FOOD PRODUCTS
¨     STANDARDIZATION OF FOOD PRODUCTS
AND SERVE AS A REFERENCE FOR FOOD SAFETY AND FOOD QUALITY STANDARDS IN THE ACCORDING WITH INTERNATIONAL NORMS.
MR. SPEAKER,
I HAVE ELECTED TO ADDRESS THE ESTABLISHMENT OF THIS INSTITUTION IN GREAT DETAIL BECAUSE IT IS A DEFINING INVESTMENT.  WE ARE MOVING TO DETERMINE DURING THE ENSUING PERIOD WHETHER AGRICULTURE CAN SUCCEED IN THE BAHAMAS.  WE WILL KNOW BECAUSE WE INTEND TO ESTABLISH SMALLER UNITS FOR BAHAMIANS WHO WILL PRODUCE FARM PRODUCTS WITH THE ADVICE AND ASSISTANCE OF THE INSTITUTE.
THE FINANCIAL PROJECTIONS HAVE BEEN REVIEWED BUT THE PROOF WILL BE FOUND ONCE THE DEVELOMENT COMMENCES.
EDUCATION
I WILL SAY FOR THE RECORD THAT I RECENTLY COMMANDED MR. LOWELL J. MORTIMER FOR HIS GIFT OF $10 MILLION DOLLARS TO THE COLLEGE OF THE BAHAMAS.
AND HIS DECISION TO SPEND ADDITIONAL MILLIONS OF DOLLARS TO ESTABLISH THE LOWELL J. MORTIMER MARITIME COLLEGE.
WE ARE ALL OF US EXTREMELY GRATEFUL FOR THOSE MANAGEMENT GIFTS AND WE EXPRESS OUR GRATITUDE ON BEHALF OF ALL OF THE PEOPLE OF THE BAHAMAS.
I HAVE IN A FULL OPEN PUBLIC EXPRESSION SUGGESTED TO MR. MORTIMER THAT THE $10 MILLION DOLLARS GIFT BE DEDICATED TO THE INSTITUTE OF AGRICULTURE AND MARINE SCIENCE IN ANDROS WITH THE APPROPRIATE RECOGNITION AND THAT THE LOWELL J. MORTIMER MARITIME COLLEGE ULTIMATELY PLACED UNDER WITHIN THE AMBIT OF WHAT WILL BE THE UNIVERSITY OF THE BAHAMAS IN 2015.
INVESTMENTS
MR. SPEAKER,
IN MY BUDGET COMMUNICATION, I REITERATED MY OPTIMISM FOR THE FUTURE, IN THE AREAS OF EMPLOYMENT AND ENTREPRENEURSHIP, THROUGH DEVELOPMENTS UNDERWAY OR IN THE PIPELINE IN NEW PROVIDENCE, GRAND BAHAMA AND A GROWING NUMBER OF THE FAMILY ISLANDS.
THIS OPTIMISM IS BOLSTERED FROM A POSITIVE ARTICLE BY ROBIN HARD PUBLISHED TWO DAYS AFTER MY COMMUNICATION IN THE FINANCIAL TIMES ON ECONOMIC RECOVERY IN AMERICA, UNDER THE HEADING "GET READY, AMERICA – THE ECONOMY IS ABOUT TO TAKE OFF".
IF YOU ACCEPT THE ECONOMIC INDICATOR THAT AS GOES THE ECONOMY OF THE UNITED STATES, SO GOES THE ECONOMY OF THE BAHAMAS.  THEN YOU WILL UNDERSTAND WHAT I MEAN WHEN I SAY TO THIS HONOURABLE HOUSE AND TO THE BAHAMIAN PEOPLE – GET READY, THE BAHAMAS – THE ECONOMY IS ABOUT TO TAKE OFF!
IN NEW PROVIDENCE, ALTHOUGH WE STILL HAVE CONCERNS ABOUT CERTAIN MONTHS IN THE YEAR THERE IS AMPLE EVIDENCE OF THE REJUVENATION AND EXPANSION OF LARGE AND SMALL HOTELS, INCLUDING:
·      THE WORLD FAMOUS ATLANTIS RESORT, THE LARGEST PRIVATE SECTOR EMPLOYER IN THE BAHAMAS,
·      BAHA MAR'S MEGA $3.5 BILLION COLLECTION OF INTERNATIONAL HOTELS, SPA, CASINO AND CONVENTION FACILITIES WHICH COME ON STREAM AT END OF 2014,
·      THE ICONIC HIGH END RESIDENTIAL, GOLF, RESORT AND MARINA FACILITIES AT ALBANY,
·      THE ACQUISITION AND REBRANDING OF THE PARADISE HARBOUR COVE BY THE WELL-KNOWN WARWICK HOTELS; AND
·      THE PURCHASE AND PLANNED UPGRADE OF THE PALMS HOTEL INTO A MARRIOTT COURTYARD BRAND BY INTERNATIONAL INVESTORS.
ALL OF THESE DEVELOPMENTS WILL RESULT IN THE CREATION OF NEW JOBS. THE LEADER OF THE OPPOSITION ASKED WHERE ARE THE JOBS. TELL HIM I JUST REFERRED TO THOUSANDS OF NEW JOBS. TELL HIM SLOWLY SO AS TO ENSURE HE UNDERSTANDS WHAT HE IS BEING TOLD.
ATLANTIS WILL CONTINUE TO RENEW ITS VAST PLANT AND PRODUCT OFFERINGS, WITH EXPECTED CAPITAL EXPENDITURES IN EACH OF THE YEARS 2013 AND 2014, TO INCLUDE THE FOLLOWING:
·      COMPLETE RENOVATION OF THE ROYAL TOWERS AND THE COVE HOTELS – MORE JOBS!
·      OPENING OF TWO NEW FULL SERVICE FOOD & BEVERAGE OUTLETS IN THE CASINO IN 2013 (OLIVES 22 HOUR RESTAURANT & THE MOON CLUB) – MORE JOBS!
·      OPENING OF TWO NEW FULL SERVICE FOOD & BEVERAGE OUTLETS ON PROPERTY IN 2014 – MORE JOBS!
·      OPENING A NEW MARINA VILLAGE DAIQUIRI SHACK – MORE JOBS!
·      EXPANDING AND RENOVATING PLATO'S LOUNGE AND TERRACE IN THE ROYAL TOWERS – MORE JOBS!
·      EXAMINING ADDING NEW ATTRACTIONS SUCH AS;
MINI GOLF & OVERHEAD ROPES COURSE – MORE JOBS!
·      THREE NEW WATER RIDE/SLIDE ATTRACTIONS – MORE JOBS!
·      EXPANDED SEA LION INTERACTION POOLS AND FACILITY – MORE JOBS!
·      ADDITION OF A NEW STATE-OF-THE-ART WEDDING CHAPEL OVERLOOKING THE OCEAN – MORE JOBS!
·      EXPANSION OF THE SEA GLASS INDOOR CASINO FACILITY AT THE COVE –  MORE JOBS!
·      EXPANSION AND DEVELOPMENT OF A NEW STATE-OF-THE-ART RACE AND SPORTS BOOK – MORE JOBS!
·      INTRODUCTION OF A POKER ROOM IN THE CASINO – MORE JOBS!
·      RENOVATION OF THE OCEAN CLUB SUITES – MORE JOBS!
·      POTENTIAL RE-DEVELOPMENT OF THE ENTIRE OCEAN CLUB HARTFORD WING  – MORE JOBS!
·      OPENING OF A NEW LOGO'D BABY WEAR STORE  – MORE JOBS!
MR. SPEAKER,
SOMEONE SHOULD TELL THE LEADER OF THE OPPOSITION I HAVE JUST ADVISED OF HUNDREDS OF MORE JOBS. ASK HIM TO SPEAK SLOWLY TOWARDS ENSURING THAT HE UNDERSTANDS AND WILL NOT ASK THE QUESTION AGAIN.
MR. SPEAKER,
WHEN THE $3.5 BILLION BAHA MAR DEVELOPMENT COMES ON STREAM IN DECEMBER 2014, IT WILL USHER IN A NEW DIMENSION IN BAHAMIAN AND REGIONAL TOURISM, BRINGING TOGETHER IN ONE RESORT PROJECT THE INTERNATIONALLY RECOGNIZED HOSPITALITY BRANDS OF HYATT, ROSEWOOD, MONDARIN COMPRISING MORE THAN 2,200 NEW ROOMS, WITH MORE THAN 1,100 ADDITIONAL ROOMS AVAILABLE AT THE ADJACENT SHERATON & WYNDHAM HOTELS – THOUSANDS OF JOBS!
BAHA MAR IS CREATING THE LARGEST COMBINED CASINO AND CONVENTION FACILITIES IN THE CARIBBEAN.  THE DEVELOPER HAS SELECTED GLOBAL GAMING ASSET MANAGEMENT AS ITS GAMING PARTNER TO MANAGE THE CASINO UNDER THE BAHA MAR CASINO BRAND.  BAHA MAR HAS POSITIONED ITSELF TO DEVELOP STRATEGIC PARTNERSHIPS WITH KEY GAMING COMPANIES WORLDWIDE.
COMPRISED OF FORMER LAS VEGAS SANDS EXECUTIVES, THE GGAM MANAGEMENT TEAM, HAS BEEN INVOLVED WITH THE DEVELOPMENT, DESIGN, CONSTRUCTION AND OPERATION OF SOME OF THE LARGEST AND WELL KNOWN CASINOS IN THE UNITED STATES, MEXICO, SINGAPORE AND THE PHILIPPINES.
MY GOVERNMENT IS LOOKING OPTIMISTICALLY FORWARD TO THE COMPLETION OF THE PROJECT, WHICH IS PROJECTED TO PROVIDE 8,000 PERMANENT JOBS AND 430,000 STOPOVER VISITORS TO NASSAU IN THE FIRST YEAR.
DID SOMEONE ASK WHERE ARE THE JOBS? IF THEY DID ASK TELL THEM THIS IS A GOOD TIME TO START COUNTING THE JOBS.
ADDITIONALLY, THE LEADER OF THE OPPOSITION SPOKE ABOUT MY GOVERNMENT BEING SILENT ON PLANS AND STRATEGY – I WILL BEGIN TO ADDRESS HIS CONCERNS.
IN LIGHT OF THE FOREGOING MY GOVERNMENT IS COMMITTED TO:
(1)          AN AGGRESSIVE MARKETING RELAUNCH CAMPAIGN WITH BAHA MAR AND PARTICIPATING CABLE BEACH RESORTS.
(2)          WORKING COOPERATIVELY WITH THE LOCAL TOURISM INDUSTRY IN PUTTING IN PLACE THE NECESSARY AIRLIFT WHICH WILL BE REQUIRED BY THE DESTINATION.
(3)          MAKING BEST EFFORTS TO SECURE A STRATEGIC PARTNER AND ALLIANCES TO TRANSFORM THE NATIONAL FLAG CARRIER INTO A LOW COST, EFFICIENT INTERNATIONAL AIR CARRIER TO PROVIDE ESSENTIAL AIRLIFT TO SUPPORT THE TOURISM INDUSTRY AND COMMERCE.
(4)          JOINING FORCES WITH THE TOURISM INDUSTRY AND THE NATIIONAL TRAINING AGENCY WITH TRAINING PROGRAMMES AND RESOURCES TO EQUIP AS MANY BAHAMIANS AS POSSIBLE FOR EXPANDED JOB AND ENTREPRENEURIAL OPPORTUNITIES IN NEW PROVIDENCE, GRAND BAHAMA AND THE FAMILY ISLANDS.
MR. SPEAKER,
THE UPSCALE AND AMBITIOUS ALBANY PROJECT, HEADED BY BUSINESS TYCOON MR. JOE LOUIS, CONTINUES TO ATTRACT MAJOR CAPITAL INFLOWS FROM FOREIGN DIRECT INVESTMENT, BOTH BY THE DEVELOPER AND HOMEOWNERS OF WHAT IS NOW AMONG THE CHOICEST REAL ESTATE IN THE BAHAMAS.
PHASE 2 WHICH STARTED LAST SEPTEMBER, INVOLVES THE CONSTRUCTION OF LUXURY MARINA RESIDENCES AT A COST OF SOME $125 MILLION, WHICH WILL ULTIMATELY PROVIDE SOME 750-1000 JOBS.  ONGOING CONSTRUCTION OF CUSTOM LOTS INVOLVES A FURTHER SPEND OF SOME $100 MILLION AND CREATION OF ANOTHER 500 JOBS.  THIS IS HAPPENING NOW!
AND THE LEADER OF THE OPPOSITION ASKED ABOUT THE JOBS.
A PROFESSIONAL PADDLE TENNIS CENTER IS BEING CONSTRUCTED WITH A VIEW TO TARGETING A PRO TOURNAMENT IN THE NEXT TWELVE MONTHS.  THIS FACILITY TOGETHER WITH THE OUTSTANDING GOLF COURSE AND SPA ARE CREATING A NUMBER OF SUSTAINABLE JOBS.  SO NOTE  AGAIN – MORE JOBS!
A WORD OF APPRECIATION TO ALBANY IS IN ORDER FOR UNDERWRITING THE TOTTENHAM VS. JAMAICA MATCH LAST MONTH, WHICH WAS A SPECTACULAR SUCCESS AND A BOOST TO SPORTS TOURISM IN THE BAHAMAS.  ALBANY'S ANCHOR SUPPORT FOR THE URBAN RENEWAL INITIATIVE IS A SPLENDID EXAMPLE OF COMMUNITY INVOLVEMENT BY A GOOD CORPORATE CITIZEN.
MR. SPEAKER,
THERE COULD BE MORE – MUCH MORE WHEN THE DEPUTY PRIME MINISTER AND I WERE FELLOWSHIPPING WITH JOE  LOUIS DURING HIS TEAM'S SOCCER MATCH WITH TEAM JAMAICA HE SHARED ANOTHER EXCITING DIMENSION THAT ALBANY MAY INCORPORATE.  I WILL NOT SAY ANYMORE AT THIS TIME BUT IT WILL MEAN EVEN MORE EXCELLENT JOBS.
MR. SPEAKER,
WHILE SPEAKING TO INVESTMENT AND DEVELOPMENT PLANS FOR THE WESTERN PART OF NEW PROVIDENCE, I AM PLEASED TO INDICATE THAT A BAHAMIAN, MR. MARK HOLOWESKO, WHO OWNS THE MAHOGANY RESTAURANT JUST OUTSIDE THE GATES OF LYFORD CAY, IS PLANNING TO BUILD AN ATTRACTIVE BOUTIQUE HOTEL ON PRIME PROPERTY ADJACENT TO THE RESTAURANT, WHICH WILL CATER TO LEISURE AND BUSINESS TRAVELERS IN A LUSH TROPICAL ENVIRONMENT LIKE THAT WHICH SO BEAUTIFULLY SURROUNDS THE RESTAURANT.
YES, MR. SPEAKER – MORE JOBS!
I WISH TO ENCOURAGE MORE AND MORE BAHAMIANS TO BECOME INVOLVED IN TOURISTIC PROJECTS OF THIS NATURE THROUGHOUT THE BAHAMAS, AND THUS TAKE GREATER OWNERSHIP OF THE TOURISM INDUSTRY.
MR. SPEAKER,
WE HAVE BEEN ENGAGED IN AN ONGOING DIALOGUE WITH THE OWNERS OF THE SOUTH OCEAN BEACH RESORT, A CANADIAN PENSION FUND, WHICH ARE ALSO PART OWNERS OF THE HILTON HOTEL PROPERTY DOWNTOWN.  BEING AWARE OF A SUBSTANTIAL OFFER WHICH WAS MADE FOR THE PURCHASE OF THIS PRIME DOMINANT PROPERTY, I HAVE EMPHASIZED TO THE OWNERS, THE ECONOMIC NECESSITY FOR ITS REDEVELOPMENT, AND THE OWNER HAD FAILED OVER A NUMBER OF YEARS TO MEET THEIR COMMITMENTS TO DO SO.
I HAVE POINTED OUT THAT AS A RESULT OF SUCH FAILURE, AND WITHOUT A VIABLE PLAN TO MOVE FORWARD WITH THE REDEVELOPMENT OF THE PROPERTY IN A TIMELY MANNER, THERE COULD BE NO ASSURANCE THAT THE GOVERNMENT WOULD AS PREVIOUSLY PROMISED, ENTERTAIN AN APPLICATION FOR A CASINO LICENCE OR AGREE TO A ROAD DIVERSION.
MEANWHILE THE OWNERS HAVE RETAINED CONSULTANTS TO VALUE THE PROPERTY AND HAVE COMPLETED A NEW LAND USE PLAN FOR THE PURPOSE OF AN OFFERING DOCUMENT TO MARKET THE SOUTH OCEAN BEACH PROPERTY.
I SHOULD ALSO MENTION MR. SPEAKER, THAT DISCUSSIONS ARE ALSO TAKING PLACE WITH A JOINT BAHAMIAN AND NON-BAHAMIAN GROUP ON A PROPOSAL WHICH THEY ARE DEVELOPING FOR A MAJOR TOURISM RESORT AND INNOVATIVE ATTRACTION TO BE ALSO LOCATED ON THE SOUTHWESTERN PART OF NEW PROVIDENCE AND WHICH DEVELOPMENT IS PREDICATED ON THE VERY SAME CASINO LICENCE PREVIOUSLY ASSOCIATED WITH THE SOUTH OCEAN PROPERTY.
MR. SPEAKER,
THE HEIGHTENED INTEREST OF MAJOR INVESTORS IN THE BAHAMAS, IS FURTHER EVIDENCED BY THE INTERNATIONAL ASIAN CONGLOMERATE, RESORTS WORLD & GENTING GROUP.  THEIR INVESTMENT PLANS ARE PROCEEDING RAPIDLY WITH ALL THE NECESSARY COMPONENTS TO SYSTEMATICALLY TURN BIMINI INTO ONE OF OUR MOST ATTRACTIVE FAMILY ISLAND DESTINATIONS, HAVING DUE REGARD TO THE ENVIRONMENT, LOCAL CULTURE AND TRADITIONS.
THE MODERN RESORTS WORLD CASINO WILL BE OPENED BY ME ON 28 JULY 2013, AS THEY ALSO ASSUME CONTROL AND MANAGEMENT OF THE BIMINI BAY RESORT, CREATING SOME 400 NEW JOBS AND NUMEROUS ENTREPRENEURIAL OPPORTUNITIES WHICH BIMINITES ARE URGED TO PLAN FOR AND EMBRACE.
YES, MR. SPEAKER, I SAID 400 NEW JOBS AND NOT NEXT YEAR BUT RIGHT NOW.  AND AN EXTRAORDINARY SET OF OPPORTUNITIES FOR NEW BUSINESSES BY BIMINITES.
RESORTS WORLD AND THE GENTING GROUP BRING TO THE BAHAMAS AN EXCELLENT EXAMPLE OF PUBLIC/PRIVATE SECTOR PARTNERSHIP BY INVESTING IN THE ACQUISITION OF THE SUPERFAST HIGH SPEED CRUISE SHIP TO FERRY PASSENGERS DAILY BETWEEN FLORIDA AND BIMINI AT ATTRACTIVE PRICES BOTH TO TOURIST AND BIMINITES.  THE SHIP WILL BE CHRISTENED BY MY WIFE, BERNADETTE AND IT WILL START OPERATIONS ON 28 JUNE 2013.  IT IS PROJECTED TO BRING OVER 400,000 PASSENGERS TO BIMINI ANNUALLY WHICH WILL BE SIGNIFICANT INCREMENTAL VISITORS TO THE BAHAMAS. THERE WILL BE ADDITIONAL JOBS FROM THE LAWYERS THAT WILL BE ESTABLISHED WITH EXTRAORDINARY NUMBERS OF TOURISTS VISITING BIMINI – MORE JOBS!
TO BRING THE DEVELOPER IS BUILDING A NEW DEEP WATER JETTY AND TERMINAL TO FACILITATE THE SHIP, ALL AT THEIR EXPENSE.  ADDITIONALLY, THE DEVELOPER IS INITIALLY FUNDING UPGRADES TO THE BIMINI AIRPORT TO FACILITATE NIGHT FLIGHTS AND LARGER AIRCRAFT AND OTHER PUBLIC INFRASTRUCTURAL WORKS, WHICH WILL BE REPAID BY THE GOVERNMENT FROM DEDUCTIONS FROM CASINO TAXES.
OBVIOUSLY THESE PUBLIC/PRIVATE SECTOR WILL ALSO RESULT IN MORE JOBS.
RESORTS WORLD IS ALSO CONTRIBUTING TO THE COSTS OF A MASTER PLAN, WHICH IS BEING PREPARED FOR BOTH NORTH AND SOUTH BIMINI, LED BY THE INTERNATIONAL PLANNING FIRM OF EDSA.  INPUT IS TO BE RECEIVED FROM THE COMMUNITY AND STAKEHOLDERS IN BIMINI WITH A VIEW TO ENSURING ORDERLY, INTEGRATED GROWTH AND DEVELOPMENT.
WE ARE DELIVERING BIG TIME FOR THE PEOPLE OF BIMINI.  AND AS WE CONTINUE TO SAY TO THEM " YOU WILL NOT BE LOOKING THROUGH THE WINDOW OF DEVELOPMENT" – INSTEAD, BIMINITES WILL BE IN THE  ROOM AS FRONT LINE PARTICIPANTS.
GENTING ENERGY, AT THE INSTANCE OF ITS CHAIRMAN, UNDERTOOK AND PROVIDED THE GOVERNMENT WITHOUT COST WITH A USEFUL NATIONAL ENERGY AND WATER STUDY, WITH RECOMMENDATIONS ON REDUCING COSTS.
RESORTS WORLD WHICH OWNS 50% OF NORWEGIAN CRUISE LINES IS EXPANDING ITS FLEET.  I RECENTLY PARTICIPATED IN THE CHRISTENING OF THEIR NEWEST SHIP THE BREAKAWAY, WHICH WILL COMMENCE CRUISES IN THE FALL FROM NEW YORK TO THE BAHAMAS.  IN FEBRUARY OF NEXT YEAR, ANOTHER NEW SHIP, THE GETAWAY WILL COMMENCE CRUISES FROM FLORIDA INCLUDING THE BAHAMAS ON ITS ITINERARY.
MR. SPEAKER,
THE ECONOMIC CHALLENGES AFTER YEARS OF DISMAL NEGLECT, THE RAVAGES OF HURRICANES AND THE INTERNATIONAL RECESSION ON GRAND BAHAMA, CONTINUE TO RECEIVE FOCUSED ATTENTION BY MY GOVERNMENT.
EVERY OPPORTUNITY IS BEING EMBRACED BOTH AT HOME AND ABROAD TO EXTOL THE INCENTIVES, BENEFITS AND INFRASTRUCTURE WHICH MAKES GRAND BAHAMA AND FREEPORT IN PARTICULAR, AN ATTRACTIVE PLACE IN WHICH TO INVEST.
WHILE INTERNATIONAL SHIPPING, THE SHIPYARD AND INDUSTRIAL SECTORS OF THE ECONOMY ARE DOING WELL, WE ARE STILL PUSHING FORWARD WITH PLANS TO PUT THE TOURISM, REAL ESTATE, SERVICE AND COMMERCIAL SECTORS OF GRAND BAHAMA ECONOMY ON A SOUND FOOTING.
BY THE START OF THE WINTER SEASON, UNDER A TRIPARTITE ARRANGEMENT BETWEEN THE GOVERNMENT/HUTCHISON WHAMPOA/SUNWING THE CANADIAN AFFILIATE OF TUI, THE FOLLOWING MAJOR INITIATIVES WILL BE ACHIEVED TO REJUVENATE THE GRAND BAHAMA TOURISM INDUSTRY:
(1)          THE 400 ROOM REEF VILLAGE WILL BE RENOVATED AND COMPLETELY REFURBISHED BY HUTCHISON, LEASED AND OPERATED BY SUNWING AS A BLUE DIAMOND FIVE STAR ALL INCLUSIVE RESORT. MORE JOBS!
(2)          SUNWING USING A FLEET OF MODERN AIRCRAFT WILL PROVIDE AIRLIFT WITH SEVERAL FLIGHTS PER WEEK FROM CANADA TO FREEPORT.
(3)          SUNWING WILL JOIN FORCES WITH OTHER AIR CARRIERS AND TOUR OPERATORS TO SUPPORT INCREASED TOURIST TRAFFIC FROM THE UNITED STATES.
(4)          THE COMBINED HOTEL, AIRLIFT AND TOUR OPERATIONS OF SUNWING WILL CREATE OVER 1000 DIRECT NEW JOBS, WITH ADDITIONAL INDIRECT NEW JOBS IN GRAND BAHAMA.
YES, MR. SPEAKER, THE MINISTER OF TOURISM STATED IT CORRECTLY THERE WILL BE BY NOVEMBER/DECEMBER THIS YEAR OVER 1000 NEW JOBS AND PLENTY INDIRECT NEW JOBS.
SUNWING HAS ALREADY STARTED ITS MARKETING CAMPAIGN, IS SELECTING ITS RESORT MANAGEMENT TEAM AND PLANNING THE RECRUITMENT AND TRAINING OF STAFF FOR THE RESORT.  OVER THE ENSUING WEEKS LOCAL CONTRACTORS AND A SIGNIFICANT NUMBER OF GRAND BAHAMIANS WILL FIND EMPLOYMENT AS CONSTRUCTION AND RENOVATIONS TAKE PLACE. MORE JOBS!
MY OFFICE REMAINS IN DIALOGUE WITH HUTCHISON AND POTENTIAL OPERATORS ON THE REOPENING OF THE LIGHTHOUSE POINT PROPERTY.  DURING THE COURSE OF THIS BUDGET PERIOD, THE GRAND LUCAYAN WILL REFURBISH ALL OF 542 ROOMS IN ITS BREAKER'S CAY BUILDING AND UPGRADE SOME PUBLIC AREAS AND SURROUNDING RESTAURANTS. AGAIN FOR EMPHASIS MANY MORE JOBS!
DISCUSSIONS ARE ALSO ONGOING ON A MAJOR RESORT/RESIDENTIAL/AIR & SEA TRANSPORTATION AND ENERGY PROPOSAL FOR EAST GRAND BAHAMA, INVOLVING AMERICAN AND CHINESE INVESTORS AND BRANDED OPERATORS.  THEIR PLANS ARE STILL DEVELOPING AND THE DUE DILIGENCE PROCESS HAS COMMENCED.  DISCUSSIONS ARE TAKING PLACE ON THE GINN DEVELOPMENT AND WE ARE ANXIOUSLY BUT OPTIMISTICALLY AWAITING FURTHER DEVELOPMENTS.
MR. SPEAKER,
IN THE FAMILY ISLANDS OF ABACO, ELEUTHERA, THE EXUMAS AND SAN SALVADOR, THERE IS EVIDENCE OF AN UPTICK IN REAL ESTATE SALES, SECOND HOME CONSTRUCTION AND RESORT DEVELOPMENT.
BAKER'S BAY AT ABACO CONTINUES TO THRIVE AS A MODEL OF SUCCESSFUL RESIDENTIAL/RESORT DEVELOPMENT, ATTRACTING HIGH NET WORTH HOMEOWNERS AND GUESTS.  RECENTLY, I HAD THE OPPORTUNITY OF ADDRESSING A GATHERING OF LEADING INTERNATIONAL FINANCIERS, GUESTS OF THE DEVELOPER, ON INVESTMENT OPPORTUNITIES IN THE ABACOS AND THE BAHAMAS.
ON FRIDAY MORNING I MET WITH THE DEVELOPERS AND MANAGEMENT TEAM OF BAKER'S BAY TO REVIEW THEIR OPERATIONS AND TO FRANKLY DISCUSS WHAT THE GOVERNMENT EXPECTS FROM THEM AND WHAT THEY WOULD LIKE FROM THE GOVERNMENT.  WE COMPLETED THE MEETING CONFIDENT THAT THERE WILL BE A SIGNIFICANT INCREASE IN EMPLOYMENT FOR BAHAMIANS IN THE COMING MONTHS – MORE JOBS!
SO THAT THE MEANING OF THEIR COMMITMENT IS UNDERSTOOD BAKER'S BAY EMPLOYS OVER 400 PERSONS NOW AND WE ARE ANTICIPATING OVER 100 MORE – PLENTY MORE JOBS!
BAKER'S BAY IS A GOOD EXAMPLE OF AN ENVIRONMENTALLY SENSITIVE AND SUSTAINABLE DEVELOPMENT WHICH I WOULD LIKE TO SEE DUPLICATED ELSEWHERE IN THE BAHAMAS.
IN ADDITION TO THE RESORT UPGRADES AND EXPANSION TAKING PLACE ON HARBOUR ISLAND AND ELEUTHERA INCLUDING THE COVE AT GREGORY TOWN EMPLOYING SIGNIFICANT NUMBERS OF BAHAMIANS, COCO DI MAMA, FRENCH LEAVE VILLAGE AND MARINA AT GOVERNOR'S HARBOUR AND SKY BEACH RESORT, THERE IS ALSO RENEWED INTEREST IN RESORT AND RESIDENTIAL DEVELOPMENT IN SOUTH ELEUTHERA.  THE DEVELOPERS – REPRESENTATIVES OF THE SARMIENTO FAMILY HAVE RECENTLY MET WITH US AND CONFIRMED THAT THEY ARE ACTIVELY PURSUING THEIR PROPOSED UPSCALE HOTEL AND GOLF COURSE PROJECT TO BE OPERATED BY A MAJOR FIVE STAR HOTEL BRAND.
ADDITIONALLY, ON FRIDAY PAST FURTHER DISCUSSIONS WITH THE DEVELOPERS OF THE NEW COTTON BAY HAVE APPROACHED US WITH RESPECT TO A VERY ACTIVE INTEREST IN DEVELOPMENT OF ANOTHER HOTEL IN SOUTH ELEUTHERA.   I INTRODUCE YOU TO THESE, WHAT I NOW CALL, PROBABLE DEVELOPMENTS BECAUSE THE DEVELOPERS HAVE BOTH CONFIDENTLY ADVISED THAT THEY NOW KNOW THAT THE WIND IS AT THEIR BACK PROPELLING THEM FORWARD.  I AM EQUALLY AS OPTIMISTIC.
MR. SPEAKER,
IN THE EXUMAS THE OWNERS OF PROPERTIES LIKE SANDALS, EMERALD ISLES, FEBRUARY POINT, PROMINENT HOMEOWNERS AND DEVELOPERS IN THE EXUMA CAYS, ALL HAVE A NEW SENSE OF OPTIMISM ABOUT THEIR INVESTMENTS AND FUTURE GROWTH.  MY GOVERNMENT WILL WORK CLOSELY WITH THEM TO FACILITATE THEIR PLANS AND ENSURE GREATER BENEFITS FOR THE PEOPLE OF EXUMA.
THERE IS A VERY STRONG VIEW THAT IF THE MARINA AT SANDALS CAN BE FIXED AND OPENED NEW BUSINESS WILL FLOW TO THE ADJOINING PROPERTY OWNERS.  I AGREE WITH THAT VIEW AND HAVE COMMITTED THE GOVERNMENT TO MEDIATE AN EFFECTIVE JOINT APPROACH BY ALL PROPERTY OWNERS.
WE ARE VERY CLOSE TO FINAL APPROVAL FOR THE PURCHASE OF FEBRUARY POINT IN THE EXUMAS.  THE PROPOSED DEVELOPER HAS MAJOR PLANS FOR EXPANSION OF THE DEVELOPMENT WHICH WILL CREATE FURTHER ECONOMIC OPPORTUNITY AND SIGNIFICANT NUMBER OF ADDITIONAL JOBS – MORE JOBS!
WE HAVE REACHED AN ADVANCED STAGE OF THE APPROVAL PROCESS FOR A MAJOR DEVELOPMENT AT LEAF CAY AND NORMAN'S CAY IN THE EXUMAS.  AS SOON AS CERTAIN TECHNICAL IMPEDIMENTS ARE OVERCOME THE DEVELOPMENTS WILL COMMENCE AND HUNDREDS OF BAHAMIANS WILL BE EMPLOYED. MANY MORE JOBS!
LYING BETWEEN ELEUTHERA AND EXUMA IS THE PICTURESQUE CAT ISLAND WITH ITS BAYS, LOVELY BEACHES AND ROLLING HILLS.  CAT ISLAND HAS WAITED LONG FOR A MAJOR DEVELOPMENT. THIS DEVELOPMENT WAS ON THE AGENDA OF OUR PREDECESSORS. I AM THEREFORE PARTICULARLY DELIGHTED TO INDICATE, THAT AFTER PROTRACTED DELAYS, THROUGH AN ONGOING DIALOGUE WITH MY GOVERNMENT, ALL OF THE REMAINING ISSUES AND HURDLES WITH CAT ISLAND DEVELOPERS HAVE BEEN RESOLVED.
THE WAY HAS BEEN CLEARED FOR THE DEVELOPERS TO CONTINUE WITH THIS AMBITIOUS PROJECT.  THE PROJECT ENVISAGES A LUXURY RESIDENTIAL RESORT COMMUNITY, 2-3 LOW DENSITY HOTELS AND A SPA, AN 18 HOLE REES JONES DESIGNED GOLF COURSE, A BEACH CLUB, RETAIL VILLAGE, SINGLE FAMILY LOTS AND CONDO UNITS, AND AN EQUESTRIAN CENTRE.  THE DEVELOPERS HAVE BEEN GRANTED FRANCHISES TO PROVIDE THEIR OWN UTILITIES AND WILL ADVANCE THE FUNDING TO UPGRADE THE NEW BIGHT AIRPORT, WHICH WILL BE REPAID BY THE GOVERNMENT. ANOTHER EXAMPLE OF PUBLIC PRIVATE SECTOR PARTNERSHIP. AND YES MR. SPEAKER, HUNDREDS OF NEW JOBS IN CAT ISLAND.
THE DEVELOPMENT IS TO BE BRANDED AS A "PGA VILLAGE" PURSUANT TO AN AGREEMENT WITH THE PROFESSIONAL GOLFERS ASSOCIATION OF AMERICA.
THE DEVELOPERS HAVE ALSO BEGUN DISCUSSIONS ON INTEGRATING A MEDICAL/HEALTH CENTRE INTO THEIR PROPERTY.  IT IS AN EXCITING DEVELOPMENT FOR CAT ISLAND AND I BELIEVE IT WILL BE A CATALYST FOR FURTHER DEVELOPMENT. MORE JOBS!
MR. SPEAKER,
THERE ARE NOW GOOD PROSPECTS FOR THE UPGRADING AND EXPANSION OF THE CLUB MED RESORT IN SAN SALVADOR, WHICH HAS BEEN FINANCIALLY CHALLENGED BY THE EXTENDED RECESSION IN EUROPE, THE HIGH COST OF AIRLIFT AND LACK OF AVIATION FUEL AT SAN SALVADOR AIRPORT.
REPRESENTATIVES OF CLUB MED AND A SUBSTANTIAL THIRD PARTY, CANADIAN DEVELOPERS JOHN MARC DAIGLE AND LUC DIERIER OF SAND & OCEAN INVESTMENT LTD., ARE NOW IN ADVANCED NEGOTIATIONS WITH THE GOVERNMENT WITH RESPECT TO THE FOLLOWING:
(1)          RENOVATION AND UPGRADE OF THE EXISTING CLUB MED VILLAGE AND THE ADDITION OF A SPA OVER THE NEXT SEVERAL MONTHS. MORE JOBS!
(2)          THE CONSTRUCTION BY THE THIRD PARTY DEVELOPERS OF 360 NEW LUXURY CONDO-UNITS TO BE MANAGED BY CLUB MED. MANY MORE JOBS!
(3)          THE CONSTRUCTION OF A FIVE STAR BOUTIQUE HOTEL OF NOT LESS THAN 125 ROOMS BY THE THIRD PARTY DEVELOPERS TO BE MANAGED BY A WELL-KNOWN EUROPEAN BOUTIQUE HOTEL OPERATOR. MANY MORE JOBS!
(4)          INSTALLATION OF A FUEL FACILITY AT SAN SALVADOR AIRPORT AND UPGRADED EQUIPMENT AND FACILITIES TO ACCOMMODATE DIRECT INTERNATIONAL FLIGHTS FROM EUROPE, CANADA AND UNITED STATES. MORE JOBS!
(5)          AIRLIFT AND MARKETING SUPPORT.
IT IS EXPECTED THAT THE FOREGOING WILL ENTAIL AN INVESTMENT OF OVER $90 MILLION AND CONDOMINIUM SALES TO EXCEED $110 MILLION.
HUNDREDS OF CONSTRUCTION AND PERMANENT JOBS WILL BE CREATED, MAKING SAN SALVADOR A TOURISM AND COMMERCIAL HUB IN THE SOUTHEASTERN BAHAMAS.
I AM SPEAKING EARLY AND SOME MAY SAY PREMATURELY  ON THIS DEVELOPMENT.  BUT I AM SATISFIED THAT THESE PROPOSED DEVELOPMENTS ARE INDICATIVE OF THE RETURN OF CONFIDENCE IN THE BAHAMAS AS A PLACE TO DO BUSINESS AND INVEST.
I SHOULD POINT OUT THAT THE GOVERNMENT HAS BEEN INFORMED THAT THE REPORTED ATTEMPT BY CHINESE INVESTOR FOSUM INTERNATIONAL AND THE FRENCH AXA PRIVATE EQUITY, SHAREHOLDERS IN CLUB MED, TEAMING UP WITH MANAGEMENT TO TAKE OVER ITS CONTROL WOULD NOT AFFECT CLUB MED'S PLANS FOR THE BAHAMAS.
MR. SPEAKER,
WE HAVE PAID SERIOUS ATTENTION TO THE ISLAND OF ANDROS IF ONLY BECAUSE THE PEOPLE OF THAT ISLAND HAVE DEMONSTRATED TREMENDOUS LOYALTY. WE ARE IN DISCUSSIONS WITH A NUMBER OF APPLICANTS WHO HAVE SUBMITTED PROPOSALS FOR RESORT DEVELOPMENT AND OTHER DEVELOPMENTS IN SOUTH ANDROS AND IN CENTRAL ANDROS.
WE ARE EXAMINING ALL OF THE PROPOSALS TOWARDS ENSURING THAT WE APPROVE ONLY THESE DEVELOPMENTS WHICH WILL PROVE TO BE GOOD FOR ANDROS.
THERE ARE OTHER PROPOSALS BEFORE THE GOVERNMENT CONCERNING DEVELOPMENT IN VARIOUS ISLANDS OF THE COMMONWEALTH.  THERE ARE PROPOSED DEVELOPMENTS IN EXUMA, ELEUTHERA, ABACO, MAYAGUANA, SOME CAYS IN THE BERRY ISLANDS, LONG CAY, CROOKED ISLAND AND OTHERS.
WE CONTINUE TO BE EXCITED ABOUT THE GREAT POTENTIAL FOR DEVELOPMENT IN THE BAHAMAS AND WE CONTINUE TO ENCOURAGE BAHAMIANS TO BECOME MORE INVOLVED WITH THE DEVELOPMENT OF THEIR COUNTRY.