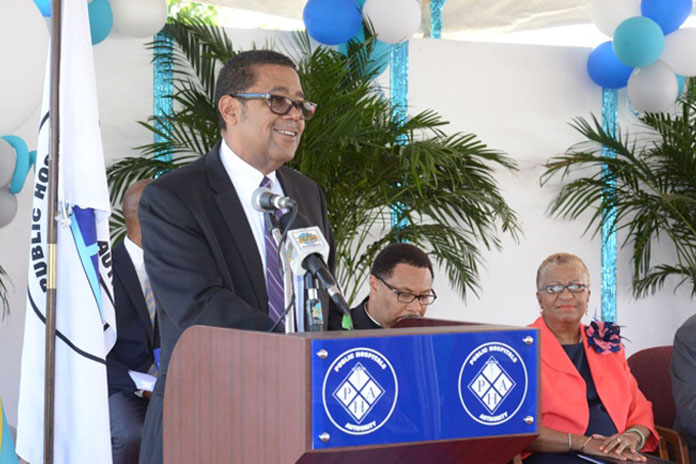 NASSAU, The Bahamas – The construction of the Child and Adolescent, Robert Smith and Special Education Complex will "greatly enhance" Sandilands Rehabilitation Centre's (SRC) capacity to provide a therapeutic programme consisting of a cohesive, consistent, therapeutic environment through its child care and adolescent services, Minster of Health the Hon. Dr. Michael Perry Gomez said Monday.
The environment can be created either within a programme or community, or through coordination of people, space, materials, equipment and activities.
Constructed on a portion of the vast grounds at Sandilands Rehabilitation Centre, Fox Hill, the complex is expected to take advantage of the therapeutic environments offered on the grounds as part of its treatment module.
"The increased space and improved facilities will better allow the staff to occupy the patients' time effectively and provide a comfortable, exciting and visually stimulating environment," Dr. Gomez said.
"In this improved environment, we can enhance key services including the development of the nurse/patient relationship through bonding, interacting and developing trust, as well as therapies and activities to develop fine and gross motor skills and enhance physical strength.
"Ultimately, we will improve quality of life by ensuring the patient reaches his or her maximum potential despite disabilities. It is for this reason that investments like this impressive new complex must continue to be made and upgrades to facilities of this type, be a consistent factor of health systems strengthening," Dr. Gomez added.
Addressing persons attending the Commissioning Ceremonies of the Child and Adolescent, Robert Smith and Special Education Complex, Dr. Gomez said the construction of the facility on the grounds of SRC is "a wonderful utilization of these extensive grounds as outdoor, therapeutic environments.
(Prime Minister, the Rt. Hon. Perry Gladstone Christie, delivered the keynote address and declared the complex officially open.)
Dr. Gomez said the construction of the Robert Smith Complex, along with the "significant" renovations and expansion works now underway at SRC, "no doubt have greatly enhanced the quality of care provided and increased the patients' quality of life and satisfaction."
The improvements, Dr. Gomez said, are being executed at the highest level of workmanship and under the most stringent international standards.
"They compliment the very objective of health systems strengthening as regards physical infrastructure and the provision of care. The commissioning of this modern facility therefore introduces and increased measure of hope into the life of the patients of this outstanding public healthcare institution.
"It is my firm belief that the construction of the Child and Adolescent Robert Smith and Special Education Complex, supports not only the continued work of the Sandilands Rehabilitation Centre, but it supports the over-arching philosophy of our public health system which strives to keep the patient at the centre of our service delivery system," Dr. Gomez added.