Another man dies at Bahamar construction site this morning – Brave Davis expressed concern in 2013 that little is known about accidents at Bahamar!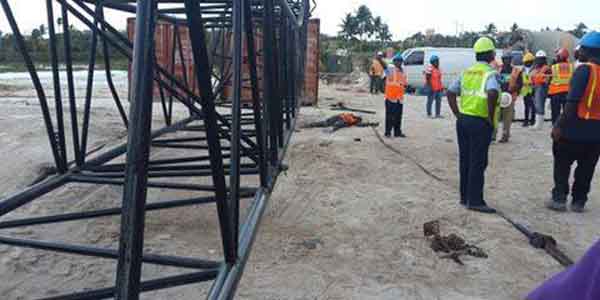 Nassau, Bahamas — A freak accident at Bahamar this morning has left at least one man dead after a crane fell crushing the victim.
The man, who we cannot identify at this time, had just established himself on the construction site less than a month ago.
BP can report the victim is in his late twenties and had just reported for work this morning when the unfortunate accident occurred. The incident was reported to police around 11:30am.
What caused the crane to fall is the big question and how safe is the construction site now that the property is being readied for opening is another. And was it negligence? We hope an investigation will reveal the facts.
The 3.5 million dollar development was set to open initially in December 2014. It was pushed back to April 2015 and is now slated for opening in May.
This latest incident is the third death at the construction site as the first was not on property. In October 2013, following the death of a Chinese Construction worker, Robert Sands told the press one incident of a death had occurred in June that year. He added, "CSC treats any accident or death on the Baha Mar site with utmost seriousness and works with local officials to properly document procedures to ensure all workers are safe."
Mr. Sands' comments came following a statement from Minister of Works The Hon. Philip Brave Davis in 2013 who admitted that very little was known about incidents at the 3.5 billion dollar resort, adding that his Ministry is aggressively searching for an occupational safety expert to act as a watchdog for industrial practices on all work sites in the country.
Bahamas Press expresses our deepest condolences to the Bahamian who was one of several hundred new construction workers hired to assist in the opening of the property. May he rest in peace!
We report yinner decide!