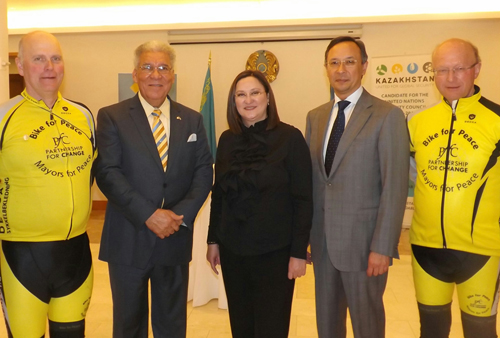 NEW YORK – The Hon. Forrester J. Carroll, Bahamas Consul General to New York, attended an exhibition on Friday, April 24, 2015, at the Kazakhstan Mission to the United Nations. Entitled "ATOM PROJECT: Abolish Testing Our Mission," the exhibition was hosted by Ambassador Kairat Abdrakhmanov, Permanent Representative of Kazakhstan to the United Nations.
It was organized by armless Kazakh painter Karipbek Kuyukov, Honorary Ambassador of the ATOM Project and Nuclear Tests survivor, and held in conjunction with "BIKE AWAY THE ATOMIC BOMB" to commemorate the final part of the "Washington DC – New York" bike ride event, devoted to raising awareness of the horrors and dangers of nuclear weapons testing, organized by "THE ATOM Project", "Mayors for Peace" and "Bike for Peace."
Pictured from left are Mr Svein Arne Jerstad, Mayor of Kvinesdal, Norway; Consul General Carroll; Ms. Raushan Yesbulatova, Consul General of Kazakhstan to New York; Ambassador Abdrakhmanov; and Mr Thore Vestby, Vice President, Mayors for Peace.