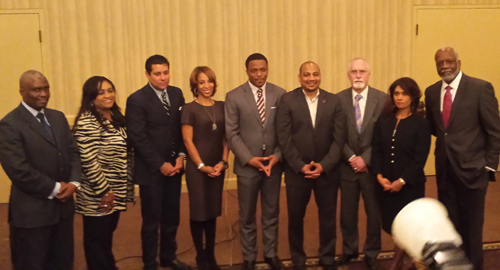 WASHINGTON, D.C. — Addressing a business forum in Detroit, Michigan, on Saturday, November 16, the Hon. Paulette Zonicle, Bahamas Consul General to Washington, D.C., stressed that The Bahamas welcomes foreign direct investments and specifically mentioned several areas that are "especially targeted for international investors."
Consul General Zonicle was one of several top-level diplomats from CARICOM-member countries who spoke at the Global Opportunities Forum on "Business Opportunities in the Caribbean" hosted by the Michigan Black Chamber of Commerce for the CARICOM Caucus of Ambassadors at the St. Regis Hotel.
"The Government of The Bahamas has as one of its goals encouraging and facilitating business activity," Consul General Zonicle said. "Accordingly, a compendium of legislative incentives and concessions exist for doing business in The Bahamas, not only in the tourism and hotel sector, but equally in respect to manufacturing and agricultural developments, as well as establishing timeshare facilities."
Areas she cited as targeted for international investors include: Touristic Resort; Upscale Condominium, Time Share and Second Home Development; Information and Data Processing Services; Assembly Industries; High-Tech Services; Ship Repair and Other Services; Light Manufacturing for Export; Agro-Industries; Food Processing; Mari Culture; Banking and Other Financial Services; Captive Insurance; Aircraft Services; Pharmaceutical Manufacture, and Offshore Medical Centres.
Noting that The Bahamas is a small developing country with an open economy, the Consul General added that the two primary pillars of the economy are tourism and financial services.
"Our tourism brochures promote our country as being comprised of some 700 islands and cays, based on the geographic definition that an island is a body of land surrounded by water," Ms. Zonicle said. "However, segments of The Bahamas' estimated 350,000 population live on only 27 of these islands, with the vast majority (an estimated 220,000) domiciled in New Providence, where the capital city of Nassau is located."
She added: "Our second largest city is Freeport on the island of Grand Bahama. For you entrepreneurs in the audience, Freeport is unquestionably an excellent place to do business thanks to Hawksbill Creek Agreement signed with a private developer in 1955. At the time, the city that we now know as Freeport was mostly a pine forest and under the Hawksbill Creek Agreement, an American by the name of Wallace Groves was sold many acres of that pine forest for the ONE POUND (the equivalent of two dollars and eighty cents per acre). As part of incentives granted to him to develop the land, all imports into the Freeport area came in duty free and that's still the case today. For example, if you import a vehicle into Freeport, building material or furniture for an office, they all come in duty free, under what is known as a BONDED SYSTEM."
With Nassau being the capital of The Bahamas and the country's "stellar business friendly reputation as an excellent provider of first-rate off-shore financial services," Consul General Zonicle said that New Providence "is also an excellent island on which to do business."
"Indeed, The Bahamas has carved out a specialized niche as a leading off-shore financial centre, largely favoured by Canadian, Swiss and U.S. institutions," she said. "Some 65 institutions are licensed to provide fund administration and around 130 are licensed to provide broker-dealer and/or investment advisory services. Additionally, one of the greatest appeals of using The Bahamas as a domicile for corporate and financial services is its tax-free status. No taxes are levied on personal income, capital gains, corporate earnings, sales, inheritance or dividends."
Given the natural beauty of THE BAHAMAS and the fact that "our islands have some of the world's best beaches," Consul General Zonicle, however, stressed that "tourism is the main foundation of our economy."
"About 50 percent of the country's gross domestic product (GDP) is related to tourism, which employs over half of the workforce," she said. "New investments in hotels, resorts and developments range from billion-dollar mega projects on New Providence to distinctive communities in the Family Islands."
The Consul General added: "Some of you may have heard of the Atlantis Resort on Paradise Island, just across the bridge from Nassau. Many people refer to Atlantis as the EIGHTH WONDER OF THE WORLD, but Atlantis is about to get some stiff competition as the number one resort in The Bahamas with the completion  in December 2014 of the Baha Mar Resort in the Western area of New Providence. Baha Mar is being built at a cost of TWO AND A HALF BILLION DOLLARS financed by China and it is already being marketed as the Riviera of the Caribbean."
On Sunday, Consul General Zonicle and the other representatives of CARICOM-member countries joined members of the Michigan Black Chamber of Commerce and several local community organizations in feeding the homeless and hungry in the metropolitan Detroit area.