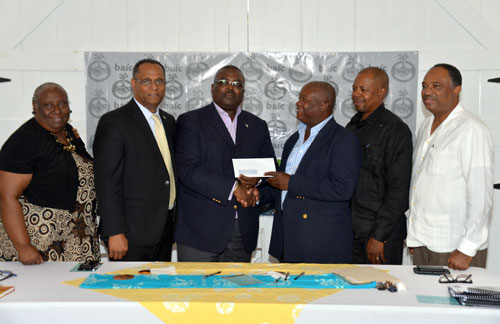 FREEPORT, Bahamas – Minister for Grand Bahama, the Hon. Dr. Michael Darville along with Mr. Arnold A. Forbes M.P., Executive Chairman of the Bahamas Agricultural Industrial Corporation on Wednesday evening participated in contract signing for the completion of the Grand Bahama Arts and Crafts building.
Patrick McDonald Construction Company has been awarded the contract for the completion of the construction and retrofitting of the facility located on East Sunrise Highway.
Dr. Darville explained that since the acquisition of the facility in 2011, the gallery has been renovated, but to date, certain parts of the facility are still not completed. There is still outstanding remedial work needed to ready the facility for its intended purpose: to be used as a local attraction for residents and visitors to experience our culture through arts and crafts, and as a training center for arts and craft production.
According to the Minister this Arts and Crafts Center will positively impact the revitalization and promotion of Grand Bahama by offering a new attraction for the island; a place where residents and tourists can have authentic Bahamian cultural experience.
"Upon completion, which is proposed for December 2014, the Ministry of Agriculture, Marine Resources and Local Government, BAIC and the Ministry of Tourism will coordinate various programmes at the facility which will generate revenue for BAIC and the upkeep of the facility," Dr. Darville said, noting that the Center will be included on the itineraries of tour operators in Freeport as an attraction at which visitors can have a cultural experience: observe Bahamian craft production and purchase authentic Bahamian arts and crafts – nicely packaged and showcased. This will create much-needed employment and entrepreneurial opportunities for artisans.
"Recognizing the role that the Ministry for Grand Bahama is playing in turning around our local economy, I am excited to be a part of this signing ceremony and the partnership with BAIC, the Ministry of Tourism, the Grand Bahama Chamber of Commerce, the Grand Bahama Port Authority, the Grand Bahama Craft Association," he said.
BAIC Executive Chairman, Mr. Arnold Forbes said his organization is about putting people back to work. He said the Craft Center and its renovation is one of the key components of what they plan to do in Grand Bahama.
He recalled about a year ago when they discussed the project with Ms. St. George at the Grand Bahama Port Authority, and he is pleased that the Government of The Bahamas is putting the necessary funds to complete to the project. "This building will be converted into something that will be the jewel of culture and art in Grand Bahama and hopefully throughout The Bahamas," he said.
He was also grateful to the Grand Bahama Port Authority for partnering with BAIC on the project.