Bahamas Press joins the fine men and women of the Royal Bahamas Police Force in mourning the passing of Retired Deputy Superintendent (DSP) Henry Thurston.
Commissioner of Police Ellison Greenslade shared his deepest sympathy as he announced Thurston's passing. He died at his residence on Friday 13th July, 2012.
DSP Thurston enlisted in the Royal Bahamas Police Force on the 17th April, 1959 and served with distinction for forty (40) years.
The COP Greenslade extended his condolences to the family and friends of the late DSP Henry Thurston.
May he rest in peace.
DEU OFFICERS MAKE FIREARM ARREST
Three (3) men along with a juvenile male are in police custody after being found in possession of a handgun. According to police reports shortly after 11:00 am on Thursday 19th July, 2012 DEU officers acting on information went to Homestead Street where they uncovered the weapon and subsequently arrested the males. Active police investigations continue. To date police have confiscated three hundred, twenty-two (322) handguns and five thousand, eighty three (5083) rounds of ammunition.
POLICE ARREST ARMED ROBBERY SUSPECTS
Police are questioning two (2) men in connection with two (2) armed robberies which occurred on Thursday 19th July, 2012. The first incident reportedly occurred around 1:15 pm at Cordeaux Avenue and Minnie Street and resulted in a man being robbed of his jewelry.
The second incident reportedly occurred around 1:43 pm at a business establishment on Minnie Street and Moore Avenue. The men, ages 25 and 19 years were arrested at Ashley Street off East Street while driving a white Honda Fit. Active police investigations continue.
POLICE SEEK ARMED ROBBERY SUSPECTS
Police are requesting the public's assistance in locating four (4) males responsible for an armed robbery. The incident reportedly occurred around 2:30 am on Friday 20th July, 2012 at Martin Street off Baillou Hill Road. Initial reports indicate that a man was outside his residence when he was approached by the culprits who tied him up and subsequently robbed him of an undisclosed amount of cash. Police are investigating and appealing to members of the public who may have any information regarding this or any other incident to contact police.
Police needs your help in capturing this man wanted for murder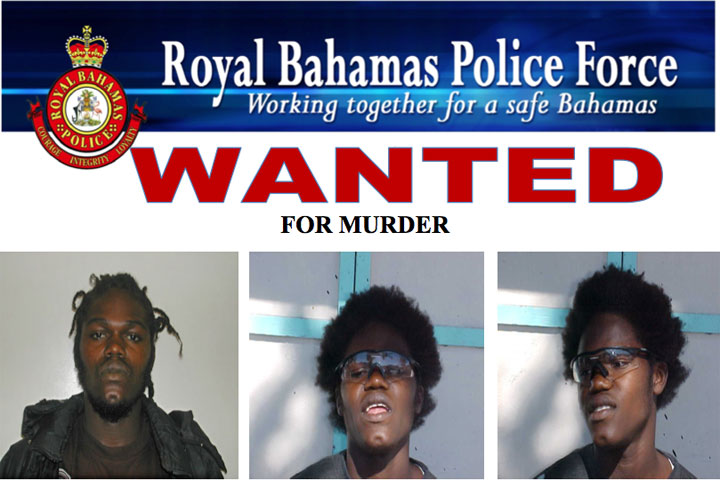 Ronald Osias A.k.A 'Wowo' Or 'Ronnie'
Age: 25yrs
Dob: July 24, 1986
Colony Club, #51 Weddell Avenue, Freeport
Description
Nationality: Bahamian
Build: Average
Height: 6'1"
Hair Style: Afro
Weight: 193 Lbs
Hair Colour: Black
Complexion: Dark Brown
Subject is wanted for questioning by the Grand Bahama Police Department reference to MURDER.
SUBJECT IS CONSIDERED ARMED AND EXTREMELY DANGEROUS. DO NOT APPROACH IF SEEN!
Anyone with information on the whereabouts of this individual please contact the nearest police station or call 911 or 919.