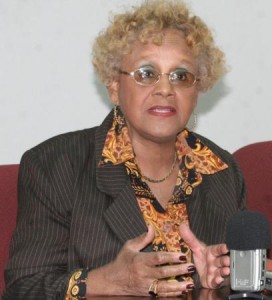 Nassau, The Bahamas  – The Bahamas Crisis Centre will stage a walkabout in the Bain Town Community from 10am to 1pm on Saturday, September 28, 2013.
With its theme: "Peace at Home, Peace in the Community", the purpose of the community outreach is to continue its campaign of fostering peaceful and wholesome relationships throughout the country.
Other objectives are: to highlight issues facing families and children and to circulate brochures and information about the Crisis Centre and its purpose.
The Urban Renewal Centres of Bain Town and Fort Charlotte, the community police stations and various church leaders in the community will join volunteers of the Crisis Centre. The outreach exercise will commence at the South Street Police Station, off Nassau Street.
On Friday, September 27, at Pompey Square in Downtown Nassau, the Crisis Centre will stage a 'Night of Hope and Healing', in recognition of the National Day to End Sexual Violence.
In an open microphone setting, there will be testimonials in poetry reading and story telling, visual arts and music as the Crisis Centre seeks to sensitize the country and the region of the need to curb the violence against women and children.
Since 1982, the Bahamas Crisis Centre has been at the forefront of promoting intervention and education efforts around the prevention of all forms of abuse.
It facilitates and promotes the safety and healing of survivors of sexual and domestic violence and their families; raises consciousness to the adverse effects of violence on the quality of life; advocates legislative and societal change; challenges relevant agencies to foster appropriate and sensitive responses to these issues; advocates for the protection of victims of sexual aggression and promotes healthy relationships.
ALL VOLUNTEERS ARE ASKED TO ATTEND AND PARTICIPATE.
FOR MORE INFORMATION CALL THE BAHAMAS CRISIS CENTRE: 322-4999