Grand Bahama
Da JOKERS

ARE BACK – SELLING DREAMS and

HOLOGRAMS!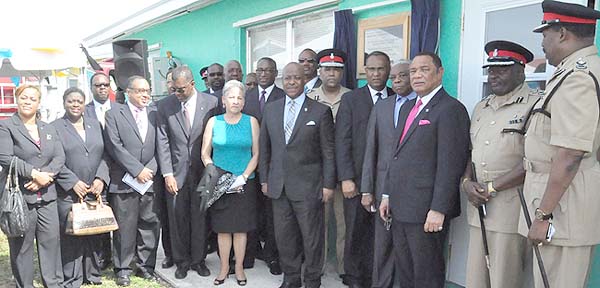 Yinner think dey in Grand Bahama to give Sarkis more a-yinner land? What ya think?
FREEPORT, Grand Bahama – Prime Minister the Rt. Hon. Perry Gladstone Christie and his entire Cabinet (with the exception of Attorney General the Hon. Allyson Maynard Gibson) for the first time held their Cabinet Meeting in Freeport, Grand Bahama, on Tuesday morning, July 28, 2015.
The Prime Minister and his team of Government Ministers began the day by participating in the official re-opening of the Eight Mile Rock Fire Sub-Station near Martin Town Primary School.
Commenting on the historic meeting of the Cabinet in Grand Bahama, the nation's chief executive said "our Government has decided that whenever we have the occasion that would enable us to efficiently meet in a particular part of The Bahamas, we would do so to serve the constitutional interest of our country and be able to show the people of the country how mobile the Government of The Bahamas is in the sense that we could meet in different parts of our Commonwealth and serve as a governing body.
"So today we are in Freeport! Today we will review matters pertinent and relevant to Grand Bahama and to Freeport. We will make every effort to communicate to the people of this island and the people of the country the nature of our review at some stage during the course of today," he told the gathering.
Further, the Prime Minister said that while they are doing that, they have to be mindful that the governance of the country continues there and elsewhere. He welcomed his colleagues who were present, and noted also "I have been until the wee hours of this morning in communication with the Attorney General who is leading our delegation in the People's Republic of China in Beijing discussing matters very relevant to the economy of our country and the decision relative to Baha Mar.
The Prime Minister pointed out "whilst I am speaking on that subject, let me say to those persons who seem to have a running commentary on Baha Mar, that it doesn't help what we are trying to achieve and to do, to continue to make mis-statements about what is taking place, and about the good faith of the Government of The Bahamas…. We do not expect on matters of great economic importance to our country, to have to engage in political skirmishes where the intent is to undermine and not to inform. And so I ask them to exercise the greatest care. I ask them again to exercise the greatest care," the Prime Minister said.