Governor General hosts the Fourth Estate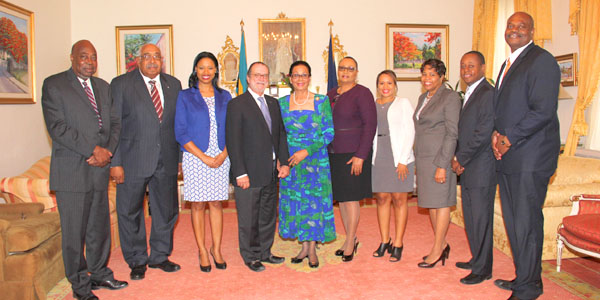 By Elcott Coleby
Bahamas Information Services
True to her pledge to use her high office to promote peace and national unity, Governor General HE Dame Marguerite Pindling hosted members of the media to a luncheon at Government House on Mount Fitzwilliam on Wednesday, 4th February 2015.
"You will recall" said Her Excellency, "that at the ceremony of being sworn-in as Governor General, I pledged myself to work hard for the unity and peace of our nation and in that context I have been meeting with various groups and individuals in our society whose role and function I believe to be critical to that process."
Acknowledging the awesome responsibility that rests on the shoulder of the fourth estate, a responsibility that "affects the very foundation on which our country exists and on which it will develop for future generations," the Governor General encouraged those present to allow the strength of their positive contribution through public education to create clarity of understanding on the way forward in nation building.
"We have a beautiful country which we have a duty to pass on to those who come after us and to ensure that it is in a better position than when we inherited it, and I therefore encourage you to make that positive contribution through which all Bahamians and those who live and work among us will clearly understand the direction needed for us to be successful."
Dame Marguerite concluded by thanking the media representatives for coming, congratulating them for the "good work" they are doing and the "positive contribution" they are making to our nation.