Saint John's College, Stapledon Gardens, Nassau, Bahamas- Privacy Week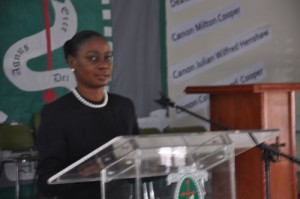 The Office of the Data Protection Commissioner, Officially commenced "Privacy Week",  with a special presentation, at St. John's College, Monday morning assembly.  Commissioner Farrington Austin highlighted the need for students to respect the use and disclosure of an individual's personal information. She underscored the fact that students should be mindful of the fact that the "appification of society" has made it very easy for personal information to be collected and disseminated. Students were warned that employers look at their prospective employee's online reputation when considering hiring opportunities. Therefore, students should be very cautious as to how they collect, process, keep and disclose their personal information.
The students were educated on certain aspects of social media and cyber crimes including cyber bullying and happy slapping. Commissioner Austin and Inspector Barrett of the Cyber Crime Unit of the Royal Bahamas Police Force outlined the various offences and encouraged students to be mindful that while technology should be embraced, it can also be abused.
The Commissioner concluded by adding that it was her privilege to return to her alma mater as Data Protection Commissioner and indicated that she is hopeful that the school year will be a rewarding and uneventful one.