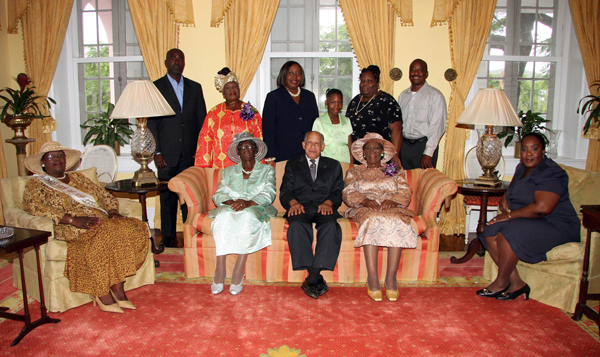 Nassau, Bahamas – In celebration of their reunion, members of the Davis Family from Fox Hill paid a courtesy call on the Governor General, His Excellency Arthur D Hanna, at Government House, August 14.
During a special service at the Church of God, Bernard Road two years ago His Excellency Mr Hanna joined in honoring the oldest member of the Davis family – Perline Davis-Bastian daughter of Granville and Beryl Davis Wright, daughter of Joseph Davis.
Pictured from left, seated, are Fox Hill Mother of the Year Cora Davis Ferguson Mackey, Perline Davis-Bastian, Governor General Hanna, Beryl Davis-Wright, and Davis Family Reunion president Audrey Symonette Demeritte, (standing) Eddie Flowers, Miriam Davis Wright, Joanne Rolle, Phylicia Demeritte, Lucinda Symonette and Ashley Symonette.