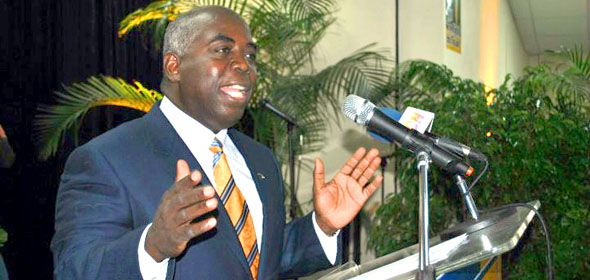 Remarks by Philip 'Brave' Davis At the PLP's South Western Summit
How are you all feeling tonight?
Are you fired up?
Are you ready to go when the bell is rung?!
Do you see what I see?  I see a new generation of PLP candidates ready to remake this nation!
With PLP candidates you have the best of two worlds, the young and the old – the wisdom of experience and the energy and new ideas of youth!
Our candidates are the finest in the land!
They're PLP because they believe in the legacy of Pindling!  They're PLP because they believe in Bahamians!  They're PLP because they put Bahamians first!
And I think we can all agree – it's time for a government that believes in its people!
Because this crew they have in there now…
But don't worry, it aint long now the countdown is on.
Four – that's the number of times the murder record has been broken under this government. [RING THE BELL 4X]
Three – the number of times that they have fooled the Bahamian people and still aint gat it right! [RING THE BELL 3X]
"Two — that's the number of international ratings agencies who have downgraded the FNM economy, giving the FNM a thumbs-down for their managament"! [RING THE BELL 2X]
One – that's the number of people that makes decisions in their Party; it's a one-man band! [RING THE BELL 1X]
Zero – that's how many times the Prime Minister has addressed the skyrocketing crime crisis!
We hear he's getting ready to talk about it.  I echo Danny Johnson – we need a leader who cares about crime all the time, not just at election time!
A Party that decided to remove the police from schools; is that leadership that you can trust?
How about a Party that played nasty politics by dismantling Urban Renewal even though they know it was working; is this the action of a "trusted hand"?
How can a government ask you to believe in them, when they so often have showed that they don't believe in you?
How can you trust someone who doesn't trust you? They don't trust you to build roads, or run the College of Bahamas, or to own BTC.
According to them fellas Bahamians are only labourers, not owners!  And now they even telling you that you gotta wait 18 months for a job! Oh no…Bahamians can't run anything ya see!  Under this crew, owners have now joined the unemployment line!
Look what they did to workers at BTC. In an already tough economy, where in some households only one person is working and over 15,000 households no one is working; they decided to let people go. Give them the package they say, while through the back door they began granting work permits to foreigners in our BTC!
And look at how this government sat idly by allowing hard-working phone vendors to be taken-out with one stroke of a pen!  The government already said that there are no jobs!  Why punish ordinary Bahamians trying to make an honest living!  Now you and I gotta pay more money for phone cards and fathers and mothers gotta figure out how to put food on the table.
This is the fundamental difference between us in the PLP and those fellas in the FNM! We believe in you!  We don't just want to build things, we want to invest in people…Bahamians!
The PLP understands that we are living in a post-Lehman world; a world in which North Americans can no longer tap into their home's equity to finance their vacations!  A world in which every country is trying their best to repatriate taxes!  We understand that the world has changed forever and as a noted economist likes to say, a new normal has taken hold!
This "new normal", requires that we invest in our people!  We must invest in human capital.  The world of today and tomorrow will be defined by the space between your ears and your ability to transmit it!  This is the world of tomorrow!  A world that places a premium on innovation and efficiency…a world in which we can only succeed if the potential of the Bahamian is unleashed!  And we must unleash them!
We know what it takes to thrive in the 21st century – and we believe in the urgency of giving Bahamians the skills and the education they need to get ahead!
You've heard a lot of new ideas during this Job Creation & Empowerment Summit.  Ideas for reducing violence, for putting Bahamians first, for expanding our economy.
We've only just begun to talk about the bright future we want to build.
We see the challenge this way – we need an Emergency Jobs Plan, for immediate relief for hurting families, and we need a strategic plan to create sustainable jobs, jobs people can count on.
Tonight, I announce a major new initiative that will do both – it will provide jobs immediately, and it will be part of a long-term plan too.  Our 21st Century Classrooms project, a public-private partnership, will modernize and upgrade our classrooms and schools across the nation, creating jobs now – for architects, engineers, green energy experts, those in the construction trade – and it is part of our plan to revolutionize education in The Bahamas, so that we can attract and build and keep 21st century jobs.
All Bahamian students must achieve scientific and digital literacy – but how can they do it in crumbling or outdated classrooms?
It's not just our students who need our support – Bahamian workers need the government's support, too.  Tonight we also announce the Worker Retraining Initiative, our plan to dramatically expand access to retraining programs and work opportunities.
The world is changing quickly as I noted, and we need to constantly update our skills and knowledge to keep pace.  The FNM's answer – hire foreigners.  The PLP's answer – provide access to the right opportunities, and Bahamians can soar and succeed.
Our economy is hurting and our people are hurting.  The FNM is helpless!  They say there are no answers. Unlike them we believe in the Bahamas.  We believe in the Bahamian people! We believe in the Bahamian economy!
So your next PLP will introduce a Family Island Modernisation program that will provide jobs for Bahamians to construct and repair docks, bridges, roads and sea walls throughout the Family Islands.  Bahamians can do it and we believe in Bahamians.
We will introduce a Community Improvement Program that as a matter of policy contracts will be provided to community leaders for the upkeep and maintenance of parks and public spaces.
We will introduce a program that will be known as Home Sweet Home.  This program will provide Crown Grants and Custom Duty rebates to Bahamians prepared to construct and complete homes in a Family Island within 18 months of such Grant.
We are ready to govern.  We have the plans and programs to move our economy forward.
Elect a PLP government, rise up and let's build the greatest little nation in this part of the world!
When this Prime Minister says that Bahamians "need not apply" – he is neither Right or Honourable!
I say it again without fear or favour: The Bahamas must first and foremost be for Bahamians!  BAHAMIANS FIRST!!!
We know that we have to fix basic problems before we achieve big things as a nation.
We need to reduce violence – we can't ask our children to grow up in a nation where murder is routine.
We need to help Bahamian families achieve basic economic security.  There are thousands of Bahamians – in 2011 – with no electricity!  There are parents who are worried about school uniforms and lunch money…about their personal safety and that of their children…about the safety of their homes and streets.
This is real talk!
There are thousands of Bahamians that are catching hell! Join hands with me and our Party Leader tonight as we pledge tonight to do all we can to lift and empower our fellow man.
Let us all in this room, and all across this country do the same; uplift the weak, bring hope to the hopeless, lift the fallen and encourage our brothers and sisters to believe in The Bahamas once again!
Let us also not forget our brothers and sisters that suffered during Hurricane Irene. We are all family and when one suffers a hurt we all feel the pain. I am grateful to all of you who responded to cries of help to those in need and call on you to look again to see how you might help.
As I conclude tonight, I am reminded of the Father of Our Nation!  Sir Lynden was great because he was unafraid to think and dream big.  He had unending and ever-abounding faith in the ability of the Bahamian people!  They called Sir Lynden Moses and rightly so, for he truly did lead the movement from bondage to freedom!  Now we in this Joshua-generation must answer our call!  We must move to advance this nation further than where Sir Lynden left it!  We must move forward and take the Bahamas to new heights!  It is to up to us!  It is up to you…are you ready?  Do you believe in the Bahamas?
Let us rise to build our nation and restore Opportunity to the thousands of our country!
Let us commit our selves to restore JOBs into our economy! Let us commit to creating new business opportunities for our people
Let us commit to the cause this night to put our people back to work!
Let us lift our People to BELIEVE in the Bahamas again…as the BEST IS YET TO COME!
God Bless you and Good Night!