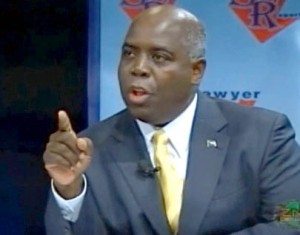 Nassau, Bahamas – Philip Brave Davis minced no words as he went on the attack against the 51% sale of BTC to Cable and Wireless.
Clearing up the misconceptions cast by the WUTLESS FREE NATIONAL MOVEMENT government, Deputy Leader of the PLP, Davis, stared as a guest on the Sawyer Report aired on ZNS.
The PLP strongman made revelations of countless untruths told by the FNM to the Bahamian people.
Davis expressed his disappointment with the Ingraham administration describing the plot by the FNM to sell 51% of BTC as like, "Murder in the Cathedral".
The Cat Island Rum Cay and San Salvador MP castigated Ingraham's BTC Privatization Committee headed by T. Basil Donaldson; calling the working group "surrogates" who were set to deliver the bidding of their King.
Davis reminded the national audience that country is not interested in the past and what could have possibly been in the sale of BTC by a former administration. He pointed to the fact that the FNM holds the decision at a time when stakeholders in the Corporation are not welcomed to the details.
Davis also presented names of the former BTC bidder Bluewater, a group that Ingraham lied and said he did not know existed, yet, his [Ingraham] government paid some $1.9 Million of wasted taxpayers funds, to chase the group from around the table.
The PLP deputy leader also presented a series of questions, which have since surfaced in the sale. Davis also questioned the local representative for C&W who previously served on the BTC board at the behest of Hubert Ingraham. He asked how did C&W get to the table as he pressed the "Sunshine Government" to table the Memorandum of Understanding; a document not even discussed by C&W.
Who is collecting a said 3% finder's fee for the sale of BTC? Davis asked as he further expressed his disappointment in Ingraham, who has gone on record belittling the professionals at BTC.
Davis reminded the national audience that it was Hubert Ingraham, who in the 1990s, when talks of Privatization first began, stated that Cable and Wireless need not come to the table. Davis asked, "What has transpired since then….?"
Unions on the other hand are at a tipping point over the sale and a national strike could be imminent.