BREAKING NEWS HAPPENING RIGHT NOW >>> BP is at this hour outside the home where a Defence Force Officer has hung himself at his home on Fire Trail EAST near More 94FM [Just one block from Allan Drive].
We can tell you police are now on the scene gathering information – Morticians have just arrived to the scene…
ONCE AGAIN WE HAVE ANOTHER SUICIDE IN THE COUNTRY….. BREAKING NOW….
Hit and run on Caribbean Close and Gladstone Road. Driver of vehicle taken to hospital…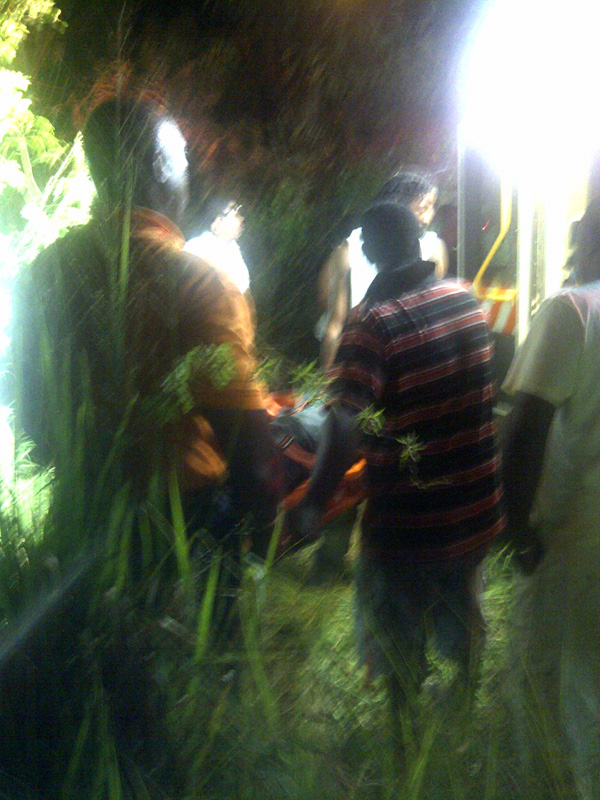 BP live at the scene of of that accident on Caribbean Close and Gladstone Road where a car crashed some 60-feet deep into bushes off the road following an accident.
The driver we believe had been whip lashed and is right now disoriented…He, we know, has a broken rib. Just seconds ago the driver was lifted out of the vehicle and into an awaiting AMBULANCE.
Residents assisted in the exercise while BP took photos and guided the team out of the bush….DRIVE SLOW PEOPLE! DRIVE TO ARRIVE ALIVE…IT'S THE WEEKEND!
QUESTION: BP THOUGHT OF THE WEEK – Was the bus and bus driver shot this week fatally INSURED? And if YES – Who is the beneficiary…Police could have another investigation on their hands here again –
WE REPORT YINNER DECIDE!