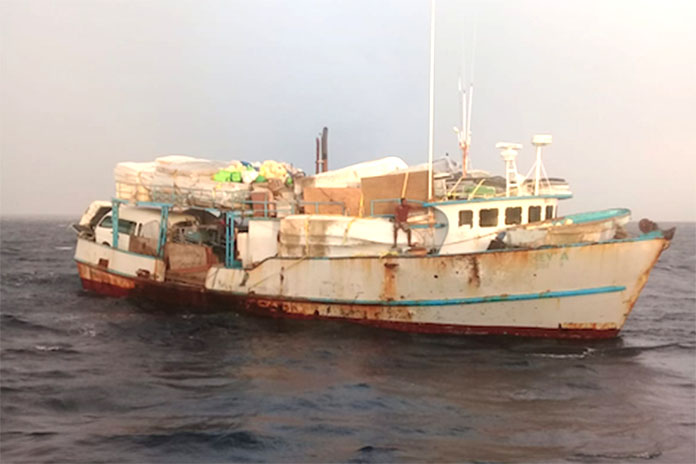 Nassau – On Thursday August 23, the Defence Force received information that two foreign vessels were spotted by Bahamian fishermen and locals around 10:00 am approximately two nautical miles east of Cape Santa Maria, Long Island. An RBDF patrol craft that was in the southern Bahamas was directed to investigate the report following a confirmed sighting by an RBDF aircraft, which was on patrol in the area.
Under the command of Senior Lieutenant Grere Martin, the RBDF aircraft sighted the reported vessels near Long Island later that day. Subsequently, HMBS Lignum Vitae, under the command of Senior Lieutenant Bertram Bowleg, intercepted and boarded the vessels off Long Island later that evening.
After completing the boarding and search exercise, HMBS Lignum Vitae's boarding party confirmed that the vessels were once fishing vessels that once operated by fishermen from the Dominican Republic. These vessels were also previously apprehended by the Defence Force for fishing violations in Bahamian waters in 2016 and during a previous year.
Back then, all of the Dominican poachers aboard the vessels were charged by the Court, and incarcerated at The Bahamas Department of Correctional Services. Both vessels were also ordered confiscated by the Court and later auctioned by the Ministry of Finance.
Understandably, the previously-owned Dominican vessels were reported as being "Dominican fishing vessels" after they were recently scene in waters near Long Island on Thursday. As a result of the reports, the vessels were sighted by an RBDF aircraft, and later intercepted and boarded by a boarding party from HMBS Lignum Vitae. The boarding team was able to verify that the new operators were in possession of appropriate documentation.
The Royal Bahamas Defence Force reassures the general public and the local fishing community of its commitment to maintaining a strong presence within our maritime domain to safeguard the people of The Bahamas against illicit activities.