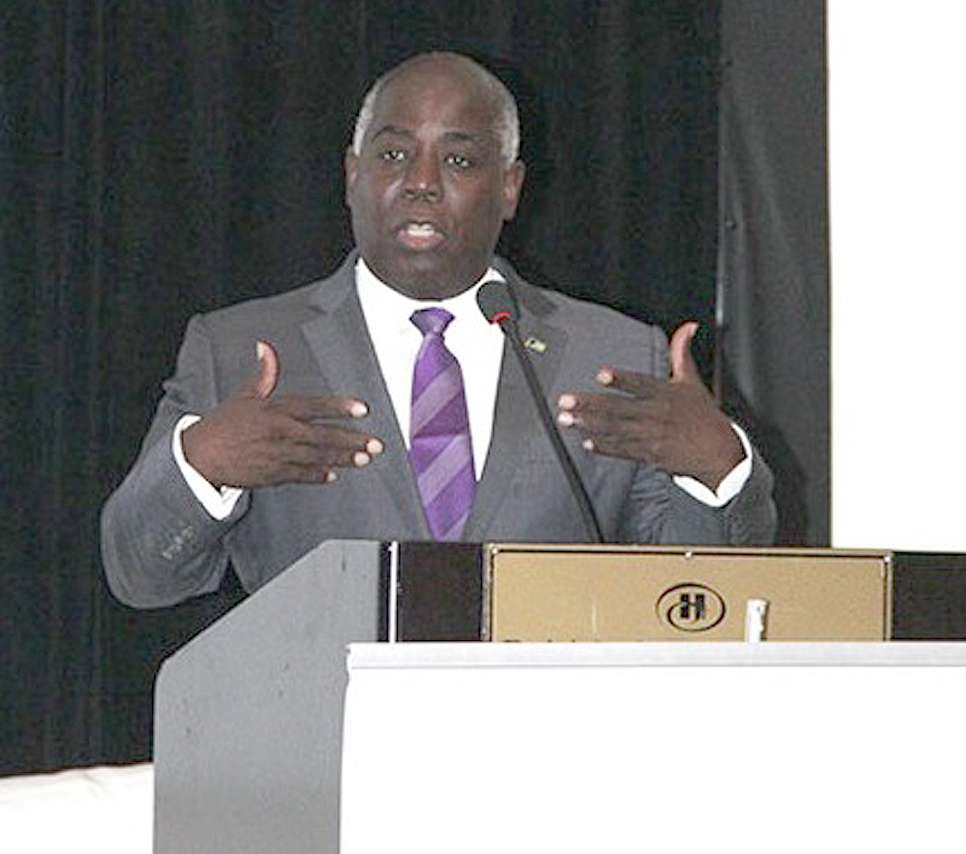 NASSAU, The Bahamas – As the Government moves toward a modern infrastructure programme for the country, Deputy Prime Minister and Minister of Works and Urban Development the Hon. Philip Davis said there must be a proper balance of environmental and development issues and development must be approached holistically.
The Deputy Prime Minister addressed the topic of infrastructure, what is considered a "priority" issue for Government during the Bahamas Chamber of Commerce and Employers' Confederation 3rd annual National Conclave Wednesday, April 20. The two-day Disaster Management and Business Preparedness event was held at the British Colonial Hilton, Bay Street.
In attendance was the Hon. Hope Strachan, Minister of Financial Services; Jack Thompson, Permanent Secretary of the National Recovery and Reconstruction Unit; members of the Bahamas Chamber of Commerce; the National Disaster Reconstruction Committee and representatives from the private sector including the Bahamas Entrepreneurial Venture Fund.
In his overview, Mr. Davis highlighted the Government's "aggressive agenda" regarding infrastructure in the Family Islands.
"On the islands of Exuma, Andros, Long Island, Cat Island, New Providence, San Salvador, Abaco, and Eleuthera, we have completed or are currently effecting works on docks, bridges, culverts, ports, and/or sea defences. In particular, the Abaco Port is making good progress to completion; and a contract has been awarded for the design build of a solution for Fishing Hole Road.
"Through the Hurricane Restoration Unit led by Ms. Melanie Roach, we have given priority to ensuring functionality to areas devastated by Hurricane Joaquin. This effort is being nicely coordinated as we assist those island economies to regain their steam.
Mr. Davis informed that the state of Family Island airports vary – some with international facilities and others with unpaved or unlit runways. Recent studies estimate repair costs at just under $160 million.
Master plans have been commissioned for airports in Exuma, North Eleuthera, San Salvador and Governor's Harbour. The plans include topographical studies with 20-year projections based on anticipated economic growth of each island and its infrastructure (including other airports).
"We have also commissioned master plans for Deadman's Cay, Long Island, North Andros airport and airports in Crooked Island and Acklins. We have also engaged consultant architects and engineers for the proposed International Airport Terminal Building at New Bight. We have in hand a preliminary plan for the new airport. Cabinet has already approved expenditure in the sum of up to $11.5 million for the new terminal and runway rehabilitation to complement the PGA development. Construction will begin within the first half of this fiscal period and be complete within 18 months thereafter."
During his overview, Mr. Davis also underscored infrastructure challenges relative to road networks, public buildings and assets, and adjuncts to infrastructure including energy, water and sanitation and telecommunications, solid waste management.
Combined with the challenges the country faces regarding infrastructure is the issue of disaster preparedness. Therefore, as far as possible, Mr. Davis said the Government intends to secure private sector involvement in building roads, bridges, airports and other structures, which should lead to both better quality and lower cost services.
He advised that challenges are being met through initiatives such as the National Development Plan and the Ministry of Works and Development.
"Proper planning will help integrate various elements of infrastructure. We are going to have to develop a strategic master plan or a capital planning process to enable decision-makers to prioritize investments across ministries and sectors," he said.
"When locating major infrastructure projects, the climate and geography must be considered. Roads, seaports, airports, and power plants are often located in areas vulnerable to coastal hazards. The placement of these assets must be reconsidered."
Mr. Davis advised that despite challenges, The Bahamas is a "resilient," "blessed," and "fortunate" country, requiring going forward a combination of innovation, financing and strong management at local level.