Davis: 'All a We is One'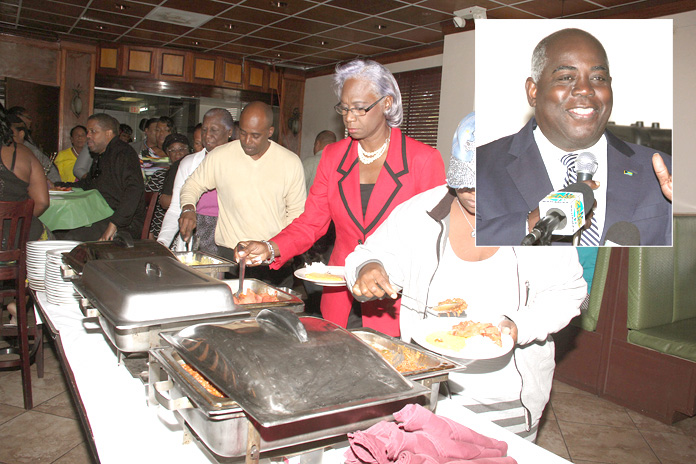 NASSAU, The Bahamas – In the wake of a recent advisory issued by the United States Embassy regarding Jet Ski Operators in The Bahamas, Deputy Prime Minister and Minister of Works and Urban Development the Hon. Philip Davis has admonished Straw Market vendors to "count the cost" and understand the consequences of their actions.
He addressed the Straw Market Authority's inaugural New Year's Vendor/Staff Team Meeting & Breakfast gathering at the Crab House and Seafood Emporium, Collins Avenue, Thursday, January 7. The theme for the event was 'All a We is One.'
The Deputy Prime Minister said the event's theme, 'All a We is One' is a reminder that "we are all apples in a barrel" and that if one apple is spoilt the whole barrel is spoilt.
"It just takes 'one a we' to do something terrible to one of the tourists. The next thing you would have is another advisory coming from the American Embassy that says don't go in Nassau Straw Market. Do we understand what all that means? It takes all of us to make this work and it only takes one of us to make it not work."
Mr. Davis remarked that each of the vendors and members of the Authority possesses power, and is a leader.
"Sometimes, as leaders, because we have power and control we fall in love with the fact that we control and that we are powerful. What dominates us is what I call this love of power that is destructive and undermines this concept "All a we are one." What makes all of us one is not the love of power but the power of love," the Minister said.
He urged those present to exercise the power of love to ensure "All a we is one."
Moreover, Mr. Davis encouraged the vendors to build the economy.
"There is tremendous talent among the Bahamian people. We, therefore, encourage vendors to go back to basics and offer more Bahamian-made products in the Straw Market. This is your Bahamas. Help it grow!"
Arnold Forbes Minister of State in the Ministry of Works and Urban Development called on the vendors to take their positions of strength and pride seriously.
He said the Straw Market is an institution that has produced some of the most outstanding citizens including lawyers, doctors and politicians.
"Today you should stand proud because you are the nucleus of what a Bahamian family is. You are the leaders of this country and this community. You carry much weight. Use it to your benefit, your advantage and to the betterment of the Commonwealth of The Bahamas," said the Minister.
Chairman Kevin Simmons and vendors also participated in the event.